Recently I had the opportunity to speak with Anthony Marchese, who is the Chairman of the Board of Texas Rare Earth Resources (TRER). The company is in the process of exploring and developing the massive Round Top rare earth element ("REE," hereon) deposit near El Paso, Texas.
Texas Rare Earth Resources has one of the largest heavy REE deposits to my knowledge. The company's current estimate is that using a 10% discount rate and REE prices as of the end of 2013 the pre-tax NPV is $1.47 billion. Despite this the company is valued at just $15 million. This disparity could reflect one of the great market opportunities for those who have the courage to buy the shares now.
I'm not the only one who sees the potential here. Management and directors own an astonishing 38% of the company. Furthermore, we recently learned that SC Fundamental--where David Einhorn got his start in the hedge fund business--took a 5.7% stake. Thus not only is the proverbial "smart money" taking interest in the company but there simply aren't that many shares available to the public after insiders and institutions (who now own about 14.7% of the company) are accounted for.
Structure of the Interview
This interview is the result of a lengthy discussion I had with Anthony Marchese. I transcribed the relevant information and structured it in a way that is easy for readers to follow, and I got Anthony Marchese's approval before submitting it for publication. All of the information found in the interview is either public knowledge or the opinion of Anthony Marchese.
Q: What makes REE investing, and in particular critical REE (aka "CREE") investing so compelling?
I'm not bullish on light REE's (aka "LREEs")such as cerium and lanthanum, and so I'm not a fan of Molycorp (MCP) or Lynas Corp. (OTCPK:LYSDY) as stock market investments. The Chinese produce most of the world's LREEs as a by-product of iron ore production, and as a result the market has been, and will continue to be oversupplied.
Regarding the CREEs, which consists mostly of what are more commonly referred to the "heavy" REEs (aka "HREEs"), as well as a couple of the LREEs (e.g. neodymium and praseodymium), I think there are two compelling reasons to be bullish on the sector.
From a supply standpoint we see that the Chinese are having serious problems developing HREE deposits. HREEs come from ionic clay deposits, which are essentially little hills that are ubiquitous in a particular region in southeast China. These deposits can be mined illegally. Farmers will process the ore the old fashioned way that destroys the environment. They use heap leaching with acid and simply pour the acid on top and watch the HREEs come out the bottom, and you get a massive amount of pollution as a result.
The Chinese are clamping down on this illegal production but they still need HREEs and so they are looking for alternative sources, particularly in Australia. So the fact that they are looking for these deposits outside of China suggests that either they believe that they are running out or that they no longer wish to produce HREEs domestically given the environmental damage that it causes.
The second reason has to do with demand. Demand for REEs is rising in the United States, especially in the defense and automotive industries. I believe that the large players in these industries would welcome a domestic source of HREEs given that the Chinese supply is unreliable in the long term.
Q: Can you talk about some of the HREEs that you will be producing?
We have a number of HREEs that we will be producing such as yttrium, dysprosium and holmium. A lot of the REEs that we will be producing have multiple uses. Furthermore, for a lot of them there aren't many known uses because this is a demand driven market. For instance if you talk to people at major industrial companies and ask if they are producing anything with holmium, they will say no because there is no supply. There is no incentive to expend engineering time and energy because of the lack of supply. Despite this holmium has the greatest magnetic pull of the REES. If more were available then there would be reason to explore manufacturing holmium magnets and lasers.
Q: So let's talk now about the company and the Round Top Project. Can you give us an elevator pitch bull case for TRER?
We have, in my opinion, one of the largest and most potentially profitable HREE projects in the world. We have a surface mine with a large 100 year plus deposit, although our PEA is based on 20 years or just 18% of the total estimated resource.
We are in an outstanding jurisdiction in Texas because when it comes to licensing and permitting we will not be working with the federal government, we deal with the state of Texas, as the project is located on state property. This is something no other REE company in the U. S. can claim.
We are also near a lot of infrastructure. We are about 80 miles south east of El Paso, which is a fairly major metropolitan area.
Finally we have a PEA that estimates that the project has robust economics even at current REE prices. We have a 67% pre-tax IRR and a net present value of $1.4 billion using a 10% discount rate. And this does not include the additional potential revenue from uranium, lithium and beryllium.
Q: Can you first tell us about your management team?
For a company in our stage of development I think we have a very strong team. Our CEO--Daniel Gorski--is in his 70s going on 50. He has been in the mining industry since he was in his 20's and has been involved in major projects in the southwestern United States and in Mexico.
Director Nick Pingitore is also a full professor at the Univeristy of Texas at El Paso. He is a licensed geoscientist in the state of Texas and has done a lot of metallurgical work during his tenure.
Director Jim Wolf has been in the REE industry since he was in his 30's.
Director Jack Lifton comes from the magnet industry (note that many CREEs are used in magnets) and has more recently gravitated towards the REE mining industry.
As the project progresses to later stages we will look to hire an expert on mine construction, a COO, and a permitting expert.
Q: Can you talk about the project's location?
The Round Top Project is located in Hudspeth County in southwest Texas.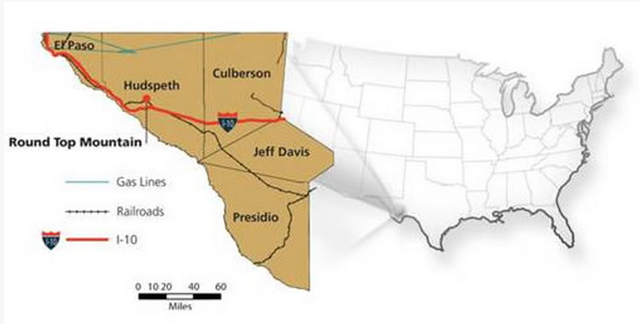 There are several advantages to mining here.
The project is 80 miles southeast of El Paso so we are near a major metropolitan area. We are also 3 miles north of Interstate 10 and near a major rail line. We have a rail spur that comes virtually to the mountain. It has relatively easy access to water, electricity and labor.
We will not have to worry about developing housing, which is a major cost for mining companies that operate in the middle of nowhere.
The project is relatively close to Juarez, Mexico, which is one of the most industrialized cities in Mexico.
We are located near Fort Bliss, which is the largest military installation in the United States. This last point could be crucial given the importance of CREEs to the defense industry.
Hudspeth County is one of the most economically depressed regions in Texas. The average per-capita income is just $13,000 per year. Our lowest paying job will pay $40,000 per year, so this project could breathe a breath of fresh air in to the county's economy.
Our location mitigates permitting risk. As previously mentioned we will be dealing with the state of Texas, not the Federal government. To the best of our knowledge there are no endangered species or indigenous wildlife.
Q: Can you tell us a little bit about the Round Top resource and some of the facts regarding production estimates?
The Round Top resource is enormous. It contains:
133.8 million kilograms of measured TREO (total rare earth oxides)*
173.3 million kilograms of indicated TREO
218.1 million kilograms of inferred TREO
*Note that rare earth elements are not produced in their "pure" forms. They are produced in their oxide forms, which are worth less but which are far easier to produce.
Of this resource 72% will be HREE. We will produce 3,352 tonnes of TREO per year on average.
Note that the resource is low grade but will be highly economical to mine. We estimate that we have revenue of $53.81 per mined tonne vs cash costs of $18.50 per mined tonne giving us a gross profit of $35.42 per mined tonne. Those cash costs include the royalty that is paid to the state of Texas, which is 6.25% (note that Texas does not have a corporate income tax).
One question we often get is that: if your mine is lower grade than other projects why is it appealing? When people look at grade they often miss the bigger issue, which is the cost of processing that grade? Many projects around the world have high grade BUT very high processing costs. So in our case we have a very low grade but very easy metallurgy and inexpensive processing costs such that the economics are outstanding. This is one of the reasons why we have a very high IRR of 67%.
Q: Is there anything unique about the resource?
Yes, it is a massive low grade and extremely profitable project, and outside of China I cannot think of any massive low, grade low cost HREE deposits that will be as profitable as the Round Top Project.
Also, to this point we've only discussed REEs. But we also have uranium, lithium and beryllium. These resources will add value to the project, but at the same time they are not included in our PEA's economic analysis.
Q: The total estimated resource at Round Top is five times larger than the amount of TREOs you plan on mining as outlined in your PEA? Why the disparity?
Generally a PEA won't go out more than 20 years because when you discount cash-flows out that far it adds very little value. The only reason to include those resources would be to boost our IRR, and we clearly don't need to do that given our outstanding potential economics.
Q: So is there a possibility that you can expand annual production?
We want to first prove to the capital markets that we can produce profitably. Once we do that this is a possibility, but we want to take this one step at a time. As we've seen the current rate of production gives us phenomenal economics.
Q: How much money do you need and how do you plan to raise it?
Full feasibility will cost about $13 million and we are in the process of talking to potential strategic partners that can give us this funding. Regarding our construction and development costs we need $293 million, which includes a 25% contingency. This is one of the lowest cost projects in the world and we believe there may be the potential to reduce our CAPEX even further.
Q: Can you tell us about your royalty agreement with the state of Texas?
We owe the state a 6.25% net smelter return royalty. We are thrilled to be paying a royalty because it effectively makes the state a partner rather than an adversary. We estimate that over the first 20 years of the mine life that we will pay almost $500 million to the state of Texas. The state pays their educational expenses through royalties that it collects from companies like TRER.
Q: What are the greatest risks to shareholders?
The biggest risk is capital market apathy. A low share price will make the equity side of a debt/equity financing deal potentially dilutive.
Any mining project must see permitting and licensing as a risk but keep in mind that we see ourselves in a favorable position here given that we are licensing through the state of Texas rather than at the federal level.
Q: Do you own shares in any other HREE companies? If so, which one(s) and why? If not, assuming you had to buy stock in one of them which would it be and why?
I don't own shares in any other HREE company, but if I had to own one it would be Tasman Metals (NYSEMKT:TAS). Tasman is in a good jurisdiction. They have a long life deposit, which I think is very important. They have very good management and very good products such as dysprosium and terbium.
Ben's Final Remarks
I would like to once again thank Anthony Marchese for taking the time to speak with me and to answer my questions.
Please keep in mind that the opinions expressed in the above interview, while transcribed and edited by me are solely the opinions of Anthony Marchese.
While the TRER story is compelling please be aware of the risks of investing in a company that has no revenue and which won't have revenue for some time. Note also that TRER shares are highly illiquid. You are strongly encouraged to use limit orders when placing a trade in a stock such as TRER.
Disclosure: The author is long TRER. The author wrote this article themselves, and it expresses their own opinions. The author is not receiving compensation for it (other than from Seeking Alpha). The author has no business relationship with any company whose stock is mentioned in this article.
Editor's Note: This article covers one or more stocks trading at less than $1 per share and/or with less than a $100 million market cap. Please be aware of the risks associated with these stocks.