When Apache (NYSE:APA) sells its Wheatstone LNG assets, comprising a 13% interest of the Chevron (NYSE:CVX) project, analysts estimate a $2.5 billion monetization event. Aside from the proceeds of the hoped-for sale, a further $1.4 billion in capex will be spared as well as $800 million for 2015. This news is not a trial balloon; CEO Steve Farris mentioned these possibilities in a conference call on May 28th.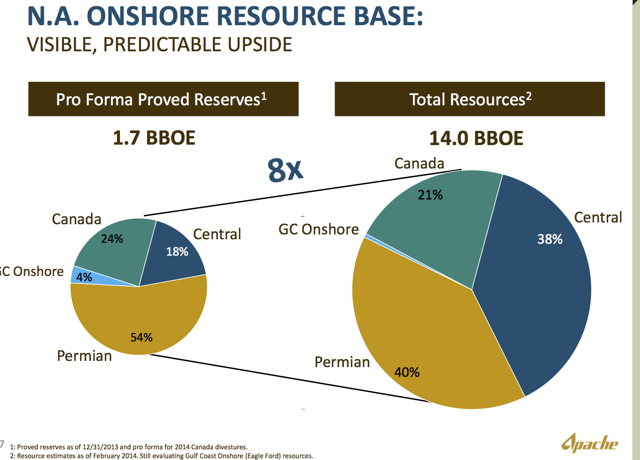 Click to enlarge
The Apache story is one of a renewed North American focus on a predictable resource base and execution. To produce its estimated 14 billion boe of total resources (40% from the Permian and 38% from the Central region), Apache needs more capital redirected to higher value propositions in the years ahead. The inventory in the Permian Basin is hefty. In fact, LNG opportunities will emerge in the U.S. in just a few years that Apache may want flexibility to act upon.
In the last article about Apache, the fourth largest Texas oil producer, other E&P firms were moving among the rankings between 2012 and 2013. In preceding articles on Apache -- one on their shale oil push and the other about their diversification including an interesting chart about Wheatstone payback -- details about Permian and Central strategies were laid out. The nearly $10 billion of assets sales of the last year from Argentina, some Egyptian interests and Gulf of Mexico were preludes to these next (potential and intended) rounds of sales. Diversification of assets is a boon for Apache, but too much capital tied up that crowds out better investments is not. The Apache news reinforces what the market understands about the capital needs of drilling for shale oil, rich liquids and gas in the Permian and other basins.
From recent discussions I have had with E&P firms about the Permian, the boom this time may be different. Technology is a driver and firms need to be well-positioned, flexible and focus on efficiency in execution. E&P firms that have demonstrated sound strategies and focus have been rewarded in enhanced shareholder value.
Below are the summary points from the last article (June 17, 2014):
Apache has been a remarkably steady top Texas oil producer.
The Permian Basin is the largest recipient of Apache's capital for 2014.
Expect increased production in 2014 as long as the economy stays stable.
Apache's organizational form as an independent-conglomerate offers a source of longer-term value.
The shale oil push article (March 6, 2014):
Apache's focus on capital expenditures and expected production gains in the Permian Basin are robust.
Apache's diversified oil and gas portfolio has its respective pros and cons.
While making solid progress to "right size" assets, investors seem conflicted.
And the one about Apache's diversification (January 30, 2014).
Disclosure: The author is long APA. The author wrote this article themselves, and it expresses their own opinions. The author is not receiving compensation for it (other than from Seeking Alpha). The author has no business relationship with any company whose stock is mentioned in this article.