It's understandable there are a lot of players active in the small California residential / commercial (R/C) solar market. The California Energy Commission (CEC) dataset has over 80 names. From 2007 until 2010 year-to-date, the CEC reports $3.0 billion in installations and $604 million in incentive payments. Costs may be drifting down but are still a lofty $8,217/kW for the average 5.0 kW install.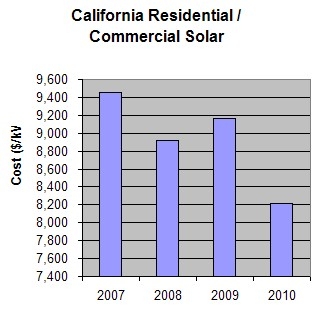 So far in 2010 cells from the top eight companies have been placed in over 75% of the installs. The market leader, SunPower (SPWRA), is now closely followed by Sharp (OTCPK:SHCAY) with both companies having approximately 19% of the market. The next six companies, Suntech (NYSE:STP), Evergreen (ESLR), Kyocera (NYSE:KYO), BP Solar (NYSE:BP), Sanyo (OTC:SANYY), and REC (REC.OL) are closely grouped with 6-8% market share.
But even with the California R/C market topping 61,000 kW in 2009, this only represents a small fraction of the 12,300 MW produced worldwide in 2009. If the five key market conditions I previously identified continue, it looks like there is plenty of production capacity worldwide to supply any level of growth in California's small systems market.
Disclosure: The author doesn't own shares in any of the companies mentioned in this post (except in index funds).