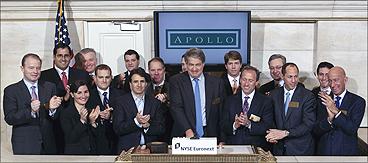 After hours today Bloomberg News reported that Leon Black of Apollo Global Management LLC ("Apollo") is snapping up bonds of Molycorp, Inc. (MCP). According to sources close to the matter, if Molycorp seeks to restructure its debt, the hedge fund is positioned to take control of the rare earth miner.
Apollo bought $8.5 million of Molycorp's $230 million of 3.25 percent convertible notes due 2016 in the three months ended March 31 and added to that amount last quarter ... As of March 31, Apollo held at least 22 percent of that class of securities, according to data compiled by Bloomberg. Apollo believes holders of the convertible notes won't receive a full recovery in a default, putting those lenders in control of a restructuring and in line to take over the company's equity, the people said.
Backdoor Takeover of Molycorp?
Based on the aforementioned article, acquiring the bonds could lead to a potential backdoor takeover of Molycorp in case the company's debt has to be restructured. Readers of my articles should be familiar with Molycorp's senior and subordinated notes; I have been writing about them for weeks. Below is a description of Molycorp's long-term indebtedness: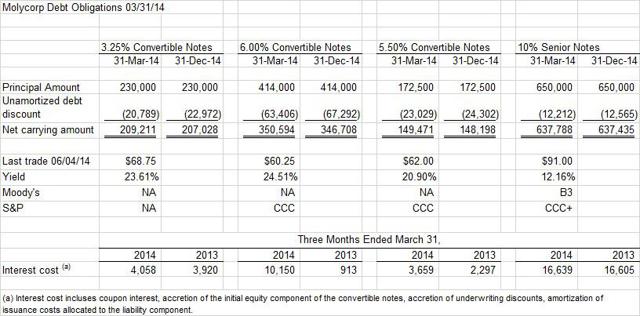 At March 31, 2014 Molycorp's long-term debt was comprised of three convertible debt instruments totaling approximately $709 million and one senior note of $637 million.
As of June 4, 2014, the convertible debentures were trading from 60.25 cents to 68.75 cents on the dollar.
The 3.25% notes traded at 68.75 cents on the dollar. According to Bloomberg, Molycorp's convertible notes were at 76.3 cents on the dollar on June 19 to yield 18.1 percent.
We also told you that there was a plausible scenario where the bond holders could wind up controlling Molycorp. We thought Molycorp's management team or Molibdenos Y Metales S.A. ("Molymet") was buying the subordinated notes in an attempt to take the company private. We had no idea it was Apollo who was buying the bonds. On the article, Molycorp's Convertible Notes Are Worth 3-5 Cents On The Dollar, commenters had this to say:
Commenter 1: We know Molymet owns about 20% of the stock. Who owns the senior notes or convertible notes is uncertain. I'm not sure that has to be publicly reported. In case of a bankruptcy, Molycorp will be handed over to the debt holders.

Commenter 2: Does anyone know the nature of Molymet's investment? I mean did they buy just equity, or did they purchase debt also? Molycorp has been trending down since Molymet made its first investment. Why did Molymet continue to buy? ... Debt holders are a logical successor to the current Molycorp regime in case things did not work out for the original group and bankruptcy loomed.

Commenter 3: It buys them time, but as you say, at these prices it makes no sense without expectations of a very fast recovery. The only ones buying the unsecured notes now with open eyes (not yield hogs) would be those looking to be the fulcrum security and take control of Molycorp. Since you can buy up 100% of a debt class and not have to report that holding, you never would know.
Capital Raise Or Else
Molycorp experienced cash out flows of about $78 million during 1Q 2014. In my previous article, I highlighted that based on high level projections, the company's cash balance could fall below $100 billion by the end of the year or worse, the company could run out of cash by end of 1Q 2015. Below are those projections: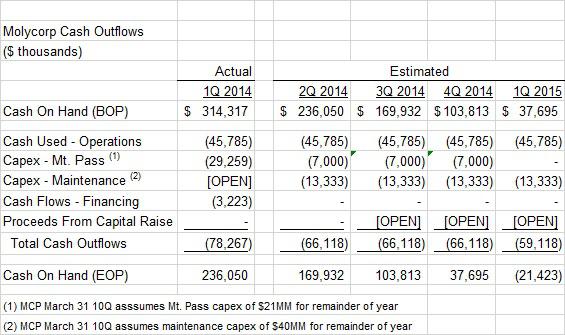 Conclusion
The clock is ticking on Molycorp's management team. If they do not raise capital soon, they run the risk of having the company taken over by Apollo in a restructuring. I see both scenarios -- capital raise or debt restructuring -- resulting in dilution for shareholders. I rate Molycorp a sell.
Disclosure: The author is short MCP. The author wrote this article themselves, and it expresses their own opinions. The author is not receiving compensation for it (other than from Seeking Alpha). The author has no business relationship with any company whose stock is mentioned in this article.
Additional disclosure: I am net short Molycorp.