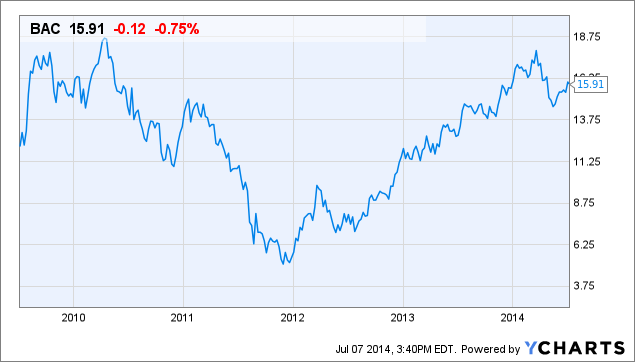 Background: Bank of America (NYSE:BAC) is one of the world's leading financial services companies. Merrill Lynch is a investing subsidy of the company. The company trades an average of 61.8 million shares per day and the market cap is $167 billion.
52 Week Range: $12.91 to $18.03
Forward Price To Earnings Ratio: 10.59
Price To Book: 0.8
Bank of America is forecast to record lower second-quarter earnings before the market opens on July 16, 2014. The consensus estimate is currently 29 cents a share, a drop of 3 cents (9.4%) from 32 cents during the equivalent quarter last year.
Estimates from analysts range from a low of 21 cents, up to the highest estimate of 36 cents per share. Last quarter, Back of America significantly missed and reported a loss of five cents when the market was expecting a five cent profit. The whisper numbers I've reviewed range are towards the high end in the 31-34 cent range.
Taken as a whole, the analysts are not bestowing much direction for Bank of America. 13 out of 30 rate this a hold, 14 recommend this company as a buy, and 3 recommend selling. The stock has appreciated 25% in the last year, and the average analyst target price for Bank of America is $17.24.
When we evaluate the options market, especially the contracts expiring immediately following the earnings release, we are in a position to achieve a more effective comprehension of what other traders are expecting.
Option premium tells us that the market is pricing in a 4%, or about a 64 cent move in the next 12 days.
That means, as a shareholder or potential investor, you should anticipate the stock to trade as low as $15.39, or jump higher to $16.67, and still remain within one standard deviation. If you're not already prepared for such a wide move (and there's no guarantee it won't move beyond the expected range), you want to make the necessary adjustments early.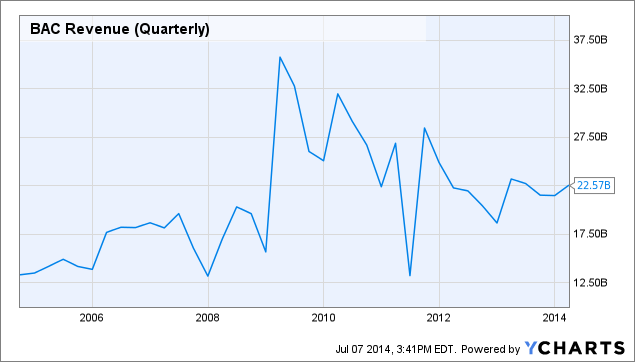 Last quarter, the company beat estimates by three cents, but the shares fell 1.6% or 26 cents per share from the close before, to the close after reporting earnings.
Trends shareholders are watching include the bank's cost reductions, Basel III capital, commercial loan growth, consumer loan declines, and the ability to find qualified borrowers.
Wells Fargo & Company (NYSE:WFC) reports earnings on July 11, 2014. As I wrote, Wells Fargo & Company is one of my favorite banks. You want to pay attention to its results for clues in what to expect. Option premium for Wells Fargo is pricing in only a 3% post earnings price move.
| | | | | |
| --- | --- | --- | --- | --- |
| | WFC | | BAC | |
| Strong Buy | 6 | 7 | 4 | 10 |
| Moderate Buy Buy | 8 | 14 | 10 | 15 |
| Hold | 17 | 7 | 13 | 5 |
| Moderate Sell Ratings | 1 | 1 | 1 | 0 |
| Strong Sell Ratings | 0 | 0 | 2 | 1 |
| Avg Analyst Price Target | $52.74 | $58.21 | $17.19 | $64.15 |
| Revenue | $83.83 billion | $76.77 billion | $88.09 billion | $95.47 billion |
| Est Low EPS | 0.93 | 0.96 | 0.24 | 1.16 |
| Est High EPS | 1.06 | 1.30 | 0.36 | 1.59 |
| 1 Year Stock Price Change | 27.90% | -2.30% | 18.56% | 9.60% |
Investors are expecting Wells Fargo to earn between a low of 93 cents to a high of $1.06 per share. The most significant difference between the two banks is Wells Fargo is expected to grow while Bank of America continues to contract year-over-year.
Other banks reporting during the same week include Morgan Stanley (NYSE:MS), JPMorgan (NYSE:JPM) , and U.S. Bancorp (NYSE:USB). Each bank will influence the others, so it's almost as if Bank of America is reporting four times in the same week, with one report as the keystone.
This stock currently has an annualized dividend of 4 cents, yielding 0.3%. It's not enough reason to buy it, but does add a nice cherry on top if you're already in and or want to buy shares. Wells Fargo on the other hand pays a 2.6% dividend yield. Between the two banks, I have to give a higher expectation of profit to Wells Fargo.
Although, I will admit if Bank of America can start generating above expectation profits, the stock can rise much further on a proportional basis compared to Wells Fargo.
Short sellers are not interested in betting against this one. Short interest is a non-factor at a rate of 1% of the float.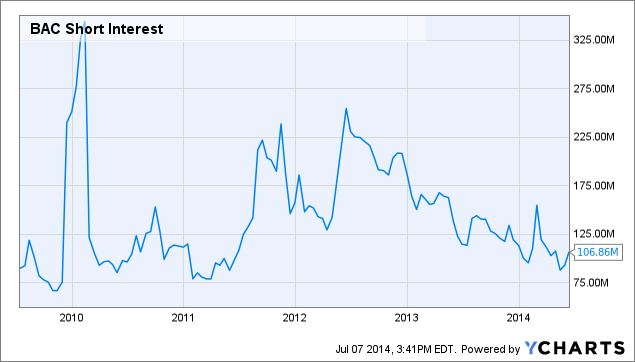 BAC Short Interest data by YCharts
Disclosure: The author has no positions in any stocks mentioned, and no plans to initiate any positions within the next 72 hours. The author wrote this article themselves, and it expresses their own opinions. The author is not receiving compensation for it (other than from Seeking Alpha). The author has no business relationship with any company whose stock is mentioned in this article.