When 2011 started, networking giant Cisco Systems (NASDAQ:CSCO) was not paying a dividend. Just a couple of years later, Cisco's annual dividend yield is over 3.00%, above that of its US large cap tech peers. With another strong dividend raise earlier this year, Cisco has become the new dividend yield leader in this space. Today, I'll detail why this may not last for long, and what Cisco needs to do to stay in first place.
The rise of Cisco's dividend:
As I mentioned above, Cisco had no dividend in 2010. In March of 2011, Cisco declared a dividend of 6 cents a share per quarter. At that time, it wasn't much, but it was better than nothing. Over the last few years, the dividend has risen nicely, as seen in the chart below. You can view Cisco's dividend history here. The chart focuses on the quarter in which the dividend was declared, not paid. Cisco actually paid 5 quarterly dividends in 2012, as it was one of many companies trying to help shareholders avoid rising taxes in 2013.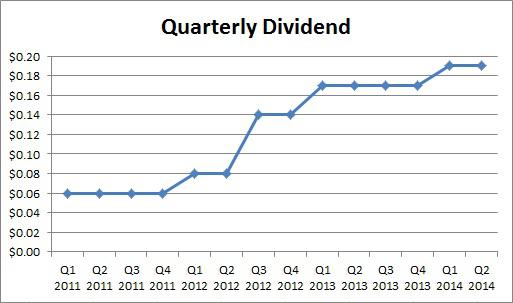 The situation really changed in 2012 when Cisco decided to start returning a lot more of its free cash flow to shareholders. At that point, the company raised the dividend by 75%. Two raises later, Cisco is now paying out $0.19 a quarter, or $0.76 a year. Not bad for a company that was handing out just $0.24 a year in 2011.
Stepping up the buyback:
Management proclaimed it would return more cash to shareholders. Earlier this year, I mentioned how the status quo had changed, as Cisco really started to buy back stock in a big way. Cisco's buyback has been criticized for its effectiveness over time, but recently, it has gotten the share count down.
Through the first three quarters of Cisco's fiscal year, Cisco repurchased just under $8 billion worth of shares for the buyback, according to the most recent 10-Q filing. That was up from $1.55 billion in the year earlier period, so an extra $6.4 billion was spent in the comparable 9 month period. As a point of reference, dividend payments in the first 9 months of this fiscal year totaled $2.784 billion, up about $400 million from the prior year period.
Cisco, like Apple (NASDAQ:AAPL) and Microsoft (NASDAQ:MSFT), did take on a bit of debt to help with these buybacks. These names have nearly all of their cash located outside the US, and those resources cannot be used for dividends/buybacks. The company either has to repatriate and face a huge tax bill, or borrow against these funds. I recently did an in-depth view of Apple's cash position, and Cisco's situation is fairly comparable, albeit on a smaller scale.
Reduced buyback = more dividends:
Over time, I believe that Cisco will start to funnel a lot more cash towards the dividend than the buyback. Cisco produced operating cash flow of $8.72 billion for the first 3 quarters of this fiscal year, and spent almost a billion on property and equipment, or capex. Cisco has also made a lot of acquisitions in recent years, so that's another use of cash. This year, the buyback has been about $8 billion so far, so this is one of those "one-off" types of year.
When Cisco cuts back on the buyback, to more normal levels, the dividend should be the main beneficiary. This year was a one-off, as the company bought back shares during a weak year for sales and earnings. Now that the turnaround has really started, results should start to improve. I don't see Cisco running the buyback at a $2 billion per quarter rate indefinitely. Cisco will probably pay out about $3.75 billion or so in dividends this year, up from about $3.3 billion in the year ago period. I think that the dividend number could reach $5 billion in the next two to three years, so that would put the annual dividend around $1.00 per share. Based on current prices, that would put Cisco's annual yield close to 4.00%.
Cisco's lead - for now:
When it comes to large cap US tech names, there are really four major names that pay sizable dividends. Cisco is actually the smallest by market cap, with Intel (NASDAQ:INTC) being the next largest. Microsoft is extremely large, and of course Apple is the giant of them all. In the chart below, you can see the dividend yields for these names, as of Tuesday's close.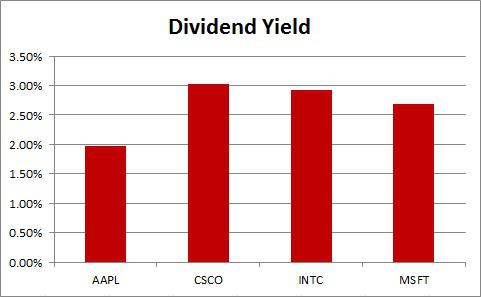 Intel shares have raced to new multi-year highs after the company raised its forecast. That has pushed Intel's dividend yield down quite a bit, and thus Cisco now has the lead. During parts of January 2014, Microsoft also had a higher yield than Cisco, but Cisco's dividend raise has changed that situation as well.
As of Tuesday's close, Cisco had an annual yield of 3.03%, the only name above the 3.00% level. Intel was in second place, trailing Cisco by about 11 basis points. Microsoft was a bit further back, about 24 basis points behind Intel. Apple's yield is just under 2.00%, and Apple has already raised its dividend this year. Apple's yield is far enough behind Cisco's currently that even if Apple announced another raise, it would have to be substantial, more than 50%, to pass Cisco's current yield.
That gets us to Intel and Microsoft, the two closest to Cisco's yield. Intel has not raised its dividend in a couple of years, but with results finally starting to turn higher, a raise could come later this year. Additionally, Microsoft is expected to raise its dividend later this year, and the size of that raise will be very important. Obviously, share price movement is important too, because a 10% dividend raise doesn't mean much if the stock rises in step between now and then. At current levels, Microsoft needs about a 13.1% raise to equal Cisco's yield, while Intel needs about a 3.7% raise.
Final thoughts:
A few years ago, Cisco did not have a dividend. Now, the company's dividend yield is above that of its peers, yielding more than 3.00% annually. Cisco's dividend has grown nicely in recent years, and I believe there's plenty of future growth as the buyback is scaled down to more normal levels. Cisco may lose its lead later this year if Microsoft and or Intel raise their dividends, but over time, Cisco should challenge those two names for the highest yield in this space.
Disclosure: The author has no positions in any stocks mentioned, and no plans to initiate any positions within the next 72 hours. The author wrote this article themselves, and it expresses their own opinions. The author is not receiving compensation for it (other than from Seeking Alpha). The author has no business relationship with any company whose stock is mentioned in this article.
Additional disclosure: Investors are always reminded that before making any investment, you should do your own proper due diligence on any name directly or indirectly mentioned in this article. Investors should also consider seeking advice from a broker or financial adviser before making any investment decisions. Any material in this article should be considered general information, and not relied on as a formal investment recommendation.