Google Inc. (GOOG, GOOGL) has turned into a tech giant after only one and a half decades from its formation. However, a company of Google's caliber should go even farther.
Google Search Beats all Search Engines
Companies that once challenged Google in the search engine category, such as Yahoo (NASDAQ:YHOO) are not much of a challenge for the company in respect to search. Google Currently holds over 65% of the search market, while the rest is basically split between Yahoo and Microsoft (NASDAQ:MSFT).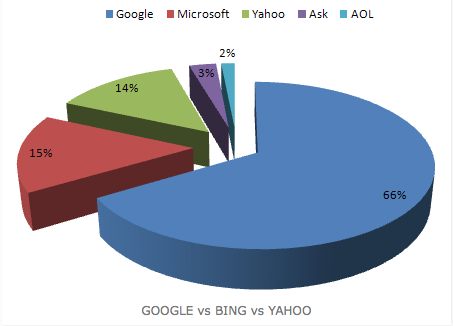 Source: Website Traffic Services SEO
With a market cap of 393.27 billion, Google outdoes Yahoo - at $35.76 billion - by over $350 billion, today. AOL's (NYSE:AOL) market cap is much lower at $3.30 billion, while China-based Baidu Inc. (NASDAQ:BIDU) is more challenging at a worth of $65.88 billion. Microsoft's Bing, although not much of a challenger in the visits per month category, is Google's biggest rival of the lot in the stock market - but only because of Microsoft's proficiency at trades other than the search engine. One might argue that because of Google Inc.'s vast range of activities - search engine, Gmail, Google Plus, YouTube, Android, and other services - the company's exemplary search engine isn't the only thing pumping that market cap value up. Which is true. Google is a multidimensional company, deriving its profits from many fronts.
Google Should be Competing with the Best
A company of Google's expanse should not consider companies running search engines exclusively as its competition. Instead, the company should look to lock horns with the best of tech hardware and software giants.
Although Apple (NASDAQ:AAPL) - with a market cap of $579.81 billion - is way out of any tech competitor's league right now, it shouldn't be impossible for Google to play catch up with them over the next few years. Furthermore, the only arena in which the two come face-to-face is the cellphone and tablet operating systems realm - and Google is the clear winner there. The chart below shows the comparison between the market shares of various operating systems in Q1 2014.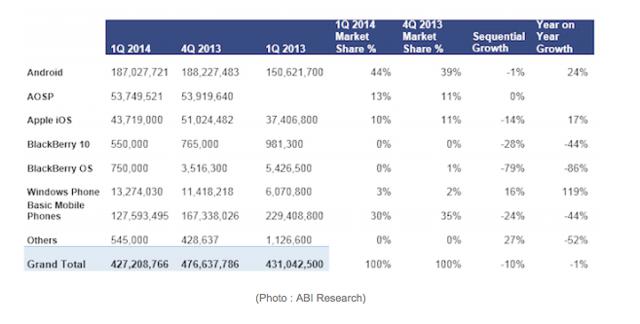 Click to enlarge
Source: Operating Systems comparison via Latin Post
With 44%, Google's Android led the table and Apple's iOS came in third with 10%. However, despite the high sales of Android devices, statistical data comparison suggests that Android users are the densest in the poorest parts of the world, since Android phones are mostly cheaper than the Apple iPhone - which is why Apple generates more revenue than Google.
Challengers like Microsoft should also keep the company on its toes. Although Google currently has a lead over the hardware giants - with a market cap of $346.85 billion - it has been quite a neck-and-neck battle between the two companies over the past two years. Google first overtook Microsoft back in 2012, after which the two battled for supremacy for around a year. But since the arrival of 2014, Google has had the upper hand. Figure 2 gives an illustrated comparison of the two companies' market cap changes over the years, along with other competitors.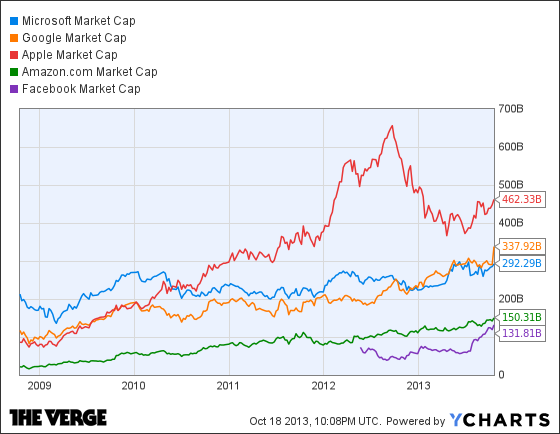 Source: Google and competitors' market cap till the end of 2013 via TheVerge
The entangled blue and orange lines show the tussle between Google and Microsoft that went on for a brief period in 2013, after which Google successfully left its primary competitor behind. The chart also shows the performance of other competitors such as Amazon (NASDAQ:AMZN) and Facebook (NASDAQ:FB), which though lower in market cap, have been on a steady rise. Google ought to watch out for those two, as well.
The Target Should Be Apple Inc.
Microsoft, Amazon, Facebook and Yahoo - these are the companies Google has been pitted against for the past few years, and has succeeded in leaving all of them behind as of now. Apple in all practicality is the only company Google has got left to beat, and if the versatile company has to beat the masters of the computing world, they would have to devise new methods and do something they haven't done so far. According to some, the arrival of the Android Silver could mean that Android would finally overtake iOS in revenues, as well. It could be about time for Google to really challenge its ultimate rival.
Disclosure: The author is long AAPL, MSFT. The author wrote this article themselves, and it expresses their own opinions. The author is not receiving compensation for it (other than from Seeking Alpha). The author has no business relationship with any company whose stock is mentioned in this article.