I reiterate my bullish rating on Verizon Communications Inc (NYSE:VZ). The company's competitive strategies in the wireless business and the growing FiOS momentum in wireline are constantly growing its revenues. Moreover, the company's revenue growth trajectory has been constantly supporting EPS growth. Although the company faces tough competition from rivals, its consistent investments in network enhancements will place it well among its peers in the network enhancement race in the long run. Furthermore, the company's dividend looks completely secure with its ability to constantly grow its cash flow base. VZ currently offers a dividend yield of 4.3%.
Wireless Segment
The increasing popularity of smartphones, tablets and 4G-LTE have fueled the company's wireless segment's revenue growth in recent quarters. VZ's wireless segment grew by posting a growth of 7.5% year-over-year in service revenues. Retail service revenues also increased by 6.7% year-over-year in 1Q14. The company's continuous efforts in building its 4G-LTE network have largely contributed towards its robust wireless revenue growth. Until recently, VZ had shifted 73% of its data traffic to the 4G-LTE network.
Although the company's 4G-LTE network expansion strategy is growing its wireless service revenues at a decent pace, the segment continues to face competition. The company's wireless is poised to face strong competitive pressure from AT&T (NYSE:T)'s 4G-LTE network expansion plan worth $14 billion, which is anticipated to add 300 million people to T's LTE network. Furthermore, T-Mobile (NASDAQ:TMUS), which currently covers 284 million people under its EDGE network, now plans on deploying 4x2 MIMO antenna technology to its LTE-network, which will further add competitive pressure in the wireless space.
While the company's rivals are focusing on investing in 4G-LTE expansion, VZ has been focusing on catering to competition through 4G-LTE network enhancements. The company has recently announced the launch of XLTE, which will double the bandwidth capacity of its 4G-LTE network. I believe the company will witness a modest uptick in its 4G-LTE subscriber base by steadily rolling out its XLTE to 50 cities by the end of 2014. This will support the company's 4G-LTE network in this highly competitive Telecom Industry and will also boost the wireless segment's revenues in the future.
Furthermore, the company is looking to buy DISH Network's (NASDAQ:DISH) wireless spectrum to boost its wireless internet speeds. DISH has built an impressive portfolio of wireless spectrum over the years. I believe if VZ succeeds in overcoming the regulatory restrictions regarding the deal, DISH's wireless spectrum will be a noteworthy addition to VZ's wireless segment's success story. Furthermore, the announcement by the FCC to offer less participation to VZ and T in the 2015 spectrum auction makes me believe that DISH's wireless spectrum will help VZ to maintain its competitive edge.
In addition to the 4G-LTE rollout, the 4G smartphone adoption and tablet momentum also contributed well to growing the wireless segment's performance. The introduction of programs like 'More Everything Plan', which focus on providing more value through basic data allowances, and the buy now pay later EDGE program will accelerate the company's smartphone and tablet growth momentum. VZ ended 1Q14 with industry-leading postpaid connections, primarily fueled by 866,000 4G smartphones and 634,000 tablet additions.
The company's recent announcement of extending its reduced monthly pricing for customers, who are not currently enrolled in the EDGE program, will continue to grow the smartphone and tablet growth momentum in coming quarters. As for now, VZ's year-over-year smartphone subscriber growth has outpaced its peers, as shown by the chart below.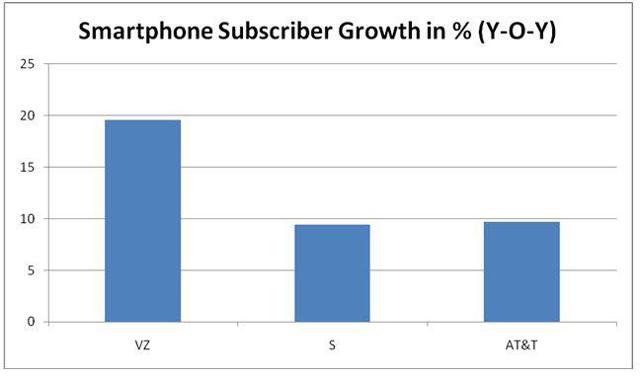 Source: Company's Quarterly Earnings Report
Wireline Segment
Although the company's wireline segment remained under competitive pressure from cable operators, its FiOS growth well supported VZ's wireline segment's revenues. The company ended 1Q14 by moderating wireline revenue decline to only 0.4%, as compared to a decline of 1.2% in the same quarter previous year. The company's wireline segment's pricing initiatives, coupled with remarkable FiOS customer additions and a gradual uptick in adoption of Quantum services supported the wireline segment's revenue. Going forward, as VZ continues to grow its FiOS services in existing markets and remains focused to maintaining its competitiveness through its best-in-class broadband products, the company's wireline segment's revenues will grow at a decent pace.
Moreover, I believe the company's recent initiative to provide 1-year free FiOS Quantum internet services to three larger Philadelphia business incubators will portend well to grow the wireline segment's subscriber and revenue bases in the long run.
Impressive Bottom-line Results
The company's growing revenues are supporting its earnings growth. The company's recent quarter's EPS of $0.84, as compared to $0.68 in same quarter previous year, was strongly backed by its impressive revenue growth in both wireless and wireline segments. Going forward, as the company remains focused to further uplift its revenues through expansion and enhancements in its LTE network and FiOS, I believe it will meet analyst EPS growth expectations of 8% for the next five years. The following chart shows that analysts are expecting robust earnings growth for VZ.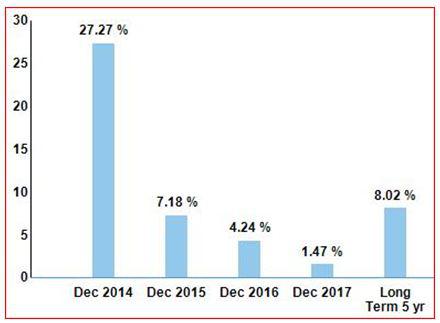 Source: Nasdaq.com
Strong Cash Flows = Well Covered Dividend
VZ has an impressive history of generating strong cash flows. Despite the constant investments in growth-generating initiatives, the company's free cash flows in 1Q14 were higher by $1.4 billion year-over-year. With the strong cash generation, its dividend looks completely secure. The company's dividend yield of 4.30% is well backed by its FCF yield of approximately 11%. Moreover, the dividend payout ratio of 47% also looks fairly reasonable.
I believe the company's recent acquisition of its 45% stake from Vodafone (NASDAQ:VOD) was an intelligent initiative, which will enable the company to better manage its wireless operations and grow its cash flows. Moreover, the company's recently completed 4G-LTE rollout, which will also lower the CAPEX burden on the cash flow base. Therefore, I believe dividends offered by the company are safe.
Conclusion
VZ's success in operational performance is well reflected by its top-line and bottom-line growth. The stock is well headed to grow both wireless and wireline segments, with its large-scale investments in long-term growth-generating initiatives. Moreover, the company's solid cash flow base strengthens my belief in sustainability of dividends. Therefore, I believe the stock remains a good investment for long-term growth and dividend investors.
Disclosure: The author has no positions in any stocks mentioned, and no plans to initiate any positions within the next 72 hours. The author wrote this article themselves, and it expresses their own opinions. The author is not receiving compensation for it (other than from Seeking Alpha). The author has no business relationship with any company whose stock is mentioned in this article.