When gold (NYSEARCA:GLD) spiked higher last month (June 19, 2014), some heralded the move as proof that the Federal Reserve was falling behind inflationary pressures.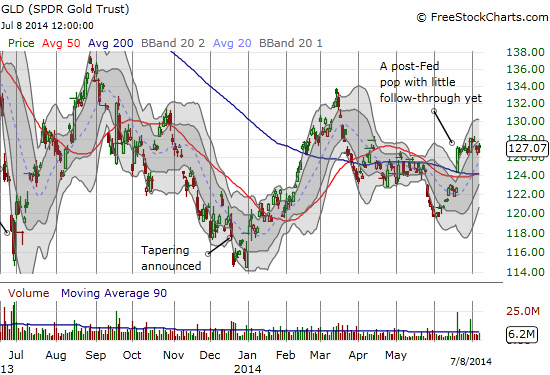 Little to no follow-through for the Fed-inspired spike in gold (as represented here by GLD)
Source: FreeStockCharts.com
I characterized the move as premature but perhaps confirmation that the relentless selling in 2013 marked a bottom for gold. If 2013 is indeed a bottom, I have mixed feelings since I started the year looking forward to adding to positions at lower prices. But such a bottom would vindicate my insistence right at 2013′s first low in July that investors should ignore the "noise" and continue accumulating positions.
In these past pieces on gold, Google search trends have provided useful tools for assessing the character of sharp or otherwise extreme moves in the price of gold. I think last month's move warrants a quick update. As it turns out, the spike higher in gold was not accompanied by any increase in interest in gold as expressed in Google search trends. So, it is not a surprise to me that in the past three weeks there has been little follow-through in gold's upward surge.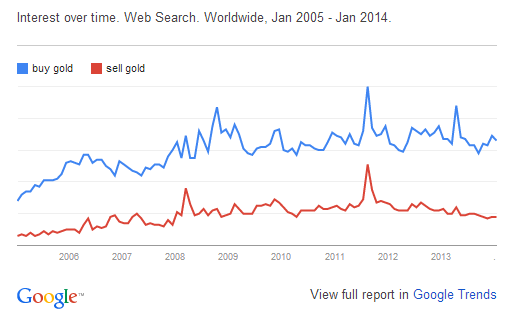 Spikes in search interest in gold have confirmed earlier extreme moves in gold (up or down)
Whether looking at the U.S. only or worldwide (as above), there was no spike in interest or use of the (English) search terms "buy gold" and "sell gold." Regionally, Australia leads the world on these searches, followed by Singapore (25% behind Australia) and then the U.S. (30% behind Australia). I zoom in to recent weeks to make the lack of response clearer.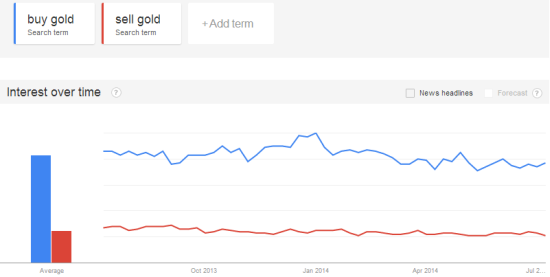 It is as if nothing happened to gold in recent months
Source for Google trends data: Google Trends
At a bare minimum, it seems reasonable to conclude that June's move higher was insignificant in the overall collection of gold moves in recent years. If so, it also then seems reasonable to expect gold to eventually reverse (fade) most of June's move without any fresh and new catalyst that provides more sustained interest. Either way, this episode provides one more opportunity to confirm the validity of this method for assessing gold sentiment in short to intermediate time frames.
Stay tuned and be careful out there!
Disclosure: The author is long GLD. The author wrote this article themselves, and it expresses their own opinions. The author is not receiving compensation for it (other than from Seeking Alpha). The author has no business relationship with any company whose stock is mentioned in this article.