UnitedHealth Group Incorporated (NYSE:UNH) is a diversified health and well-being company dedicated to help people live healthier lives and making health care more effective. It offers a wide variety of products and services to employers to help them plan and administer their employee benefit programs. The company also caters to the health needs of older Americans and provides healthcare information and research to its customers.
Recently the company announced it would enormously increase its dividend and also authorized a new share buyback program promising enviable rewards for its investors. The focus of this article will be to assess the company's recent performance and evaluate whether or not the company will be able to sustain such enormous payouts in the future.
UnitedHealth Group has been a great performer but it has been experiencing issues. One issue is the costs and taxes related to President Barack Obama's healthcare law, more formally known as the Affordable Care Act and the other is the expenditure of the company to cover a pricey new Hepatitis C drug called "Sovaldi" from Gilead Sciences Inc (NASDAQ:GILD). United Health Group, the largest U.S health insurer, had to spend more than $100 million to cover the costs of Sovaldi in the first quarter of fiscal year 2014 and according to the company the amount it spent was more than what was expected.
Despite these factors the company managed to beat analysts' expectations of its results of the first quarter of fiscal year 2014. It earned a net profit of $1.1 billion or $1.10 per share whereas analysts had expected the company to earn $1.09 per share. However the company's EPS fell 5.17% year over year in the most recently-ended quarter because in the first quarter of fiscal year 2013 it had earned $1.16 per share. The following graph presents an overview of the company's income statement over a period of 5 quarters.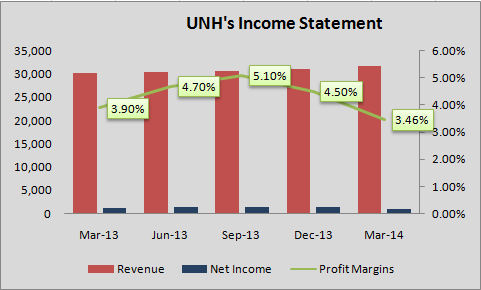 Source: Bloomberg
UnitedHealth Group's profit margin has been declining since the quarter ended December 2013. For the full-year 2014 the company has reiterated its expectation to generate revenues of around $128- 129 billion reflecting a 5% increase year over year. Operating earnings for fiscal year 2014 are projected to lie in the range of $9.9 billion to $10.3 billion reflecting an increase of 5.2% year over year. Although the company expects an increase in its top and bottom lines, its 2014 EPS is projected to be in line with its 2013 EPS because the company's positive performance in this fiscal year will be negated by the unfavorable impacts of the Affordable Care Act and Medicare Advantage Rate reductions.
Enormous Returns to Shareholders
UnitedHealth Group has been paying its investors dividends since 1990 but the dividends saw a steady increase after 2009. The dividend increased enormously in 2010 by almost 316%. Since 2012, when the company was added to Dow Jones Industrial Index (NYSEARCA:DIA), its dividends have been increasing by more than 30% each year. Since the company's addition to the DIA, its dividend has increased by 35% overall.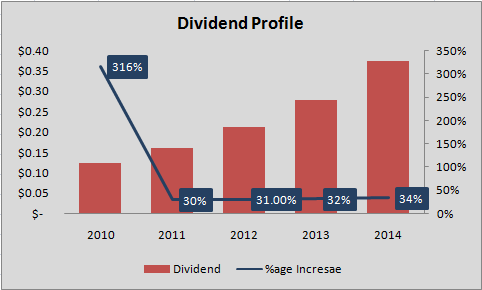 Source: United Health Group
Since 2010, the company has generated $35.5 billion in operating cash flows out of which almost $19.1 billion have been returned to shareholders equaling more than half of the cash flows (53.8%). At the current EPS of $5.45 per share the company's annual dividend of $1.50 per share provides investors a dividend payout of 27.5% compared to the industry benchmark of 15.72%. Although the company is paying out to its investors just 27% of what it earns but the rest of the earnings are being re-invested into the sustainable business therefore the current payout seems attractive. At its current price of $80.51, the stock gives investors a dividend yield of 1.86 which is attractive compared to the industry benchmark of 1.07. (Benchmarks are obtained from Reuters).
Moreover, the company renewed its share buyback programs for fiscal year 2014 and according to the recent authorization it intends to buy back 100 million shares. This share repurchase plan will replace the June 2013 authorization which still has 63 million shares remaining.
Over the trailing 12 months UnitedHealth Group's stock offered total return for its investors of 31.13% ahead of what was offered by the S&P 500. However, it trailed the returns offered by its competitors Aetna (NYSE:AET) and WellPoint (WLP). This might be due to the fact that UnitedHealth Group is the first insurer to quantify its costs to cover patients using Gilead's new Sovaldi treatment and the reason why its shares fell the most.

Source: YCharts
The following table provides some projections for the yield on cost offered by the UNH stock provided the company's EPS continues growing at a conservative rate of 8% and the company maintains its dividend payout ratio at 27%. Resultantly the company's dividend per share will grow at a CAGR of 8% and will rise 57% above the 2014 dividend level. Over a period of 7 years an investor entering the stock today will be enjoying a 3% dividend yield on cost at the current share price level of $80.51 /share.

Final Take
UnitedHealth is the fastest growing health benefit company with 8.6 million individuals served over a period of 5 years compared to 0.8 million served by all other publicly-traded diversified managed care companies in the same time period. It will continue to benefit from its extensive members base. Short-term setbacks aside, in the longer term the company's costs are expected to be curbed when the competition for Sovaldi hits the market. The company has been enormously rewarding its shareholders through extravagant dividends and share repurchases making it desirable for income investors. Therefore I hold a buy rating on this stock and investors should make this stock a part of their dividend-generating portfolios.
Disclosure: The author has no positions in any stocks mentioned, and no plans to initiate any positions within the next 72 hours.
Business relationship disclosure: The article has been written by a Gemstone Equity Research research analyst. Gemstone Equity Research is not receiving compensation for it (other than from Seeking Alpha). Gemstone Equity Research has no business relationship with any company whose stock is mentioned in this article.