Great Company, But...
John Mackey, Whole Foods' (NASDAQ:WFM) CEO, has built an extraordinary company. Everyone should read his book Conscious Capitalism to truly understand the depth of his commitment to people and its remarkably positive effect on his company. The most remarkable statistic is an employee turnover rate at WFM of under 10% (figure from his book) compared against an industry average of 100%!
(My flattery leads to the inevitable) But I do not love the stock even with the drop from the $50-$55 range to the $37-$39 range. Perhaps the renewed interest is based on anchoring to the previous highs, confirmation bias from those who want to justify buying, or WFM is indeed favorable priced (meaning I would be wrong for the record).
The Competitive Landscape
According to progressive grocer, the U.S. grocer market is $603B with growth estimates at 3%. The specialty (healthy) grocer sector is $81B with growth estimates at 10%.
The overstated, but not irrelevant, threat of Wal-Mart (NYSE:WMT) moving into organic is a popular story that diverts attention from the real threat. This threat is Trader Joe's, Sprouts Farmers Market (NASDAQ:SFM), The Fresh Market (NASDAQ:TFM), and other healthy grocers. So in addition to stealing share from the traditional grocers, WFM has formidable competition within the specialty niche.
The impact has shown up in comparable store figures for WFM.

TFM is emulating WFM model very closely, but SFM is aiming for a slightly lower income demographic. The comp sales figures and SFM's lower-income approach point towards consumer price sensitivity to a degree.
Another factor for decreasing comps is WFM's stated effort to offer more competitive pricing.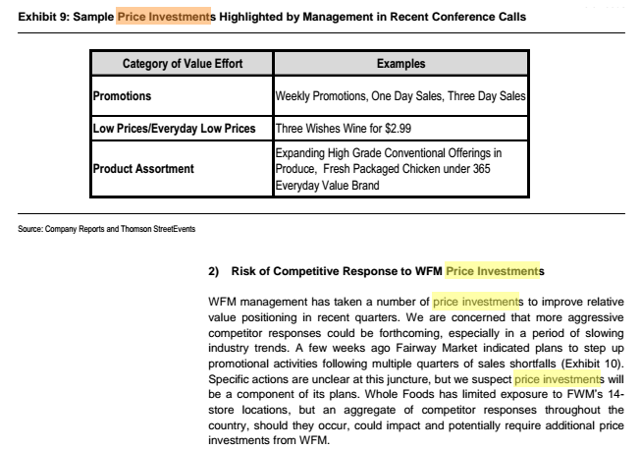 Source: Oppenheimer Initiation Coverage
WFM has a strong balance sheet with $2.66 cash per share and strong, consistent margins of ~35% (that will see some pressure with price investments).
Valuation
With $1.46 per share in levered FCF, 12% growth for 5 years, 3% long-term growth rate, and 8% discount rate; I see WFM's fair value at $28.96.
Additional Info:
Despite my personal preference towards WFM, a lot is made of the customer loyalty at Whole Foods without much support. This article outlining a survey on customer loyalty makes no mention of WFM, but does highlight Trader Joe's history of loyalty. Admittedly, this may be a practice in confirmation bias but I am unable to find data to show strong loyalty to WFM.
The "organic" label is convoluted and twisted by bureaucracy. WMT and others may be "going organic," but WFM and their group are continually aiming for natural, healthy, and sustainable as principles (not just products).
Disclosure: The author has no positions in any stocks mentioned, and no plans to initiate any positions within the next 72 hours. The author wrote this article themselves, and it expresses their own opinions. The author is not receiving compensation for it (other than from Seeking Alpha). The author has no business relationship with any company whose stock is mentioned in this article.