General Electric (NYSE:GE) is a $269 billion market cap industrial goods and financial services company famous for everything from light bulbs to kitchen appliances. General Electric is currently trading at $26.75 on a 52-week range of $22.92 to $28.09, up 40% over the past three years, but some analysts say the surge will continue, predicting the company could hit as high as $32 in the next year.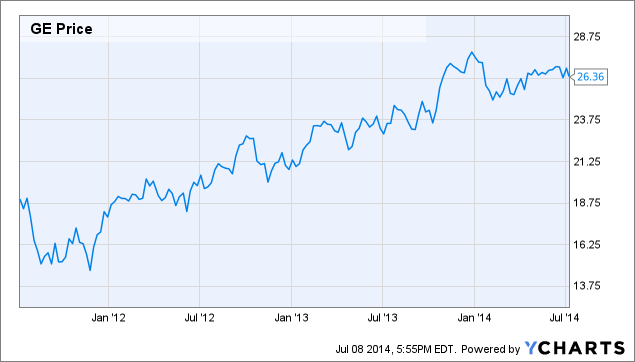 There are several factors skewing analyst opinion, one of the most prominent of which is the company's recent acquisition of Alstom (OTCPK:ALSMY). News of the deal has been in the media for weeks. Here's the basics of what happened.
ALSTOM ACQUISITION
On June 21, Alstom's Board of Directors approved GE's acquisition of Alstom's Power and Grid business. The deal is expected to close in 2015. It required (and received) the approval of the French government. The all-cash price tag was $16.9 billion (€12.35 billion), including $13.5 billion (€9.9 billion) enterprise value and $3.4 billion (€2.5 billion) of net cash. This puts the value of the acquisition at roughly 7.9 times the earnings of Alstom's Thermal, Renewables, and Grid business units.
WHAT HAPPENS NEXT
The deal between GE and Alstom forms three joint ventures. The first is "Grid". This is a 50/50 joint venture between GE and Alstom that allows the two companies to combine their grid assets. The pair will also form a second joint venture called "Renewables". This venture contains Alstom's Offshore Wind and Hydro business and, like Grid, is owned 50/50 by GE and Alstom.
Lastly, the two companies will form a "Global Nuclear and French Steam" venture. Its purpose is to grow secure nuclear steam technology for France and beyond. The venture includes Alstom's production and servicing of steam turbine and nuclear power plant equipment. Like the other two ventures, this one will be owned 50/50 by GE and Alstom, but in this case, the French government will hold "a preferred share giving it veto and other governance rights over issues related to security and technology of nuclear plants."
INDUSTRY GROWTH
GE was careful to note that "the joint ventures will lower GE's projected earnings from the transaction by approximately $0.01-$0.02 per year." At this price, "GE expects the deal to be accretive to earnings in the first year," according to a recent press release, and the company "maintains its synergies target of $1.2 billion annually by year five."
A big reason for this optimism is the fact that GE and Alstom offer each other a range of synergies; by combining their efforts in these areas, both companies can more easily address the rapidly growing power generation market. Electrical generation is expected to grow by 54% by 2030, and 70% of all future gas turbine orders will come from combined cycle plants, that is those which feature both gas and steam turbines. Moreover, of the 3,400 GW of additional power generation the world is expected to install over the next 10 years, over 50% of that will come from combined cycle plants.
A CONSCIOUS EFFORT
Global population is climbing. According to the United Nations, world population reached 7 billion on October 31, 2011 (the current world population is roughly 7.25 billion), and is expected to reach 8 billion people in early 2024 - an increase of almost 15%.
With population growth comes a greater need for power, and GE has been angling to be able to support those additions with a more solid infrastructure. The global giant invested over $1 billion in the research and development of power and grid technology.
BUT IS IT WORTH IT?
The numbers sound big because it's General Electric. One billion dollars is only a fraction of the company's market cap, and so is the Alstom deal. GE puts 5%-6% of its revenues into research and development each year - its investment in R&D has been more than $43 billion over the last decade. Grid technology is a part of that, but it's not GE's primary focus.
The Alstom deal is worth it. The divisions GE will be entering have not had their best year - Alstom's revenue fell to $28 billion from $30.9 billion compared to the previous year - but the acquisition gives GE a strong foothold in France, and the synergies between the two companies should turn things around.
But there are other reasons to invest in General Electric.
WHY GE IS WORTH IT
General Electric's revenue growth is outpacing the industry average, and that increase is trickling down to its bottom line. The company earned $1.47 per share, compared to $1.38 in the previous year, and the market expects that figure to rise to $1.70 in the year ahead.
More importantly to investors, those gains are not shown in the company's share price. The stock is up, but its appreciation has not kept pace with the S&P 500.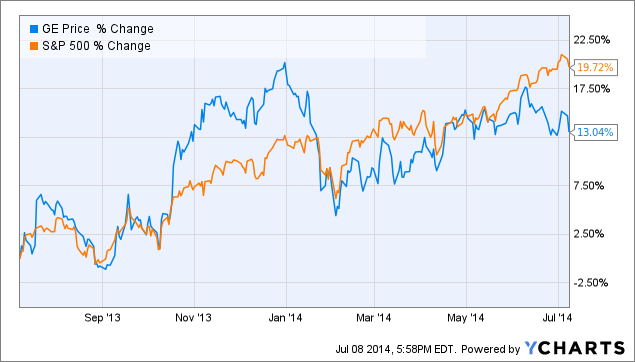 GE is growing - and innovating.
INNOVATION
Last month, General Electric announced a $15 LED light bulb called "Link" that users can control by a smartphone app (called "Wink"). Moreover, as intriguing as that innovation sounds, it is part of a larger push into the smart home market. GE is one of several companies to partner with New York-based Quirky to develop the "Wink Hub," which allows users to control other appliances via the Wink app.
General Electric has also been active in the development of industrial internet platforms, such as its Predix, and in working to provide wireless capabilities to machinery, thanks to partnerships with companies like AT&T.
TAKEAWAY
These examples may be anecdotal - it is too early to see the gains from these innovations - but they point to the fact that GE has its eye on the horizon. Combine these facts with General ELectric's strategic partnerships, strong financials, and 3.3% dividend yield, and GE is a good long-term bet.
Disclosure: The author has no positions in any stocks mentioned, and no plans to initiate any positions within the next 72 hours. The author wrote this article themselves, and it expresses their own opinions. The author is not receiving compensation for it (other than from Seeking Alpha). The author has no business relationship with any company whose stock is mentioned in this article.
Editor's Note: This article discusses one or more securities that do not trade on a major U.S. exchange. Please be aware of the risks associated with these stocks.