Cree, Inc. (NASDAQ:CREE) develops and manufactures light emitting diode (LED) products, silicon carbide (SiC) and gallium nitride (GaN) material products, and power and radio frequency (RF) products. Its LED products include LED chips used in various applications, including video screens, gaming displays, function indicator lights, and automotive backlighting; LED components; and LED lighting products
From the most recent quarter, which was the end of their financial year, for fiscal 2010, revenue increased 53% year-over-year to $867 million, compared to $567 million for the prior year. GAAP earnings were $152 million and $1.45 per diluted share for fiscal 2010, while non-GAAP earnings increased 203% year-over-year to $179 million and $1.71 per diluted share.
click to enlarge image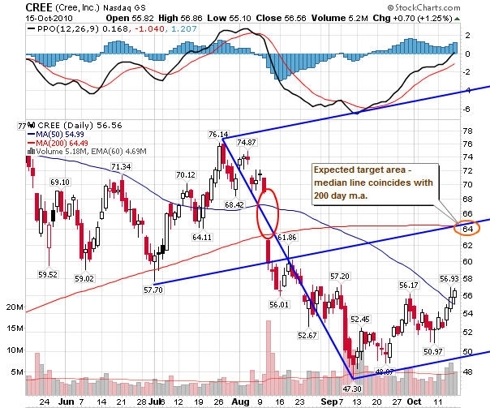 Click to enlarge
Target on CREE is 63-64 (see chart above). The company reports Tuesday after the close (confirmed). NFLX reports Wednesday and DECK is expected to report on Thursday after the close (verify first). ISRG is another earnings play. Please do your own due diligence. Holding over earnings can be very risky. Using option strategies can limit your risk while allowing you to participate on the upside.
Disclosure: Author is long CREE call options and option spreads.