We occasionally like to take a look at the "market share" for major global stock markets. The figure represents the USD value, in percentage terms, of a country's equity market versus the total global value of equity markets around the world. In our last update, the US share of global equities had plummeted from its recent highs. Back in April, the US share of global equity value had fallen precipitously in one of its sharpest declines in years. But since then, American equities have been performing well (the last two days notwithstanding), while many other global markets have moved sideways. As a result, the US has climbed back to about the level it was at in the first quarter.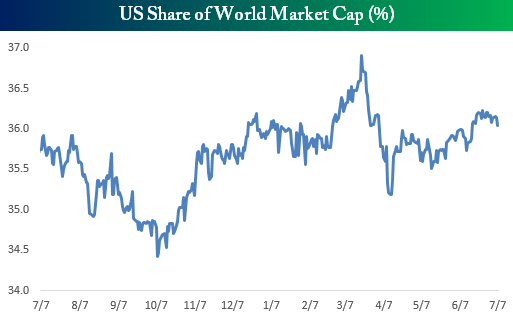 Elsewhere in the world, after tracking each other very closely through late 2013, Indian and Brazilian equity values have diverged aggressively. Brazil made a half-hearted attempt to keep up when emerging market equities went bid as a group in the first quarter, but the election of Narendra Modi in India has been rocket fuel for Indian stocks and the Brazilian market is totally incapable of keeping up. The result is a sharp divergence between the two BRICs.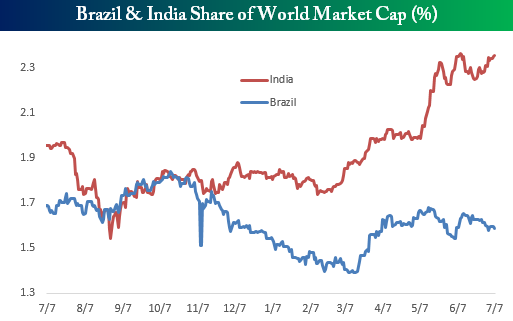 Finally we turn to "core Europe": Germany and France. As disinflation and broad-based economic weakness has continued throughout the Eurozone, European equities have struggled. Looser policy from the ECB has tried to be supportive, but the USD value share of equities in the two largest European economies has faltered, ending a long, grinding gain in terms of global market cap. Meanwhile, constructive economic data from Japan has put a fire under the Nikkei, and a stable yen have led to big gains for Japan's share of the global equity market.