Carl Icahn aside, there are reasons for investors to be disgruntled about the recent growth trends at Family Dollar Stores, Inc. (FDO). The company is scheduled to report earnings on 7.11.14, before the open, and expectations are for $0.89 per share. This will represent no-growth, but as we will discuss growth rates have actually been negative. Still, the stock trades at almost 19 times earnings.
Investors who are considering buying Family Dollar Stores given these recent trends should think very carefully about their decision. The charts below prove that the growth rate for Family Dollar Stores has been steadily declining and recently turned negative.
The first of the two charts below is a trailing 12 month comparison on a quarter by quarter basis and the second chart compares the same 12 month observations to the same period of the previous year to produce a yearly growth observation. Given these charts we can see that the growth rate for Family Dollar Stores has been steadily declining.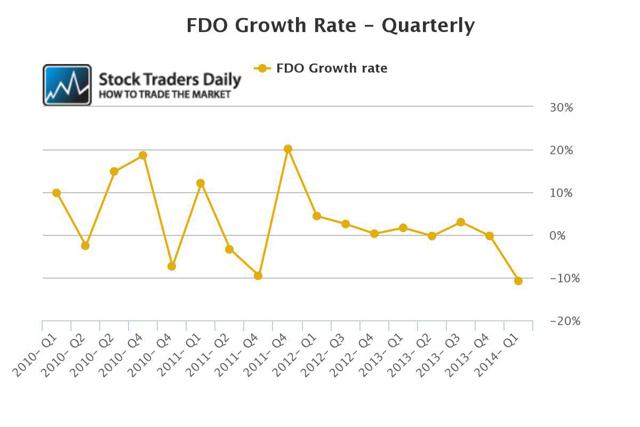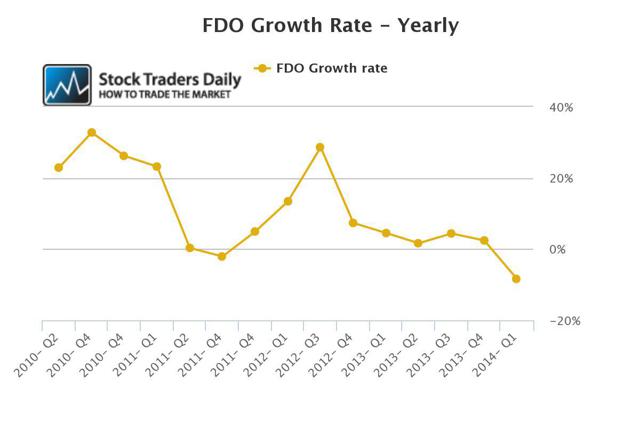 Although the company seems to be making solid earnings, the growth in earnings simply is not there at this time. Still, the company trades at almost 19 times earnings, making its valuation something investors must question. Simply ask yourself this question, are you willing to pay 19 times earnings for a company that is not currently growing and that is not expected to grow any time in the immediate future. If nothing more, we at least know that some investors will consider this valuation metric as a risk and that will make it a deterrent for new investment inflows.
In addition, our real time trading report for FDO suggests that the stock is currently pulling back from a test of longer-term resistance and by rule we should expect it to fall all the way to longer term support. This technical observation supports the notion that at current levels Family Dollar Stores is richly valued and it has a high probability of declining accordingly.
Disclosure: The author has no positions in any stocks mentioned, and no plans to initiate any positions within the next 72 hours.
Business relationship disclosure: By Thomas H. Kee Jr. for Stock Traders Daily and neither receives compensation from the publicly traded companies listed herein for writing this article.