Recently, James Dimon announced plans to continue as Chairman and Chief Executive of JPMorgan Chase (NYSE:JPM) for five more years. However, he also disclosed last week that he will receive treatment for cancer, and this news has raised concerns about who is prepared to succeed him-and how the largest bank in America will deal with the health crisis of its most critical employee.
Despite "Excellent" Prognosis, Concerns Grow
In a memo to employees, Mr. Dimon portrayed the prognosis for the throat cancer as "excellent" and stated the disease is "curable."
Regardless, the health crisis has reawakened concerns for the bank's succession plan.
"He's iconic and it's going to be delicate," said bank analyst Nancy Bush of NAB Research LLC. JPMorgan will need to ensure that clients and investors know that he "has his pulse on the company [but also] allow him time to heal," she said.
The most crucial question for the short term is the ability of Mr. Dimon to remain involved in regular responsibilities while receiving eight weeks of cancer treatments.
Leadership Vacuum Could Further Damage JPM Creditibilty
A cancer diagnosis can cause a vacuum in leadership if a company does not manage the situation well. The corporation, board and CEO will serve the industry better with full transparency and disclosure rather than ignoring the issue. If the original positive prognosis changes into something more dire, the news could damage JPMorgan's credibility.
Board Tries To Clarify Next Steps
For now, the bank has responded to the situation as follows: JPMorgan's board will have an opportunity in the next several weeks to clarify the role Mr. Dimon will assume during cancer treatments or whether a formal leave of absence will result in a temporary change in duties.
JPMorgan shares declined 60 cents, or about 1 percent on the news of Mr. Dimon's illness.
Questions Of Corporate Governance
The disclosure of Mr. Dimon's illness also stoked debate about the bank's corporate governance. Mr. Dimon has been in his position as chairman and chief executive since 2006. After the bank took a $6 billion trading loss two years ago, many shareholders pushed to split those roles and proposed the idea at the 2013 shareholder conference.
A vote defeated the proposal; however, Mr. Dimon's critical health status, which certainly will result in a reduction of his participation in the management of the bank, may bring the proposal back to life. Some shareholders argue that the largest bank in America should not give so much authority to a sole individual.
Moreover, the timing of this unfortunate diagnosis for Mr. Dimon comes at a time when the bank is experiencing declining trading revenue, Q1 losses, and continuing huge scandals in the headlines.
Health Details
At a retirement party recently for a longtime employee, Mr. Dimon attended and seemed to be feeling well and in good spirits. Several people close to him said that the throat cancer was discovered after Mr. Dimon visited a doctor because he was not feeling well.
After receiving the diagnosis and prognosis, Mr. Dimon informed JPMorgan's leading board director, Lee Raymond, and then the rest of the board. Subsequent to informing the board, Mr. Dimon told other executives at the weekly operating committee meeting. Those who attended were stunned and reported that Mr. Dimon seemed calm and in control.
Outlook for JPM Stock in Q3 2014
While certain sectors of the bank produced solid results (consumer and community banking divisions and the asset management unit producing a 23 percent return on equity and an overall 11 percent return), critical factors remain worrying for investors.
Recent exposure of JPM's role in BNP Paribas' sanctions violations adds to concern that some inner workings of the bank are not as honest and transparent as they could be.
Some have criticized the board for excessively rewarding its CEO, despite poor result and enormous fines-not taking shareholders into first priority.
JPM's earnings results have been inconsistent in the past four quarters-missing revenues expectations three times, particularly last quarter by a sharp $1.046 billion.
YTD the stock appears to be in a relative rut.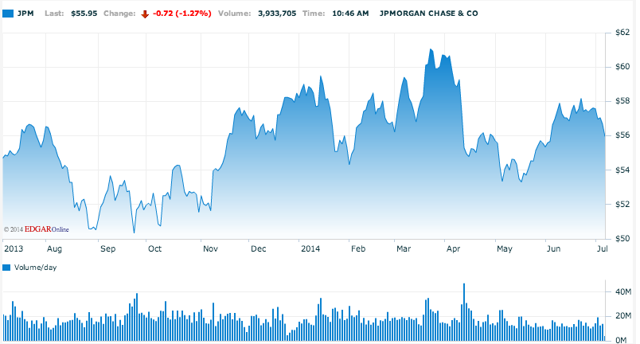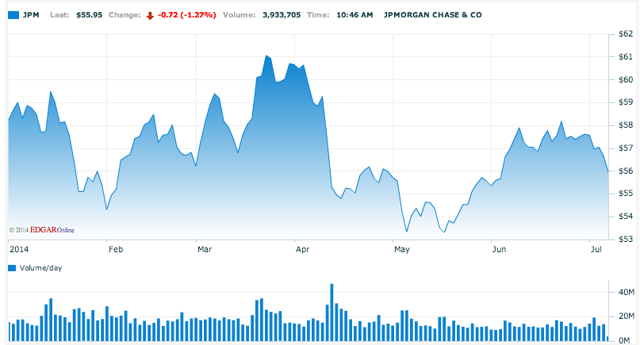 (1-year and YTD charts: Nasdaq.com)
In order to be flexible to adapt and compete in a new and difficult regulatory and trading environment for big banks, JPM will need strong, present leadership; unfortunately, this is not the case at the moment.
While there are positive factors (noted above), we are certainly not yet positive on the firm as a whole and suggest investors take profits now.
We invite readers wishing to join the discussion on JP Morgan and other mega-banks to click the +FOLLOW button above the title of this article and +Get real time alerts for the latest news.
Disclosure: The author has no positions in any stocks mentioned, and no plans to initiate any positions within the next 72 hours. The author wrote this article themselves, and it expresses their own opinions. The author is not receiving compensation for it (other than from Seeking Alpha). The author has no business relationship with any company whose stock is mentioned in this article.