It looks like things are going great for BlackBerry (NASDAQ:BBRY) right now. The stock price is in the midst of a nice trend upward, John Chen seems to have full control over everything that's going on, the company is working to monetize its technology portfolio, and smartphone sales appear to be revving up in emerging markets.
As John Chen disclosed on his last conference call, the company is now making more strides to try and get BBM on to Windows Phones. c|net was out this morning with a piece confirming that the BBM for Windows beta version has launched itself at Microsoft's Windows Phone store earlier this week. After that, the beta is going to be widely available elsewhere. c|net reported:
The once-dominant mobile phone maker has been hit hard by a dwindling market share as individual consumers and businesses have gravitated to rival platforms such as iOS and Android. In response, BlackBerry has tried to carve out more specific niches for itself to stay alive. Once such niche is BBM, its free chatting and voice calling app, which expanded beyond BlackBerry to iOS and Android late last year after some initial hiccups. Those versions added more than 40 million registered users to the total BBM population by the end of 2013.

Users had been asking BlackBerry to extend BBM to other mobile systems, such as Windows Phone, BBM product and marketing chief Jeff Gadway said in February. At the time Gadway said the Windows Phone version would arrive sometime this summer.
BBM is going to be important for BlackBerry and John Chen has remained committed in his attempts to monetize the service one way or the other. He's also joked that if he was offered the same $19 billion that Facebook offered WhatsApp, he'd consider selling. QTR thinks about $2 billion is a proper price tag for BBM "as is." Let's see what the company does to monetize it going forward, first.
"We have been using the Windows Phone storefront to help conduct a closed internal beta to test the BBM for Windows Phone app. We plan to use the Windows Phone store to facilitate a broader external beta in the coming weeks. Only users who have been whitelisted to participate in the beta will be able to install the app. More information on how to participate in that external beta will be available through the BBM blog shortly."

-BlackBerry spokeswoman
Further, Business Day Online featured a piece yesterday about BES 10, and why accountancy and law firms in the UK continue to embrace it for security. The report noted:
BlackBerry Limited, a world leader in mobile communications, says it is seeing strong growth following a number of recent BlackBerry® Enterprise Service 10 (BES10) deployments among leading law and accountancy firms.

Seventy-four percent of the UK's top 31 law firms, including several of the legal "Magic Circle," have chosen or evaluating BlackBerry solutions to provide an end-to-end mobile security infrastructure. These firms use BES10 for either commercial or test purposes to ensure their devices are rigourously managed and follow regulated industry requirements.

International law firm, Taylor Vinters, needs to meet their clients' expectations for high productivity and responsiveness, including while employees are working remotely. Client expectations, coupled with the need to meet the security demands of a regulated industry, are the key drivers behind Taylor Vinters' need for a solid mobile strategy. The firm worked with Appurity to install BES10 to manage a combination of BlackBerry® 10 and non-BlackBerry devices.

"BlackBerry has provided us with highly scalable and robust mobility management solution," said Steve Sumner, director of IT at Taylor Vinters. Our clients share privileged information with us and we need to be able to access and store that information in a safe and secure way. Our clients also expect a certain speed of response and having BlackBerry technology in place enables us to meet that need." Clyde & Co., a global law firm with more than 1,400 employees, has deployed BES10 to migrate its existing 1,200 BlackBerry users to BlackBerry 10 smartphones.
This is just another example of where customers should go when there is sensitive data involved. BlackBerry continues to cement its name as the most secure enterprise platform out there.
BlackBerry did well to fight back in yesterday's trading, when the macro markets dragged stocks down for most of the session. The security closed well off its lows and with strength into the end of the day. As you can see from the technical picture below, the moving averages are showing a golden cross and the RSI has been pushing above the overbought line. This is likely due to the fact that a lot of the buying we're seeing is short selling. I pointed out in my last piece that there was still a significant short position, but we're now waiting on updated figures which should be out any day now.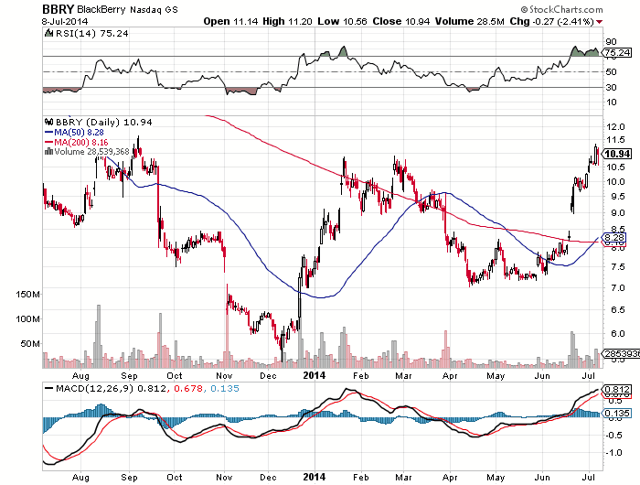 I'll be interested to see how much of this week's rally has been the result of short covering. It also looks like $11 is going to be the potential new resistance and condensation spot for the stock, which hasn't really even taken a breather since rocketing upward from the low $8 level post-earnings.
Both the update on BBM and the confirmed continued support behind BES are music to a BlackBerry shareholder's ears. We have four or five core components of the business that we need to execute in order for BlackBerry to once again become a full-fledged juggernaut. Good news on two of those in any given week, with the stock holding its ground, is nice to hear.
I didn't get to see these headlines until this morning. However, I took some time yesterday, while the stock was near its lows of the day around $10.60 to add to my position by about 8%, which I then disclosed on my StockTalks and on my Twitter. By the end of the day, I was already happy with the move to press it up a bit more with my biggest portfolio holding. My short term price target remains $15 for BlackBerry - which I think is reasonable by the end of the year. Long-term, $20 can't be far off but will likely come in beginning to mid-2015, in QTR's opinion.
Best of luck to all longs in it with me, and happy trading.
Disclosure: The author is long BBRY. The author wrote this article themselves, and it expresses their own opinions. The author is not receiving compensation for it (other than from Seeking Alpha). The author has no business relationship with any company whose stock is mentioned in this article.