By Bryan McCormick
US stock index futures are down fractionally this morning after Asian markets finished their sessions mostly down. Europe is fractionally higher on average, which has helped to pull US futures off their lows.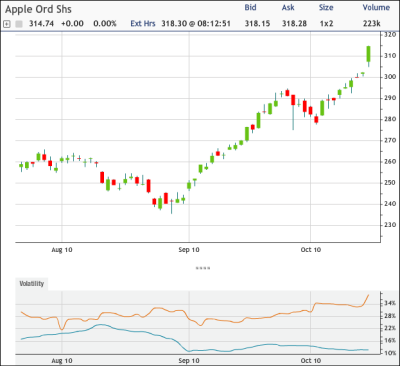 One area that is moving more aggressively this morning is the foreign exchange markets, with the dollar higher against its basket of currencies. The yen is the only currency that is stronger, with both the UK pound and Canadian dollar notably weaker.
The higher dollar is helping pull down commodity prices, as industrial metals weaken. Agricultural commodities may be active on the upside after a mega-typhoon in the Philippines may have jeopardized rice crops.
Earnings season accelerates this week, with at least 119 S&P 500 companies set to report. Citigroup (C), Apple (AAPL), Haliburton (HAL), Hasbro (HAS), Zions Bancorp (ZION), and IBM (IBM) are reporting today. Notable companies reporting tomorrow include Altera (ALTR), Bank of America (BAC), EMC (EMC), Gilead Sciences (GILD), Goldman Sachs (GS), Johnson & Johnson (JNJ), Juniper Networks (JNPR), Coca-Cola (KO), and Yahoo (YHOO).
Medical-device stocks are active this morning after St. Jude Medical's (STJ) announcement that it would acquire AGA Medical (AGAM) for $20.80 per share. AGAM is up more than 40 percent on the news.

Disclosure: No positions