American Apparel Inc. (APP), a company that manufactures casual clothing lines, is trying to raise capital from Standard General, a hedge fund financier, in order to cope with a $10 million debt called in by Lion Capital.
The financing will allow the company to offset the loan made by the founder of the company, Dov Charney that has now come due.
Although Mr. Charney was voted out by the board last month in his position as chairman, the board is now forced to wait for a 30-day period in his contract to expire before they can fire him as president and chief executive.
Allegations Against Mr. Charney
The board has alleged that Mr. Charney misused company funds. In addition, he is involved in a sexual harassment suit by a former employee related to the publication of nude photographs. Mr. Charney's lawyers have dismissed all these allegations of wrongdoing and misconduct as baseless and have filed an arbitration petition on his behalf to block his departure from the company.
At the moment, then, Mr. Charney's fate is uncertain, and his conduct is still under investigation by an independent organization hired to look into the matter. If Mr. Charney is cleared of all accusations, it is possible that he will remain with American Apparel, but it is unlikely to be as chief executive.
However, Standard General, who has a 43% stake in the company, has made it clear that it will not allow Mr. Charney to work in the company in any capacity if the investigations do not clear his name. In the meanwhile, Mr. Charney has refused to go quietly and is waging a battle to regain control of the company.
Restructuring on the Horizon
Financing from Standard General is still in negotiation with bankers, and the outcome is not clear. As part of the discussion, it is likely that the company leadership will be restructured. With most of the board leaving and only the two current co-chairmen remaining, it is expected that the board members will be replaced by directors with more experience in the garment industry. At present, however, no formal agreements have been made.
Lion Capital Plan to Formally Demand Payment
Financing from Standard General will pull American Apparel out of immediate debt.
American Apparel had a $10 million loan from Lion Capital, an investment firm. Lion said that it would call in the loan if Mr. Charney was dismissed from the company. However, the loan was not paid by July 4th, as requested, and now Lion Capital has initiated a formal demand for full repayment.
Other Crises for American Apparel
However, this standoff is not the only crisis facing American Apparel. If the Lion Capital loan is not handled quickly, it may trigger a default with Capital One, which has given the company a $50 million line of credit.
The arrangement between American Apparel and Lion Capital was made between Lyndon Lea, a founding partner of Lion, and Mr. Charney, the founder of American Apparel. The two companies enjoyed a reliable business arrangement for five years.
Adding to the confusion, Standard General, prior to the alleged wrongdoings and misconducts by Mr. Charney coming to light, had boosted his shares from 27% to 43% as well as given him voting control in the stock. Now Standard General is waiting to find out what FTI Consulting, an investigation firm, concludes about Mr. Charney's behavior before deciding if he will continue to be part of the company. A letter was sent by Standard General to investors explaining the complicated situation.
Unfashionable Outlook For Investors
With senior management and financials in dangerous flux, the outlook for APP shareholders in the second half of 2014 is less than stylish.
The past four quarters have seen unsteady results, compared to analyst expectations for APP. The company missed expectations for earnings and revenues twice.
A declining chart suggests waning investor confidence, even though the retail sector has been less than formidable in 2014.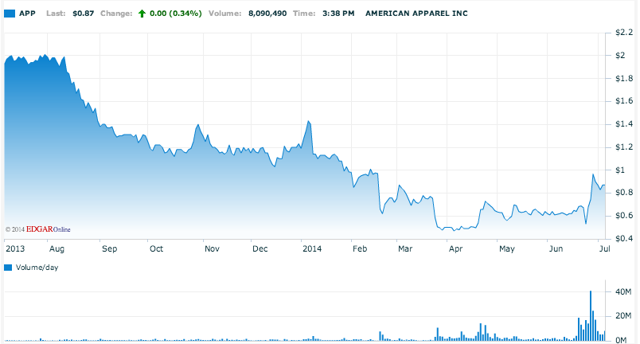 Click to enlarge
(Nasdaq.com)
APP has significantly underperformed the major retail sector ETF, XRT.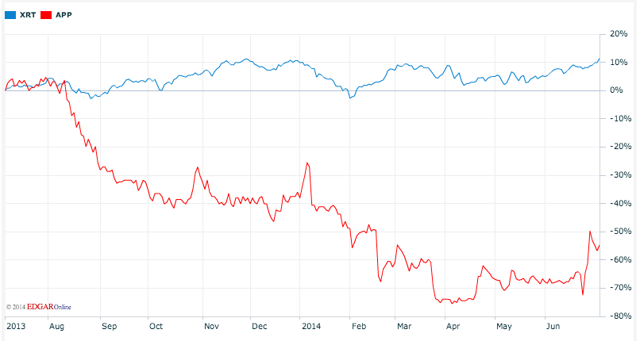 Click to enlarge
(Nasdaq.com)
We suggest investors take profits in APP as the company appears to be increasingly unfashionable in 2014.
Disclosure: The author has no positions in any stocks mentioned, and no plans to initiate any positions within the next 72 hours. The author wrote this article themselves, and it expresses their own opinions. The author is not receiving compensation for it (other than from Seeking Alpha). The author has no business relationship with any company whose stock is mentioned in this article.
Editor's Note: This article covers one or more stocks trading at less than $1 per share and/or with less than a $100 million market cap. Please be aware of the risks associated with these stocks.