"The obvious is that which is never seen until someone expresses it simply." - Khalil Gibran
Last Thursday, the Riksbank (Central Bank of Sweden) cut their repurchase rate by 50 basis points to a record low of .25%. The move exceeded the consensus view of a .25% cut due to lower than expected inflation, and major currencies, including the Pound, Dollar and Euro, rallied against the Krona. The Pound/Krona was up almost 2% alone on Friday, and is now up 8% since the beginning of April.
An investor might look at the following chart and say, "this is ripe for a pullback". But, is it?
3 Month price trend for the GBP/SEK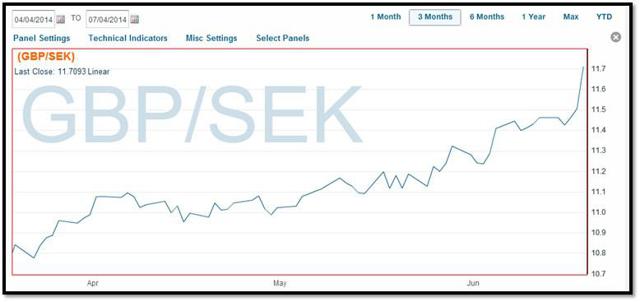 (SOURCE: EidoSearch data dated 7/7/14)
The Riksbank is cutting rates, while the Bank of England is likely to be one of the first to raise rates. Economic data continues to improve in Great Britain and after a disastrous start to the year, the stock market is up about 6% since early February. Looking at the price trend alone, to get from what seems like an obvious sign of a pending pull back to having the data to make it actionable are certainly two different things. How long is the Pound likely to continue rallying against the Krona? If there's a pullback, how deep is it likely to be?
What would be helpful is to know when the Pound/Krona has traded like this historically and to see what happened next. Basically, how do we get from a subjective feeling on what is likely to happen next to an objective, actionable data point to incorporate into the decision making process?
I took the last 3-month price trend in the GBP/SEK to find similar historical instances of this price trend. I found 18 instances going back to 2003. In only 3 of the 18 instances is the pair up in the next 3 months, and the average return of all 18 similar instances is -2.2%.
1 month forward projection for the GBP/SEK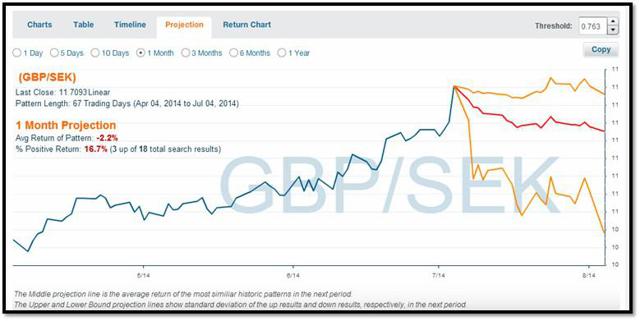 (SOURCE: EidoSearch data dated 7/7/14)
At times like these, historical precedent is a powerful gauge. Watch out for a pull-back in the Pound/Krona over the next month.
Disclosure: The author has no positions in any stocks mentioned, and no plans to initiate any positions within the next 72 hours. The author wrote this article themselves, and it expresses their own opinions. The author is not receiving compensation for it. The author has no business relationship with any company whose stock is mentioned in this article.