This article is a follow-up to several articles that I've written previously about Document Security Systems (NYSEMKT:DSS). For those not familiar with DSS, the company is a leader in anti-counterfeit, authentication, and mass-serialization technologies. DSS' specialized security programs are designed to protect against product diversion, counterfeit, theft, and other costly and damaging occurrences. DSS provides turnkey security solutions to corporations, governments, and financial institutions around the world. DSS is establishing a strong IP position with more than 160 patents and over 50 foreign counterparts and expects to increase its patent portfolio to 200 to 300 patents in a year or two. This is up significantly from 12 patents in 2012.
DSS is building its patent portfolio in three verticals:
Brand Protection (its core expertise area)
Software and Internet
Hardware and peripherals
During a May 29, 2014 investor presentation, DSS' CEO Jeff Ronaldi stated that DSS intends to accelerate the monetization of existing patents to become a major player in the high-growth IP-licensing industry. The following slide shows the huge growth expected in this area in the next two years (source Ernst & Young):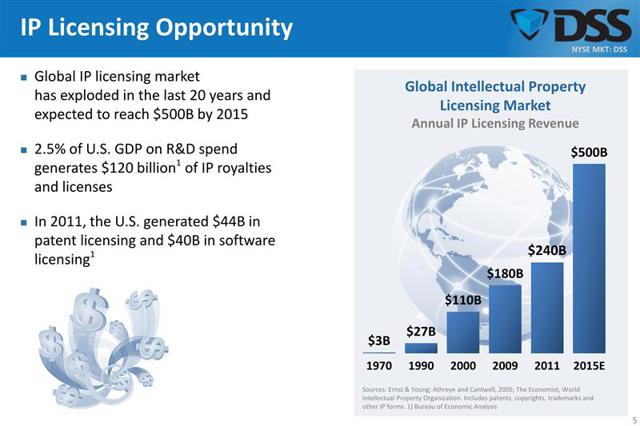 My focus in this article is to provide an update on several lawsuits whose outcome will have a significant effect on the share price going forward.
Oral arguments in the lawsuit against Coupons.com will begin July 10, 2014
For those not familiar with DSS lawsuit against Coupons.com (COUP), in October 2011, DSS filed a lawsuit against Coupons.com alleging that Coupons.com had misappropriated DSS trade secrets and breached confidentiality agreements with DSS. The suit involves DSS's proprietary digital copy protection technology; DSS contended that its technology had been utilized by Coupons.com on billions of internet generated coupons since 2006. The original claim amount was approximately $240-300M in total or $40-45M per year retroactive to 2006. But this is 2014 and Coupons.com is now a public company with a market cap of almost $2.4 billion. In fact, the Coupons.com IPO has proven to be one of the most successful IPOs this year.
In his presentation Mr. Ronaldi stated "we expect to go to trial this year and we are going through the court system as we speak." It should be noted that the case against Coupons.com is unrelated to the landmark Alice Corp. Vs. CLS Bank because it's a breach of contract case and not a software-related case.
On May 9, 2013 Hon. Charles J. Siragusa issued a DECISION AND ORDER granting DSS its right to proceed on the breach of contract case based on evidence presented to him in several hearings going back to 2011. It is the same judge Siragusa, United States District Judge of the Western District of New York, who will be presiding over the next phase of oral arguments that will be presented in court starting on July 10, 2014.
During the aforementioned May 29, 2014 investor conference, DSS' CEO Ronaldi presented several slides (presented below) showing key milestones for the lawsuits against Coupons.com, Facebook, LinkedIn, AAPL, Samsung and many others accused infringers. Again, please note that the Coupons.com and the hardware and peripherals cases against AAPL, Samsung, Taiwan Semiconductor, etc. do not depend on the outcome of the Alice Corp. vs. CLS Bank. You will notice that the company expected the resumption of the cases against Facebook (NASDAQ:FB) and LinkedIn (NYSE:LNKD) in 3Q 2014.
The patent-infringement cases against FB and LNKD following the Alice Corp. Vs. CLS Bank outcome.
Much has been written and debated recently about the highly anticipated U.S. Supreme Court decision concerning software patents in the Alice Corp. v. CLS Bank case. The Court reaffirmed that abstract ideas are not by themselves patentable and unanimously held that the software at issue was no more than an abstract idea. More specifically, fellow SA contributor Markman Advisors concluded that the impact of the Supreme Court's decision will be felt on a patent-to-patent basis. I agree with this conclusion after having read dozens of opinions following the June 19, 2014 Court's decision. For this reason, I expect that the cases against FB and LNKD will march on. Here are a couple of key paragraphs of Markman Advisors' June 20, 2014 article:
"The Supreme Court of the United States has issued its long-awaited opinion in Alice Corp. v. CLS Bank Int'l (No. 13-298). This case was highly-anticipated by investors in high-tech companies, holders of stock of patent assertion entities, and the patent bar. It was expected to answer the highly contentious question of whether software can be patented. The decision was anticipated to have a significant impact on software tech giants such as Google (NASDAQ:GOOG) (NASDAQ:GOOGL), IBM (NYSE:IBM) and Apple (NASDAQ:AAPL), who are among the largest patent-filers."

"In addition to the prospective impact on tech giants, the decision was expected to impact numerous patent assertion entities whose share prices are predicated upon expected revenue from pending or anticipated patent litigations. These include Document Security Systems , Finjan Holdings (NASDAQ:FNJN), CopyTele (COPY) and Worlds (OTCQB:WDDD), among others. Some of these companies have asserted software patents. For instance, in the case of DSS, Facebook and LinkedIn managed to have DSS' cases stayed on the grounds that the Supreme Court's Alice decision could make the case go away overnight. Did that happen? It doesn't look like it, and we can expect DSS to continue to try its case forward. Has the Alice decision eviscerated scores of software patents? As with many things in life, the answer is it's complicated. The impact of the Supreme Court's decision will be felt on a patent-to-patent basis."
DSS-owned Bascom patent portfolio allegedly being infringed upon by Facebook and LinkedIn [and others, as DSS already settled Bascom-related patent-infringement lawsuits with Broadvision (NASDAQ:BVSN), Jive Software (NASDAQ:JIVE), and Novell] has already passed several "patentability" tests which were at the heart of the Alice Corp. v. CLS Bank case. The fact that several companies have already settled, and have accepted to pay DSS royalties, is a testament of the strength of the Bascom patent portfolio.
An excellent reference that discusses in detail the Bascom patents is provided in the excellent 75-page document entitled "The Emergence of Document Security Systems " published on April 10, 2013 by J. P. Moreno. The following are excerpts about the important issue of "patentability" of the Bascom patent portfolio (more detail can be found in pages 34 - 75 of Mr. Moreno's document):
"Before delving into how the DSS-owned Bascom technology is allegedly being used today, it is worth spending some time to consider the background of the inventions developed by Tom Bascom. Understanding the origin of the patent portfolio helps us recognize why it has value far beyond its initial design. It also illustrates how the patented inventions create an architectural framework that can be used in many ways beyond its original intent."

"Mr. Bascom goal was to find a method that would take information that is distributed, or spread-out, across a network and cluster meaningful information together. For example, in a corporate environment - as information continues to be added to the network - it can become increasingly difficult to search for and find relevant information. This is especially true if the information is spread out across the network. Mr. Bascom's original patent ('792) describes a methodology that addresses this challenge. This is accomplished by establishing contextual relationships between the distributed information. The '792 parent patent is entitled "System and Method for Collecting, Storing, Managing and Providing Categorized Information Related to a Document Object." The '792 is the foundational patent of the Bascom portfolio, which has a total of 6 issued patents and 5 pending applications."

"The Bascom patent family is essentially an architecture that "creates relationships", "stores relationships", and gives users the ability to "access relationships". They are "relationships with attributes", where an attribute can describe the relationship between two document objects on a network."

"The '792 Abstract (in part): "A method and system for enabling users of a network to create, store, and provide access to relationships between document objects stored on the network. The method may include the steps for allowing a user of the network to create a link relationship between a first document object and a second document object; for storing the link relationship in one or more link directories; and for providing all users of the network access to the link relationships stored in the one or more link directories based upon the document object currently accessed by the users."

"After a thorough search, and in light of the prior art of record, all claims were allowed by the USPTO. In the Notice of Allowability, dated November 19, 2007, the examiner stated this under Reasons for Allowance: "

"The present invention is directed to methods and systems for the creation, storage and access of link relationships among documents stored on a network. The closest prior art, Dolan et al. (US Patent No. 5,801,702), is directed to a method for adding network links in a displayed hierarchy and the disclosure of a particular data structure associating those links. The further cited reference, Rivette et al. (US Patent No. 6,877,137), is directed to a method and system of linking annotations to portions of web pages. The additionally cited reference, Li (US Patent No. 6,725,227) is directed to a bookmark database system, whereas the cited reference Goerz, Jr. et al. (US Patent Application Publication No. 2002/0065671), is directed to an Internet-based client/server environment. These references do not disclose creations of a first and second document object link relationship, stored in one or more link directories separate from the first document, and including the assigning of link relationship attributes to a link relationship entry stored in a link relationship table."

"The USPTO, after reviewing prior art concluded that Mr. Bascom's invention of methods and systems for the creation, storage and access of link relationships with attributes between document objects stored on a network were ideas that were novel, useful, and not obvious. Therefore the USPTO granted a patent on June 10, 2008. It is important to note that the '792 patent application, which is the foundational patent in the Bascom portfolio, was originally filed on January 18, 2002 and has a priority date of March 7, 2001. The '792 patent specifications describes how contextual relationships (e.g. link relationships) created between different document objects stored on a network allows a user on the network to more easily find relevant content when searching the network."
The following May 29, 2014 slides show projected activity and important milestones across the 3 technology verticals the company is focusing on going forward: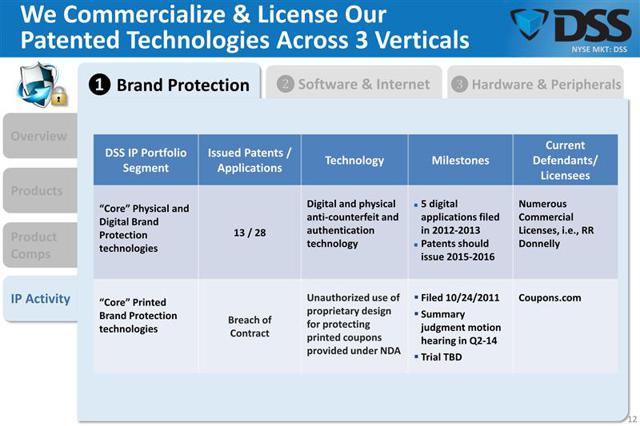 Click to enlarge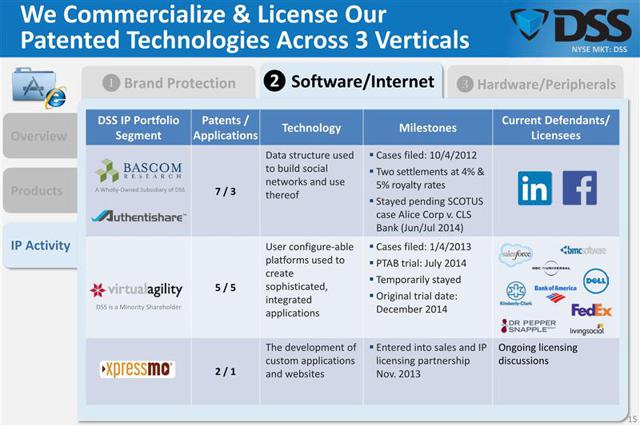 Click to enlarge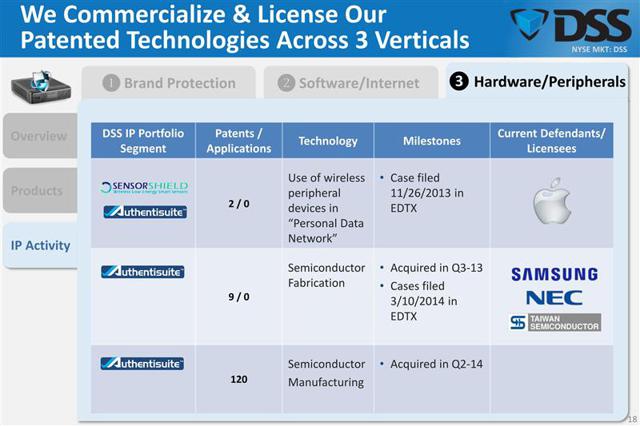 Click to enlarge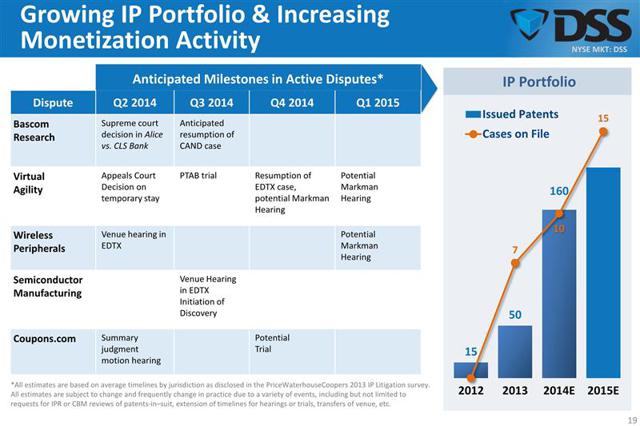 Click to enlarge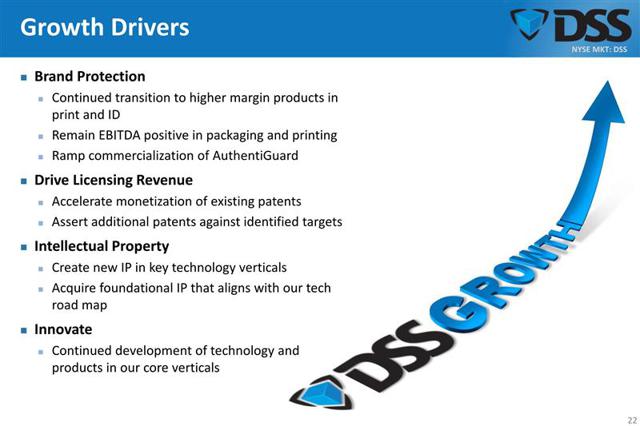 Click to enlarge
Please note that the above slides do not include a recent hardware-related patent-infringement lawsuit filed against Lenovo USA (OTCPK:LNVGF) in the Texas Eastern District Court on May 30, 2014.
I expect that the company will provide an update on the cases discussed above and other material issues in the near future.
Disclosure: The author is long DSS. The author wrote this article themselves, and it expresses their own opinions. The author is not receiving compensation for it (other than from Seeking Alpha). The author has no business relationship with any company whose stock is mentioned in this article.
Editor's Note: This article covers one or more stocks trading at less than $1 per share and/or with less than a $100 million market cap. Please be aware of the risks associated with these stocks.