Introduction
Pixelworks Inc. (NASDAQ:PXLW) is an undervalued company with a superior product in a rapidly growing industry. In the company's most recent 10-Q, it reported a quarterly (yoy) revenue growth of 64 percent due partly to the acquisition of a new powerhouse client, Apple (NASDAQ:AAPL). At 3D Analytics, we see this as a possible long-term relationship as well as a gateway to future large clients. Consequently, we assign a BUY rating with a $22 price target, which is triple the stock's current level.
Background
Pixelworks is an Oregon-based company that designs and produces semiconductors for superior digital-video display. Pixelworks video-display processing chips are integrated into a variety of products ranging from small mobile devices to large flat-panel televisions and projectors. Pixelworks' niche is to provide a chip that has two to four times the pixels and quality of current offerings while drawing less power. PXLW has sizeable contracts with many market leaders in the smart-phone, tablet and smart-television industries.

The Apple Connection
News first came in the March 3, 2014 10-K that more than 10 percent of PXLW revenues came from Apple. On May 9, 2014, in PXLW most recent 10-Q, it was disclosed that Apple accounted for 14 percent of Pixelwork's revenues. This is shown in the chart below, which was lifted from the 10-Q ("End customer A" refers to Apple). While AAPL's purpose for using PXLW products has yet to be announced, there are a few lines of business that would be advantageous for both players. The following information has not been announced as fact, but these are the three most likely reasons for AAPL to be a top consumer of PXLW end products.
Apple may be using Pixelworks processors in the iPhone 6. Because of the increased efficiencies of the new Pixelworks Iris chip in both quality and power usage, Apple could have opted to put this chip in the iPhone 6. This could be a huge revenue driver for Pixelworks, as the iPhone 5 sold 43.7 million units in Apple's most recent quarter.
Apple may be using the Pixelworks processor in the iPad. The iPad is used for more video viewing than the iPhone, and the Pixelworks chip would provide a much higher viewing quality for end users. In the most recent quarter, Apple sold 16.4 million tablets.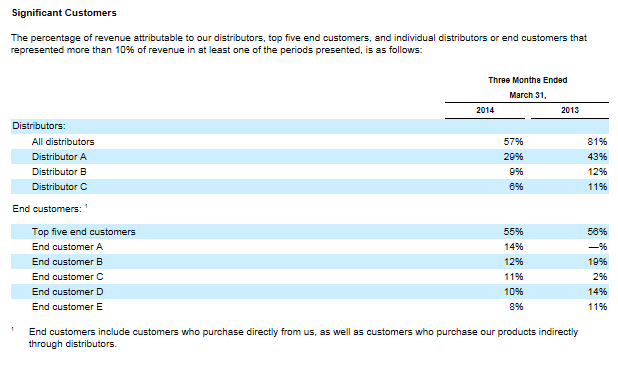 Apple TV?
Based on in-depth research by 3D Analytics, it is our conclusion that the Pixelworks-Apple bond is rooted in the development and production of Apple TV. Rumors have been circulating that Apple has been developing a smart TV, and while no announcements have been made, it seems logical this would be the company's next move. Apple has built out millions of iPhones and iPads and has been quite successful in those realms. However, Apple has yet to enter the large-display market, and based on its current intellectual property, it does not have all the technology to build a TV. This is where we see the largest benefit to Apple in partnering with Pixelworks.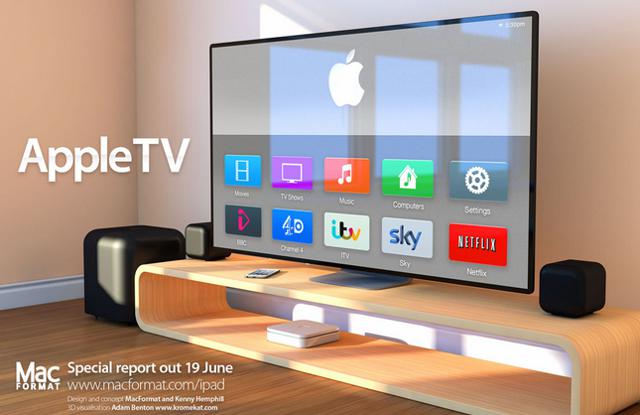 The Proof
Apple accounted for 14 percent of Pixelworks' revenue over the past quarter and 17 percent of its revenue for 2013. This would explain the development of this new product using PXLW processors at the same time the Apple TV rumors were circulating. In the conference call from the last earnings report, PXLW CEO Bruce Walicek telegraphs that his company has developed a mass-production version of large-screen for a partner (believed to be Apple):
"More importantly, though, Q1 was a key quarter of progress as we completed a number of critical milestones during the quarter that advanced progress on our key initiatives; first, we developed the mass-production version of the advanced SOC for large-screen applications we developed under our co-development partnership. and during the quarter, we received mass-production qualification from our customer. This is a major milestone on this project, and we are on track for volume production to begin in the current quarter and ramp it in the second half of this year, which we believe will result in significant market-share gains in 2014 and beyond."
For PXLW, the size and future revenues of this project will be unprecedented. Based on what Walicek said in the conference call, we can assume the development phase of the Apple TV project accounted for about $1.89 million of revenue in the previous quarter. This is only a fraction of what will be earned when the project goes into production. This could be a long-term relationship that will increase revenues exponentially.
A peer-group comparison shows PXLW is significantly undervalued and worth $22 per share
As our mission statement suggests, we seek out undervalued companies that are primed for growth, and we believe we have hit another home run with PXLW. The closest competitor to PXLW we can find is QuickLogic Corp. (NASDAQ:QUIK), which not only has similar products but also similar market caps and analyst-estimated growth rates. Both PXLW and QUIK have estimated growth rates higher than those of similar companies. But compared to QUIK, PXLW is trading at a steep discount, making it an excellent buying opportunity.

After averaging the ratios, we believe PXLW should be valued at $22, which is triple the price at which the stock is trading today. We also feel that some of the factors we have mentioned could greatly increase this number.

Conclusion
We believe PXLW is grossly undervalued, creating a huge opportunity for investors. Considering its current line of business, it is priced to triple. The potentially groundbreaking development of the Apple TV could propel PXLW shares even higher. Therefore, we assign a BUY rating with a price target of $22.
Disclosure: The author is long PXLW. The author wrote this article themselves, and it expresses their own opinions. The author is not receiving compensation for it. The author has no business relationship with any company whose stock is mentioned in this article.