GlobalSCAPE (NYSEMKT:GSB) was founded in 1996 and has products and domain expertise around managed file transfer (MFT) over the Internet. The diagram below outlines the functionality in the company's lead software product, Enhanced File Transfer (EFT), which accounts for 79 percent of sales. These capabilities ensure electronic files are moving nationally and globally in compliance with government and corporate security policies as well as privacy regulations.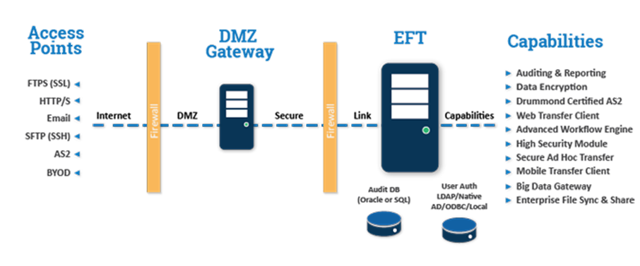 Source: Globalscape.com.
The San Antonio, Texas, headquartered company has just 103 full-time employees, yet an impressive 10,000 business customers. The company generated $24.3 million in revenues in 2013 with 79% being EFT product revenues, indicating an average sale value of under $2,000 per year. This lowly average sale value explains the company's greater focus on resellers and away from direct sales.
The value in GlobalSCAPE sits firmly in the company's growing level of recurring revenues. The company generated $13.7 million in support and maintenance revenue in the 2013 financial year, up 11 percent in 2012. The strength of the business model is highlighted by support and maintenance revenue growing 20 percent per year over the last three years, and now accounting for 56% of sales against 42% in 2010.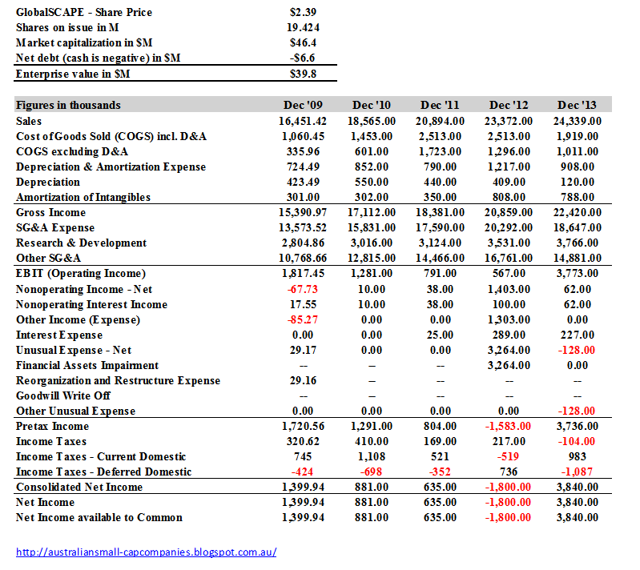 The $700-$800 million Managed File Transfer market is rated as "mature" by IT industry analysts and open to innovation. The industry appears extremely competitive but fragmented, with GlobalSCAPE as a leading vendor in the file transfer space accounting for just a 3 percent market share. I can't quite figure out if the managed file transfer industry will eventually be owned by networking type companies, or whether GlobalSCAPE has the deep domain knowledge and engineering know-how to enable to grow as an independent file transfer company.
The company actually acknowledge this in their 2013 Annual Report: "We continue to believe the market will shift toward consideration of traditional MFT as more of a 'feature' than a solution." The company is responding to this dilemma by moving deeper into collaboration, cloud as well as greater integration with other systems.
GlobalSCAPE boasts that its leading vendor status is partially attributable to its TappIn product. The consumer focused TappIn product provides the capability to access data stored on the user's personal computer or network from a remote location using a tablet or smartphone. The company plans to integrate the TappIn technology into its core EFT product creating an enterprise solution.
Also on the more innovative end of GlobalSCAPE'S products is the company's software-as-a-service, file transfer applications (MIX, Hosted Mail Express, and Hosted ETF). The cloud based products which are hosted by the likes of Rackspace have yet to make a material contribution to sales or profits. These products are undoubtedly losing money, so any sales turnaround here will quickly flow to the bottom line. There is little evidence, however, of success from its acquisitions nor success from organically developed products.
GlobalSCAPE should continue to benefit on the back of the massive growth in data being propelled globally. Managed File Transfer providers may also benefit as the security weaknesses of traditional internet sole transfer technologies (FTP, HTTP and SMTP) are exposed. The company has been growing its core MFT revenues over recent years, so there feels little reason to doubt GlobalSCAPE won't continue doing so in the next few years.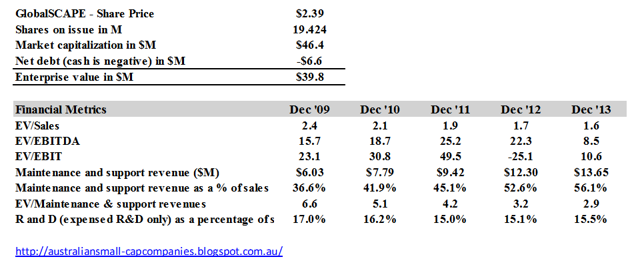 The 2013 investment metrics look reasonable with the highlights including the attractive enterprise value/revenue multiple of 1.6 times as well as the healthy enterprise value/maintenance revenue multiple of 2.9 times. I like to see companies investing into research and development with GlobalSCAPE spending a respectable 19% of sales (this figure includes research and development being capitalized) in 2013. The future share price growth is dependent on continued growth in support and maintenance revenues from the core Enhanced File Transfer products, in addition to GlobalSCAPE gaining real traction in its newer SaaS products.
This company feels like it would be more valuable in someone else's hands as GlobalSCAPE'S acquisition and organic growth strategies have not amounted to much, to date. It's also difficult to recommend a software company that openly acknowledges its core technology is more of a feature than a solution. I will watch this one as it has some attractive investment metrics, particularly around recurring revenues; however, it's difficult to get too excited about GlobalSCAPE.
Disclosure: The author has no positions in any stocks mentioned, and no plans to initiate any positions within the next 72 hours. The author wrote this article themselves, and it expresses their own opinions. The author is not receiving compensation for it. The author has no business relationship with any company whose stock is mentioned in this article.
Editor's Note: This article covers one or more stocks trading at less than $1 per share and/or with less than a $100 million market cap. Please be aware of the risks associated with these stocks.