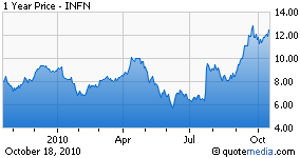 Click to enlargeCompanies at inflection points will often need to post 2-3 quarters of positive surprises before the Street fully comprehends the momentum found at these important junctures. After registering one of the most impressive earnings surprises last quarter, we feel that Infinera (NASDAQ:INFN) will report a very strong Q3 and, better yet, issue very encouraging guidance for Q4.
We have spent many hours delving into Infinera. Based on what we see, it seems as though estimates are way too low for Q4 in particular. We feel this way for a number of reasons. Let us explain.
Have you heard of Youtube? Joking aside, as Google (NASDAQ:GOOG) labors to successfully handle the ever-increasing amount of videos being downloaded everyday on Youtube, guess whose products Google will need more of? That's right, Infinera's products. INFN's Tributary Adapter Module's help Google deal with these daily demands. These modules can be easily added into Infinera's line cards at the endpoints of a circuit in an Infinera network, quickly helping Google to deal with its need for more bandwidth. As of Q2, Google was one of INFN's top customers.
As cable companies scramble with meeting the demands of their customers who are busy downloading Netflix (NASDAQ:NFLX) movies onto their computers, guess whose products they need more of? Infinera's. INFN counts Cox Cable as one of its top customers.
In short, the explosion in data traffic has necessitated a major need for some of INFN's products. This is our central theme for being long the stock into numbers next week. Looking under the hood, there seem to be a few other bullish considerations into numbers.
In particular, Q4 estimates appear to be too low. When one considers that INFN has been able to increase its margins sequentially for 5 quarters in a row, it seems somewhat illogical for the Street to not be modeling in further improvement next quarter. After improving gross margins from 41% in Q1 to 44% in Q2, INFN has guided for a 45%-47% gross margin range for Q3. We feel that the company will be able to reach, if not exceed, the upper band of this range in Q3. More importantly, we feel that the company will be able to expand its margins again next quarter to 48%-49%. This is where the leverage in their model shows up.
Most analysts have only modeled for gross margins of 46% for Q4. If we are right and gross margins can come in a shade below 50%, this will result in a major expansion in the company's operating margins to above 10%. Currently, most estimates are modeling for a 6%-7% operating margin. Current estimates call for INFN to book $132 million in revenues and $.11 a share in Q4. We feel that the company will beat these numbers considerably and offer guidance of $140 million, with earnings of $.16-$.19 a share.

Citibank echoed our thoughts after the close last Thursday, placing INFN on its Action Buy List. According to Citi, they too expect Q4 guidance to register well ahead of consensus expectations. INFN's estimates were raised to $.13 in earnings and $135 million in revenues. The firm also raised their revenue estimates for 2011 to $560 Million and their earnings estimates from $.43 to $.51.

Citibank said that it expects the following:
INFN shares to see strong near/intermediate-term share price outperformance based on following catalysts: 1) Above consensus results & guidance; 2) Significant positive consensus EPS revisions; 3) Potential incremental benefit from Broadband Stimulus package given INFN's unique solution enables quick service turn up; 4) Improving demand from submarine in 2011 along w/enhanced INFN product set for that market – even modest 5% share of estimated $600 undersea TAM can have significant impact on INFN results.
Earnings are due after the close on Monday. We expect big things and an eventual move in the stock to the high-teens by Q1 of next year.
Disclosure: Author long INFN and INFN calls