As markets develop, regulators become more proactive in breaking up government sponsored monopolies. In many cases, and when this is done correctly, it opens up markets to competition and forces innovation. With the news out of Mexico regarding moves by the regulators and politicians, we have been waiting for a move by Carlos Slim and we got it this morning.
Looking around at the world markets, Asian markets were lower and European markets are mixed right now. With earnings season having kicked off last night, expect to see volatility pick up in the next few weeks.
Chart of the Day:
With the news today, it does appear that America Movil is breaking out and moving through the $20.50-21.00/share area which has proven to be strong resistance.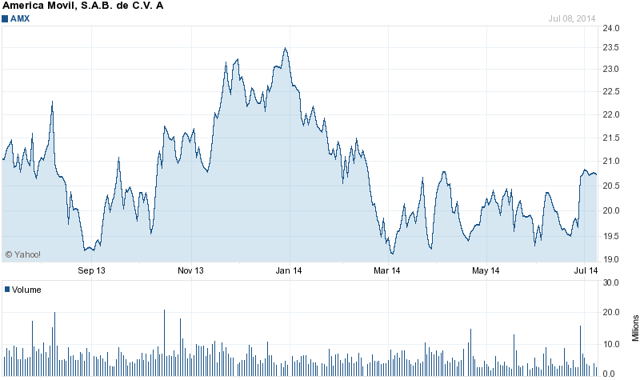 Source: Yahoo Finance
We have economic news today, and it is as follows:
MBA Mortgage Index (7:00 a.m. EST): Est: N/A Act: 1.9%
Crude Inventories (10:30 a.m. EST): Est: N/A Act: -2.370 M
FOMC Minutes (2:00 p.m. EST): Est: N/A
The Asian markets are lower today:
All Ordinaries -- down 1.06%
Shanghai Composite -- down 1.23%
Nikkei 225 -- down 0.08%
NZSE 50 -- down 0.84%
Seoul Composite -- down 0.31%
In Europe, the markets are mixed this morning:
CAC 40 -- up 0.22%
DAX -- up 0.21%
FTSE 100 -- down 0.39%
OSE -- down 0.16%
Reforms In Mexico
We have been watching the Mexican markets the past few months as a possible way to add international exposure to our portfolio while also potentially benefiting from the country's economic reforms. The latest big move from regulators in Mexico has been to force more competition in the telecommunications industry, and with today's announcement from Carlos Slim's America Movil (NYSE:AMX), it is apparent that the regulators are making progress.
America Movil announced that they are going to split off assets from their subsidiaries and place those assets in a new independent company in order to be in compliance with regulators' wishes that no company control more than 50% of the market. This is on par with the break-up of AT&T (NYSE:T) here in the US decades ago which created 'Ma Bell' and the 'Regional Bells'. According to the reports we have read, there is no definitive plan which has been turned in to the regulators at this point which lays out exactly how the company plans to split up assets, but the fact of the matter is that this is underway.
What we do know is that the company will be giving up its right to purchase DirecTV Mexico which should be good for AT&T and DirecTV (DTV). The new company will have to wait for a period of time, as they seek to gain the right to re-enter certain areas or offering certain services until they have proven to regulators that they have indeed met the requirements set forth in this proposed legislation.
What Does This Mean Moving Forward?
It is tough to say whether this opens up the market for new investment from other companies within Mexico or even start-ups in the country because to build out infrastructure is quite expensive. Analysts even question whether this is an overall positive for the market or a negative, but it does open the market for foreign competitors and could lead to Telefonica (NYSE:TEF) becoming more of a competitor should that company decide to go on the offensive.
With Mr. Slim having purchased AT&T's shares in America Movil within the last month, we suspect his company will shift its focus to international markets, specifically ones with slow growth and strong cash flow. This makes us wonder whether America Movil will refocus on the Netherlands' KPN (OTCPK:KKPNY), a company which it already owns a large stake in. The previous attempt was ugly, but now that America Movil needs to expand to new markets more than ever we would not be surprised to see a friendlier offer.
Disclosure: The author has no positions in any stocks mentioned, and no plans to initiate any positions within the next 72 hours. The author wrote this article themselves, and it expresses their own opinions. The author is not receiving compensation for it (other than from Seeking Alpha). The author has no business relationship with any company whose stock is mentioned in this article.
Additional disclosure: T has previously been recommended.
Editor's Note: This article discusses one or more securities that do not trade on a major U.S. exchange. Please be aware of the risks associated with these stocks.