By Ronald Delegge
"The best defense is a good offense." That axiom has been applied in a broad array of fields including politics, sports, and the military.
The 1985 Chicago Bears are still regarded as one of the NFL's best defensive teams ever. Not only did they lead the league in defenses that score, but the Bears defensive unit allowed just 198 points scored during the regular season or roughly 12 points per game. The Bears '85 defense was so dominant, they won Super Bowl XX where they only allowed their opponent to score 10 points.
Mao Zedong said, "the only real defense is active defensive," meaning that defense could be used as a form of offense via counter-attacks. Was this a new concept? Actually, the idea of destroying with defense by paralyzing the enemy's ability to attack was a strategy echoed in the texts of Machiavelli and Sun Tzu.
Are publicly traded companies becoming more defensive about their view of future earnings? For Q2 2014, Factset reports that 84 companies within the S&P 500 have issued negative EPS guidance which is slightly lower the record high of 95 set in Q4 2013.
In combat situations, and that's what investing is, defense is vital. This is particularly true in an investment climate where the vast majority of retail and professional investors are playing a one-dimensional game of offense.
In our Weekly ETF Picks from Mar.12, 2014 we wrote:
If one must invest in equities, doing it via steady, dividend payers that are defensive is smart. And the Utilities SPDR ETF (NYSEARCA:XLU) fits the bill. The fund carries a dividend yield almost double the S&P 500's depressed 1.87% yield.
XLU tracks S&P Utilities, which have easily outperformed the broader S&P 500 with a 14.76% year-to-date gain. Furthermore, XLU has been a solid defensive performer - even gaining - on days when the broader equity market is sharply lower. Over the past two quarters, we've collected 0.77 cents in valuable dividends from holding XLU.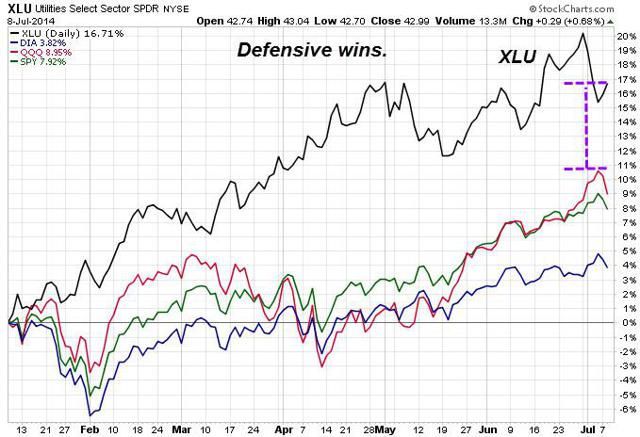 Remember: It's not just high, but SUSTAINABLE dividends that are a defensive investor's friend.

Disclosure: No positions

Link to the original post on ETFguide.com