Consol Energy (NYSE:CNX) is the best buy in the coal industry. Why? Because it's also in Natural Gas. Through better diversification within the energy business, Consol Energy beats some of the more discounted coal companies such as Arch Coal (ACI), Alpha Natural Resources (ANR) etc. Consol Energy's stock is falling at the moment and we are seeing a nice dip that will provide a strong entry point for an investor.
Here is why Consol Energy is Falling:
Any investor of coal companies understands that the industry is currently in a depressed state. Most of the issues are coming through regulation, of which you can read much more about this in a more detailed analysis on the topic right in this article on Peabody (BTU). You can also read about this at Forbes. It suffices, for the purposes of this article, to merely state that the coal industry is doing poorly because Met Coal is down as a result of issues in steel production (mostly in China). Thermal Coal, which is where Consol Energy's interest lay, is suffering issues and price pressures due to increasing regulation of coal powered plants and the EPA.
But on Monday, July 7th, we saw coal fall once again even more due to a single downgrade by Deutsche Bank.
We downgrade Peabody to Hold from Buy... to reflect lower realized coal prices (particularly metallurgical coal) and anticipated ongoing cost pressures in foreseeable future…
Despite the fact that Deutsche Bank continues to maintain a buy on CNX it would appear that the market has misinterpreted this analyst downgrade to show a general disfavor with respect to coal across the board. As a result, the shares for Consol Energy have continued their fall from their 52 week high of roughly $48 per share which was seen right at the start of June.
Before anyone abandons Consol Energy just yet, in thinking that it is the same as competitors such as Peabody, Walter Energy (NYSE:WLT), Alpha Natural Resources, or Arch Coal. Let us first remember a few things about Consol Energy.
Diversification:
Consol Energy is diversified in both Coal and Natural Gas. At the moment, natural gas is the primary positive feature of Consol Energy in comparison with its peer group.
During Q1 of 2014 the revenue from coal versus gas was split as follows: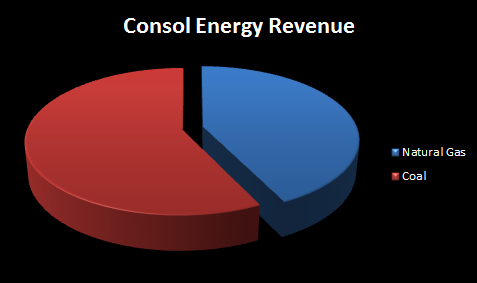 With $80 million in revenue from natural gas versus $107 million from coal, Consol Energy is a much more diversified company versus its competitors. While Peabody has always held the advantage of being diversified from a global perspective, Consol Energy is diversified via the product it sells and the markets it competes within.
Financial Metrics:
The financial metrics for Consol Energy look very good as well.
EV/EBITDA - Here is the forward EV/EBITDA versus its peer group: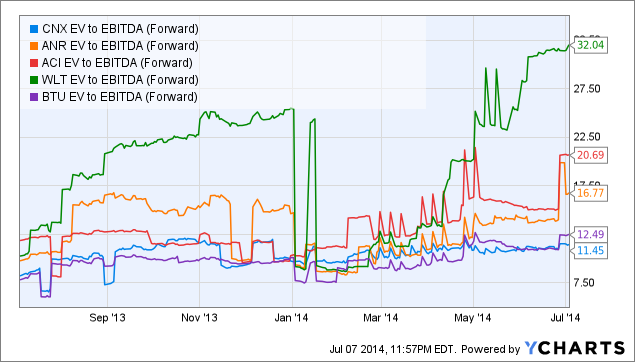 CNX EV to EBITDA (Forward) data by YCharts
The closest to Consol Energy is Peabody at 12.49. However Consol Energy is in fact the lowest, and therefore the best value play according to this metric at 11.45.
P/E - It's not easy to discuss the P/E ratio when it comes to the Coal industry. Consol Energy, however, is the only company that has a positive (or meaningful) P/E at all within the coal industry. As you can see this is because it has considerably more earnings per share versus its peer group. More importantly, the earnings are positive as opposed to negative as the rest of the peer group shows.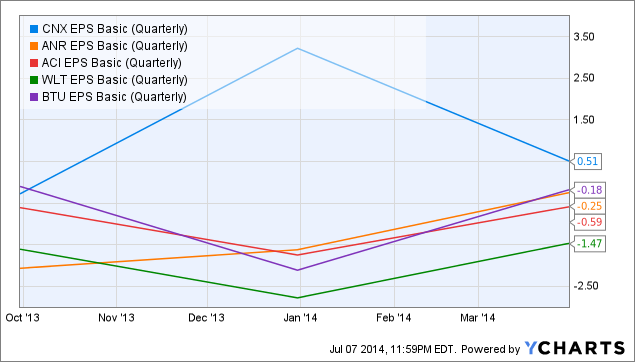 CNX EPS Basic (Quarterly) data by YCharts
The P/E for Consol Energy comes in at roughly 13.5 which is not bad and is indicative of a possible value play. The other companies in the coal industry offer no true comparison as they are negative.
P/B - I mention this because of a trend among bloggers whom are bullish on coal to indicate the extreme discount of most of the companies as a reason to buy.
Here is the P/B for Consol Energy and its peer group: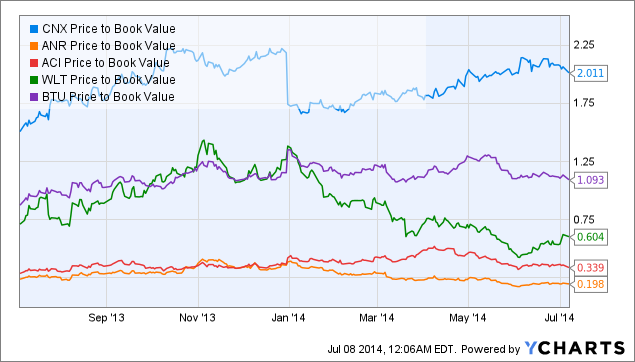 CNX Price to Book Value data by YCharts
At the moment this is the "worst" metric for Consol Energy as the other coal companies are much more heavily discounted (and presumably better buys). These companies however are discounted for a reason as the Altman Z Score will help show.
Altman Z Score - The Altman Z score helps show us the probability of each respective company going bankrupt in the next few years. Here in the following chart we see the comparison of the peer group for the Altman Z Score: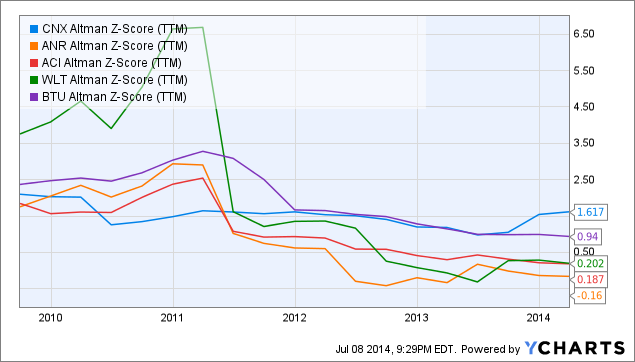 CNX Altman Z-Score (TTM) data by YCharts
Consol Energy is doing considerably better than its peer group and has the least risk of bankruptcy with respect to the competition. Next best (or least likely to go bankrupt) is Peabody Energy. Finally, the worst Altman Z score also belongs to Alpha Natural Resources as it is the most heavily discounted per the P/B ratio. For those unacquainted with the Altman Z score, the distress zone is anything under 1.8.
Management Effectiveness:
For a quick gauge of management's ability to generate revenue per capital invested, we can look at the Return on Invested Capital as shown in this chart: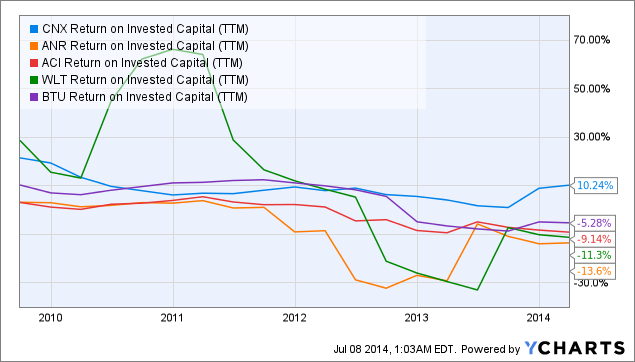 CNX Return on Invested Capital (TTM) data by YCharts
At 10.24%, Consol Energy is far above the peer group with respect to generating returns from invested capital. In fact, Consol Energy is the only coal company that has managed to generate a positive rate of return recently. A great deal of this higher number is because of the natural gas segment of Consol Energy. Because Consol Energy essentially straddles the market with respect to the type of energy sources it produces, they are also less volatile and experience lower highs and consequently higher lows with respect to this metric as one can see from the 5 year comparison against its peer group.
Conclusion:
Consol Energy is a buy based on a strongly diversified strategy, management's ability to generate high rates of return, a strong EV/EBITDA multiple and low risk (in comparison with its peer group) of bankruptcy. While not the most heavily discounted Coal stock, Consol Energy is possibly the best of the coal companies to consider for investment. Because Consol Energy is currently experiencing a dip which is mostly the result of the overall coal industry dip, a strong purchasing opportunity exists for the right investor to take advantage of this market asymmetry.
Disclosure: The author has no positions in any stocks mentioned, and no plans to initiate any positions within the next 72 hours. The author wrote this article themselves, and it expresses their own opinions. The author is not receiving compensation for it (other than from Seeking Alpha). The author has no business relationship with any company whose stock is mentioned in this article.