U.S. stocks just about got their head above water on the day Friday but have managed to complete the second straight weekly gain for the S&P's 500 Index, as Google Inc. (NASDAQ:GOOG) and Seagate (NASDAQ:STX) fueled a rally in technology shares that helped offset a decline in bank shares and an unexpected drop in consumer confidence. Google jumped 11 percent after earnings topped analysts' estimates and Seagate surged 22 percent as private-equity firms consider buying the world's largest maker of disk drives used in computers. But JP Morgan (NYSE:JPM) shed a further 4.1 percent and Bank of America (NYSE:BAC) slipped to a 15-month low as financial companies led losses in the S&P 500 as investors continued to fret over the fallout from the foreclosures fiasco. And General Electric slid 5 percent after reporting revenue that missed brokers estimates.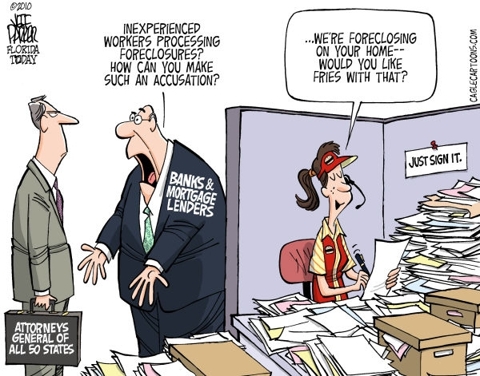 Today's Market Moving Stories
Sterling is the under performer so far Monday (along with the NOK and SEK) and we would now expect further weakness to develop over the coming days, especially given the risks on the horizon. Indeed, Wednesday sees the release of the BoE minutes, which should show a shift towards more dovishness, while the Government's Spending Review will reveal the full extent of the fiscal tightening. I also note that the press is increasingly speculating about the prospect of a renewed slowdown and even a double dip in the UK, citing reports from the E&Y Item Club which is predicting a renewed soft patch and the CEBR which suggests the BoE will return to quantitative easing in early 2011. This is consistent with the view and we believe that Wednesday's BoE minutes will reveal the first steps towards further QE measures in the UK. Cable (GBPUSD is already) breaking lower through initial support and is now sitting on up trendline support at the 1.5835 level. A break below here will open downside pressure towards the 1.5535 area initially.
And, the USD has started correcting higher with position adjustment following dovish comments from ECB President Trichet and increasing signs that a currency war can be avoided. ECB's Trichet has warned that more protectionist pressures might be in the pipeline and that countries must remain vigilant as a result. In addition, Trichet, who insists he is the single "spokesman" for the ECB, said a majority of the governing council didn't agree with Bundesbank president Axel Weber's view that the central bank's purchases of government bonds issued by the fiscally weaker euro-zone members need to stop now. Hence, Trichet has distanced himself from the hawkish comments coming from Weber and Stark. Bear in mind that the recent EURUSD supportive widening of interest rate differentials has been mainly driven from the EUR side. Trichet has left the impression that moving away from unlimited Repo allocation in January was not a done deal allowing interest rate differentials to come in and EURUSD to move lower.
Bernanke has confirmed that QE will be on the agenda when the Fed meets on 3 November, but concerning the amount of QE the Fed chairman has remained uncommitted. Other Fed members have been more outspoken on the dovish side. Chicago Fed's Evans (who gets his vote in Jan so he's worth listening to) backs much more accommodation, advocating price level inflation targeting. Sounded uber dovish he added that the Fed's "dual mandate misses are too large to shrug off" and "much more policy accommodation is appropriate today". Says the country is in a "bona fide liquidity trap", and needs more easing. Says price-level targeting would be helpful to policy. For a second there I thought he was talking about Japan – but he actually was referring to the US.
Boston Fed's Rosengren called for aggressive and early policy action to counteract deflation risk reiterating a Boston Fed Study citing inflation too low and growth too slow for Fed to meet it's dual policy debate. At the same time the US Treasury has delayed the release of its currency report now scheduling the release post G-20. The intention of both decisions is clear: The US wants to leave the door for negotiations with China and Asia open. A shock and awe approach concerning QE or the US Treasury calling China a currency manipulator would close the negotiation door.
Worth a read: Robert Samuelson What's left in the Fed's toolbox? Bernanke says the Fed can revive the economy, but their tools are arcane and weak.
I did enjoy JC Trichet's slap for the Bundesbank's very own poster boy Axel Weber over the weekend when he said "a majority" of the ECB Governing Council is still in favour of keeping the sovereign bond purchasing program in place, and insisted Trichet himself, as President, is the voice of the Governing Council. No one else thank you very much. He was referring to Weber's comments last week calling for the scheme to be disbanded now. Wolfgang Munchau in FT reflects on Weber's latest outburst, and decides Italy's Draghi would be better choice for ECB President when Trichet's term expires next year. Munchau says he can't see Weber communicating a consensus he does not believe in at an ECB press conferences (as an ECB President is required to do). A good article, but watch out for Munchau's claim that Weber was the only one who voted against the ECB's sov bond program. Probably true, but ECB doesn't publish the voting breakdown, so we cannot know this for sure. Here's the full weekend interview. And a speech too.
Any G20 agreement on currencies looks very remote. The G20 meeting starts on Friday. But it's a B list Finance Ministers and Central bank Governors only affair with a Summit of Leaders follows on Nov 11-12. There are many good reasons not to expect substantive agreement on FX and, over the weekend, we got two more: Spokesman for Brazilian Fin Minister Mantega (he of "currency war" fame) said the Fin Min unlikely to attend G20. Reason? He's staying at home to monitor the need for further FX policy measures. Honestly, you can't make this stuff up.
And the Korean Herald over weekend cited Korea's "Chief of the G-20 affairs office" at the BoK (Kim Sung-Min) saying it would be 'impossible' for a currency accord to emerge from the upcoming G20 meeting. Why? Cos "If they reach a detailed agreement in their joint declaration, there is no doubt that it will invite a wave of speculative funds". Yep – exactly what would happen if all CBs suddenly agree to stop intervening. Kim said any agreement would be "heavy on rhetoric" and short on specifics. Yep, very probably.
Away from currency worries and surprise news that U.K. house prices rose sharply in October from September as estate agency valuations increased in line with typical seasonal trends, outweighing a further increase in the number of properties for sale, a decline in the number of new buyers and continued tight mortgage criteria, a survey by Rightmove showed Monday. Rightmove's latest index–which measures the price at which a property is advertised for sale, not the achieved price–showed house prices in mid-October rose 3.1 percent on the month and were 2.9 percent higher from a year earlier. The monthly increase was the biggest since a 3.2 percent rise in February. That compares with a 1.1percent monthly decline and a 2.6 percent annual gain in September. The steep rise is in stark contrast with other recent housing market surveys. Mortgage lender Halifax, in its September data, reported the sharpest monthly drop in house prices since records began of 3.6 percent.
Bank Fail Friday
Regulators closed two banks in Missouri and one in Kansas, raising the total number of bank failures in 2010 to 132. In Missouri, the state division of finance closed Premier Bank of Jefferson City, and the Federal Deposit Insurance Corp. arranged for its nine branches to be reopened Saturday by Providence Bank in Columbia. Under a loss-sharing agreement with the FDIC, Providence Bank agreed to purchase $657.9 million of Premier's $1.18 billion in assets and assume all of the failed bank's $1.03 billion in total deposits, except for certain brokered deposits. The FDIC will retain the balance of the Premier assets for later disposition. The loss-sharing agreement covers $408.7 million of Premier's assets, and the shutdown will cost the FDIC's insurance fund an estimated $406.9 million. The Missouri finance division also closed WestBridge Bank & Trust Co. in Chesterfield, and the FDIC arranged for Midland States Bank in Effingham, Ill., to assume its $72.5 million in deposits. The failures were the fifth and sixth in Missouri this year.
Friday was a weak day for US Banks, with BoA taking the majority of the pain. The uncertainty around the final costs to the banks is the real risk here- we are likely to see penalties and lender settlements in court to deal with the inaccurate paperwork plus an increase in operating costs going forward as loan docs are modified. But also how aggressive will the agencies such as Fannie and Freddie, and even MORE significantly will non-agency (or private label securities) MBS investors get in trying to put back mortgages to the banks. There are already reports that groups of investors have filed suits. It is a subjective process to try and analyze the costs here and for banks to determine how much to accurately reserve. Actually, the banks have been reserving against mortgage repurchases (or put backs) for a long time. However when JP Morgan increased its mortgage repurchase reserve to USD1.6bn in Q3 from USD650m approx run rate for previous quarters some of the concern was being quantified. So we know then that we should expect to see the others increase both mortgage repurchase reserves and their litigation reserves to try to combat this issue as it comes. BoA is the most exposed here and its results, due out on Tuesday will be very very closely watched. It needs to address this and the reserve numbers are ALL the investor base will be looking for, regardless of the results and whether the number beats EPS est. A very big reserve number, maybe in the $3 billion range would be a shock to see but cannot be ruled out. I have also seen some estimates of the subsequent costs of this to the sector (o/w which a majority proportion will be to the big mortgage banks) and they are looking potentially hefty- in the mid-to-high tens of billions in worst case, although this very much depends largely on the probability of the banks actually being forced to buyback in the first place which could be quite low given the huge legal and logistically issues involved. However this is likely to be a cost drawn out over a number of years which is of some comfort when set against the run rate of annual earnings.
So to reiterate, it is critical that the banks handle this properly in terms of disclosure and talking about it as it will be a key focus. JPM and Wells (NYSE:WFC) are overall in a position of more strength to handle this better than BoA and Citi (NYSE:C) and as such look set to navigate this over time when put into the perspective of the run rate of their annual earnings. BoA's risk is the largest as it has the largest number of unsettled loan put backs. As such there is a not insignificant risk of BoA's results looking quite ugly tomorrow with more spread widening threat.
Company Equity News
Another big week ahead for the US banks. Q3 numbers are continuing but the reality is that the banks can beat by a good margin, but all eyes will be on statements from management and the mortgage repurchasing and legal reserve builds related to the mortgage foreclosure mess. Final total cost calculation is next to impossible to calculate- subjective and part of a lengthy drawn out process, but have seen estimates in the mid-to-high double digits (I've seen $30 billion and $50 billion), with the caveat that banks may have recognized a good chunk of P&L impact already. Read across to Europe should be low but not discounted. The question could be asked before long, but ABS analysts make a key distinction that mortgage servicing businesses are regulated in Europe, compared to the non-agency mortgage practices in the US.
Stocks on the move the Monday in Europe include BlueBay which has rallied 30 percent after the London-based manager of fixed-income funds agreed to be bought by the ever expanding Royal Bank of Canada (NYSE:RY) for about £963 million. Meanwhile rivals Ashmore Group , a U.K. fund manager that focuses on emerging markets, and Henderson Group, which owns New Star Asset Management Group, climbed 1.7 percent and 4.3 percent, respectively. And Man Group, the world's largest publicly traded hedge-fund manager, advanced 2.1 percent.
Elsewhere Nobel Biocare Holding surged 4.3 percent as Helvea recommended buying shares of the world's biggest maker of dental implants.
And Bellway, a U.K. homebuilder specializing in first-time buyers, increased 2.1 percent, while Persimmon, the U.K.'s third-largest homebuilder by volume, climbed 1.2 percent as Taylor Wimpey rallied 1.8 percent on news of the Rightmove survey (see below)
Mining amd basic resources names are softer in Europe today with BHP Billiton (NYSE:BHP) sliding 1.2 percent and Rio Tinto (RTP) retreating 1.5 percent dragging a measure of basic-resources producers to the biggest drop among 19 industry groups in the Stoxx 600 as the world's No. 1 and No. 3 mining companies abandoned a plan to create the largest iron-ore exporter after regulators from Europe to Asia were concerned it would limit competition. The changes demanded by regulators, including asset sales, were unacceptable to both companies, London-based Rio said. And Xstrata and Antofagasta (OTC:ANFGF) have slumped 1.8 percent and 2 percent respectively as HSBC Holdings cut its recommendations on the mining companies to "underweight" from "neutral." Rival Vedanta Resources shed 1.8% as the brokerage cut its stance to "neutral" from "overweight." Copper fell for the first time in a week in London trading as the dollar strengthened.
And PPR has dropped 2.1 percent Monday after the owner of the FNAC retail chain was cut to "sell" from "hold" at Deutsche Bank AG, which said "the Gucci brand is continuing to underperform relative to its peers in terms of sales growth, profits growth and margins."
Stateside, before the opening bell, Citigroup's third-quarter profit amounted to 7 cents a share, the New York-based bank said today in a statement. Ten analysts surveyed by Bloomberg estimated per-share earnings of 5 cents a share helping the Dow futures to pare losses. At first glance Citi's number look neutral to a small positive but I'd need more info on the mortgage foreclosure issue before giving then the thumbs up.
TNK-BP has signed an agreement to buy BP's (NYSE:BP) assets in Venezuela and Vietnam for $1.8 billion, the Russian company today in an e-mailed statement. BP shares have lost 1% today.
C&C Group, the Irish maker of Magners cider, reached an agreement with labour unions to cut the company's €47 million pensions deficit, the Sunday Times reported, citing union SIPTU. But separately, Citigroup Inc. lowered its recommendation for the shares to "hold" from "buy."
Global brewer SABMiller said Monday lager volumes rose 1% in the first half of its financial year, marking a return to growth in the second quarter. Like its drinks rivals, SABMiller, which counts Castle, Pilsner Urquel and Peroni lager amongst its brands, was hit by a drop-off in consumer demand for alcohol during the global economic downturn. Lager volumes had been falling for most of last year, albeit with a brief return to volume growth in the fourth quarter of fiscal 2010. But the 1 percent rise in the six months to Sept. 30 signals another recovery in volume demand, indicating a 2 percent increase in the second quarter after a 1 percent drop in the first quarter. In the first half last year, lager volumes decreased by 1 percent. Soft drink volumes rose 2 percent in the first half, and the company said it benefited from volume increases as well as price rises and lower raw material costs. SAB said overall its financial performance for the first half was in line with its expectations. SAB reports organic lager volumes which exclude the effects of acquisitions and disposals.
U.K. dividends rose 1.6 percent in the third quarter of 2010 and are forecast to rise £1 billion to £55.7 billion for the year, although still 5 percent on 2009, according to the latest Capita Registrars Dividend Monitor, which analyses data provided by financial information specialists Exchange Data International on every dividend paid on the U.K. market.
MAIN FACTS:

-Excluding BP PLC effect, dividends expand at fastest pace in two and a half years.
-FTSE 250 grows dividends rapidly, up 33 percent–far faster than FTSE 100–distributing £1.4 billion.
-FTSE 100 payouts fall 2 percent in Q3 to £15.7 billion, thanks largely to BP effect.
-Yields fall as market rally outpaces dividend recovery.
-U.K. companies will pay out 17 percent less to investors than at the peak in 2008.
-If BP hadn't been forced to cancel its dividend, the total amount returned to investors by U.K. companies would have risen 4 percent this year, roughly flat in real terms.
-Excluding BP, dividends grew at their fastest rate since the first quarter of 2008 during the third quarter, up 13 percent.
-In Q3, U.K. listed companies paid out £17.6 billion, up from £17.3 billion last year; Year to date, U.K. dividends totalled £46.1 billion, down from £47.8 billion for the first nine months of 2009.
-200 companies paid a dividend in the third quarter, about the same as last year; number was reduced by some firms who moved their Q3 payouts into the 2009/10 tax year to beat the new 50 percent tax band.
-Number increasing, starting, or reinstating payments to shareholders still outnumbered those who cut or cancelled their dividends by a very healthy 3.1:1.
EBay (NASDAQ:EBAY), Dell (NASDAQ:DELL), and Safeway (NYSE:SWY) are among 12 companies that may draw takeover bids from private-equity firms or other buyers on their low debt and plentiful cash, Barron's reported, citing analysts and investors.
A surcharge German electricity users pay to help that nation's renewable energy industry is slated to rise, The Financial Times reports on its website Sunday. According to the report, the surcharge will increase from two eurocents to 3.5 eurocents per kilowatt-hour, the FT said, citing "the country's leading power generators."
Philips Electronics Monday posted a better-than-expected third quarter net profit on cost-cutting, improved organic growth particularly in the lighting and healthcare divisions and a stake sale, but its outlook remained cautious due to lingering economic uncertainty. "The third quarter was another solid quarter for Philips," said Chief Executive Gerard Kleisterlee, adding that in the first nine months of the year, Philips has already exceeded its target for the year of earnings before interest and tax of at least 10%. The Dutch maker of medical scanners, shavers and lighting reported net profit in the quarter ended Sept. 30 of €534 million compared with €176 million a year ago. The figure was boosted by higher earnings in both the lighting and healthcare sector as well as a €154 million gain after Philips sold its stake in NXP Semiconductors last month to its U.K. pension fund. That beat analyst expectations for €365.4 million. Philips said that, given the uncertain economic climate and fragile consumer confidence in some of its markets, it is taking a cautious view on revenue development in the fourth quarter. It said the quarter will be seasonally strong but this will be counter-balanced by year-end inventory and the continued soft construction market. Philips, which competes with U.S.-based General Electric Co. and Munich-based Siemens AG, reported a 9.6 percent rise in sales to €6.16 billion from €5.62 billion a year ago. Analysts had seen sales at €6.16 billion. Earnings before interest, taxes and amortization, or Ebita, rose to €648 million from €344 million. Late late last month, rival Siemens said its fourth-quarter order intake and sales will likely beat the previous year's level.
Disclosure: None