Four Different Miners With Contrasting Futures
The current state of the mining industry cannot be easily described in a couple of paragraphs. While metal prices have been subdued this year, company specific strength depends more on the type of commodity traded, the competence of company management and the geographic location of the company.
In Nevada, for instance, there has never been a better time to seek employment in mining. While in China, iron ore prices have plunged over 40% and put many ore mines and processing plants out of business.
Gold miners and oil explorers are currently benefiting from political tensions in the Middle East, while Bitcoin mining is an area that has seen unprecedented growth over the last couple of years.
All this deserves further analysis.
Gold
After falling around 25% in 2013, gold now trades for about $1315 per ounce, an increase of 6% year to date.
Gold has been helped in recent weeks by political tension and violence in the Middle East, and is likely to benefit further if equity markets see the increase in volatility that many are expecting.
Excessive monetary printing by central banks underpins an attractive outlook for gold, and the period of consolidation since the metal hit a low of $1180 last June indicates that the commodity has more than likely hit bottom.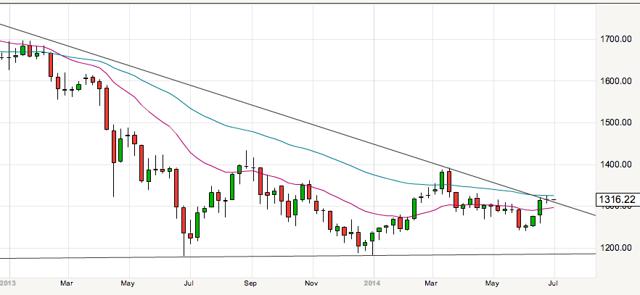 Barrick Gold Corp. (NYSE:ABX)
With the gold price poised to renew its bull run, shares in Barrick Gold Corp. offer investors an excellent way to take advantage.
Barrick is the largest gold miner in the world today with over 20,000 employees, annual revenue in excess of $11 billion and a dividend yield of 1.11%. Current share price hovers at just over $18 a share, making Barrick a relatively slow performer compared to its peers.
However, Barrick has been able to reduce its all-in-sustaining cost to just $833 per ounce in the first quarter, way ahead of rivals Newmont (NYSE:NEM) at $1034 per ounce, and Goldcorp (NYSE:GG) at $840 per ounce.
Considering gold now trades in excess of $1300 and is unlikely to drop below $1200 any time this year, it should only be a matter of time before those margins translate into higher share prices for Barrick.
Coal
Historically, the coal price has been lower and more stable than oil and gas prices and that fact has made coal the most affordable fuel for power generation in most developing and industrialized countries for many decades.
Unfortunately for producers, cheap coal has had adverse effects on company profits and many coal mines have had to close as a result. Coal prices are now down around 64% from the 2011 high of $330 per ton, and unlike gold, we have yet to see any sign of bottoming out.
Record oil and natural gas production as well as slowing Chinese growth is hurtful to coal demand and the Bureau of Resource and Energy Economics (BREE) predict another slow year in 2015.
Peabody Energy (BTU)
Although coal prices are down at the moment, it is generally felt that a recovery could start to materialize in the back end of next year. Looking at coal now may make sense since it is much better to buy when things are cheap and about to turn around.
Peabody Energy is the world's largest private sector coal company with a market cap close to $5 billion and is an option for investors, not least because the stock is now significantly discounted. Indeed, Peabody is now down 78% since its 2011 high, making it an excellent option for contrarians.
Oil and gas may be in favor with politicians, but it is wrong to write off the coal industry so soon and companies like Peabody look increasingly cheap.
Peabody also pays a dividend of 2.07% and is expected to drive EPS at a rate of 138% over the next 52 weeks.
Copper
Like gold, there are signs that the bottom may be in for copper, which is down around 9% since the beginning of the year. The metal hit a 44-month low in March amid signs of slower growth in China, but has since been able to gain some traction in markets, taking the commodity within a hair's breadth of the $7000 price level.
Strength in copper is generally tied to economic strength so those doubting a snapback in the U.S. GDP next quarter might take interest in the fact that copper has started to move north.
Indeed, with Chinese monetary options on the table, there is room for more gains ahead.
Freeport-McMoRan Copper & Gold Inc. (NYSE:FCX)
Investors looking for a way to play copper could do no worse than look at Freeport-McMoRan which is nicely poised for future growth at current share prices.
Freeport-McMoRan is also involved in gold production (and other resources) but it's in copper where the company really leads the way. Indeed, Freeport is the world's largest copper producer with a market capitalisation of $35.48 billion and over $20 billion in annual revenue.
While Freeport has had problems in the past with its Indonesian facilities, the situation there appears to be under control. Moreover, a recent presentation by Freeport management, given at the Deutsche Bank Global Industrials and Basic Materials Conference, was extremely positive, particularly with regard to the outlook for copper prices and Chinese demand.
China is known to be rolling out its power grid which will require huge quantities of copper, while Freeport continues to look after some of the most significant copper discoveries available.
As well as this, financial conditions looks increasingly compelling. A PEG ratio of just 0.53 and forward PE of 11.28 indicate good things while the company currently pays a 3.47% yield. Strong margins and EPS outlooks are further indicators that this could be a good play for copper investors.
Bitcoin
Often overlooked by serious investors, bitcoin has offered impressive gains recently, as the price of one bitcoin has climbed over 10,000% in just a few years.
Unsurprisingly, when it comes to bitcoin there are many opposing views and opinions.
There are some who see bitcoin as outright speculation, or as a fraudulent bubble. Others feel that bitcoin offers a real solution to the world's currency problems. While many more just do not understand enough about the technology to warrant an investment.
What we can say, however, is that bitcoin is not going away anytime soon, especially when we see so many high profile companies from Overstock (NASDAQ:OSTK) to Apple (NASDAQ:AAPL) ready to allow payments and take advantage of the lower transaction costs that come with using the cryptocurrency.
In fact, over 60,000 businesses in the U.S. now take bitcoin, a number which is only going to grow. This trend has led a significant re-evaluation of bitcoin enterprises and we are now seeing large scale investments flood in. So much so, that 2014 looks likely to be the year where bitcoin finally makes it to Wall Street. Investing in bitcoin enterprises has been impossible in the past but that is all about to change.
DNA Precious Metals (OTCQB:DNAP)
2014 could be the year that bitcoin breaks into the mainstream and an opportunity for investors lies in the way of DNA Precious Metals.
Historically, DNA has been involved in gold and silver mining, and the company is currently working on the remediation and restoration of the Montauban Mine Property in Quebec.
Occupying 127 claims over 4160 hectares, DNA has claim to 2.55 million ounces of silver, 150k ounces of gold as well as 60,000 metric tons of mica. At prices of $1200 an ounce for gold and $20 an ounce for silver, that equates to a total market valuation of $240 million and a projected annual net profit of $28.5 million - as summarized online in the company's investors facts sheet.
DNA has already established first-mover advantage as a company focused on putting tailings mines into production and is equipped with a diverse range of mining residues and body ores. Production is expected to begin in the Fall after the completion of financing and DNA has an advantage in the fact the company has an all-in-sustaining gold cost under $500 per ounce.
Meanwhile, DNA Crypto Corp. has been set up in order to acquire crypto mining companies in a similar vein to that seen with SecondMarket. With industrial bitcoin mining currently doing the rounds on news outlets such as CNBC, DNAP CEO James Chandik said, "we feel vindicated that our subsidiary's business model is in the right place at the right time."
Intellectual capital will be crucial for this so DNA is looking to establish an advisory board to include BTC industry participants as well as university professors in cryptology. This will help the company secure bitcoin mining investments in North America and further potential investments in Europe.
As liquidity in bitcoin continues to improve, payouts for DNA will also improve and the scalable nature of the business will be put in place. This could give DNAP investors a lot to look forward to.
DNAP trades on the OTCQB market. Investors should understand the risks of trading in small cap stocks under $1 a share.
Disclosure: The author is long FCX.
Business relationship disclosure: I wrote this article myself, and it expresses my own opinions. I have no business relationship with any company whose stock is mentioned in this article but may receive additional compensation for writing the article.
Editor's Note: This article covers one or more stocks trading at less than $1 per share and/or with less than a $100 million market cap. Please be aware of the risks associated with these stocks.