Colgate-Palmolive (NYSE:CL) is a consumer products company whose products are marketed in over 200 countries and territories throughout the world. Colgate is a global leader in Oral Care with the leading toothpaste and manual toothbrush brands throughout many parts of the world. Colgate is also a global leader in other product categories such as liquid hand soap, dishwashing liquids, laundry detergent, and pet nutrition products for dogs and cats. The company is geographically diversified with no region representing more than 30.0% of total revenues.
Levered Returns Cash Flow Model
A price target of approximately $65 was concluded using Levered Returns three-year projection model which implies Colgate-Palmolive is trading at approximately a 6% premium. An Enterprise Value "EV" of $64.4 billion was determined by applying a discounted cash flow approach. A total equity value of $59.8 billion was concluded after deducting net debt, minority interest, after-tax restructuring liabilities, and adding non-operating assets.
Overview EV Projection Assumptions:
Revenue reaches $19.4 billion in year three which represents a three-year compounded annual growth rate "CAGR" of 3.6%.
Operating income margin reaches 25.0% by year three.
Capital expenditures as a % of revenue remain at 3.7% throughout the projection period which is equal to the company's 10-year average.
Working Capital as a % of revenue, excluding cash and debt, remain at 1.7% throughout the projection period which is equal to the Company's average over the last four quarters.
Tax rate of 33.0%. Company's LTM effective tax rate.
Terminal depreciation as a % of capital expenditures is equal 95.0% in year 3.
Terminal value concluded by applying a perpetuity formula to the free cash flow in year three using a terminal growth rate of 3.0%
Discounting the terminal value and discrete cash flows using a weighted average cost of capital of 8.0%. The WACC was determined by the following:
Levered Returns Gordon Growth Model
Colgate-Palmolive's interactive Gordon Growth Model "GGM" (provided by Levered Returns) is illustrated in the stock price analysis table below. I assumed a long-term expected dividend growth rate of 6.0% which compares to the company's 10-year dividend per share CAGR of 10.7%. I assumed a levered cost of equity of 8.4% (build-up shown in the Discount Rate table above) which implies that the fair value of the company's share price is approximately $60; a 14% discount to Colgate-Palmolive's July 8th closing price of $69.50.
Colgate-Palmolive vs. Public Peers
Colgate-Palmolive's multiples trade at a premium to both Clorox (NYSE:CLX) and Kimberly-Clark (NYSE:KMB) but this is reasonable given their higher margins and projected growth. Illustrated in the table below, research analysts are projecting Colgate-Palmolive's EBIT to grow 4.8% in fiscal year 2014 and 8.0% in fiscal year 2015 which is considerably higher than Clorox and Kimberly-Clark. Furthermore, no region represents more than 30.0% of Colgate-Palmolive's sales which makes the Company well diversified. Comparably, Kimberly-Clark's attributes more than 50.0% of its sales to North America and Clorox attributes more than 75.0% to the US. These characteristics justify the Company's current premium valuation multiples.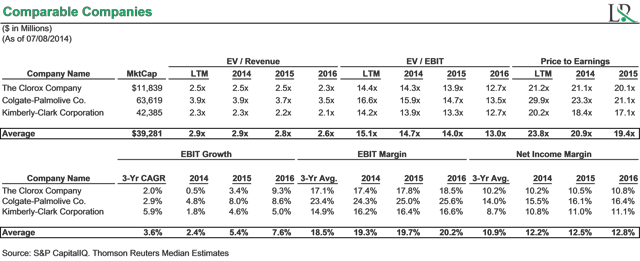 Conclusion
Colgate-Palmolive is the leading provider of oral healthcare, personal care, and home care products that is well diversified in several markets around the world. The Company's premium trading multiples are justified by its historical and projected financial performance. However, taking the average of the Levered Return's cash flow model and Gordon Growth model implies an intrinsic per share value of approximately $63 representing a 10% discount to the Company's July 8th closing price of $69.50. Colgate-Palmolive is currently the better play over Clorox (see my recent article here) but I recommend value investors wait for a pull back before investing. Try your own inputs in the Levered Returns models and let me know your thoughts in the comments below.
Disclosure: The author has no positions in any stocks mentioned, and no plans to initiate any positions within the next 72 hours. The author wrote this article themselves, and it expresses their own opinions. The author is not receiving compensation for it. The author has no business relationship with any company whose stock is mentioned in this article.