By Chris McKhann
It appears that many traders, especially hedge funds, are hanging their hopes on the emerging markets, but the EEM fund's biggest option trade of the day shows concern for the downside.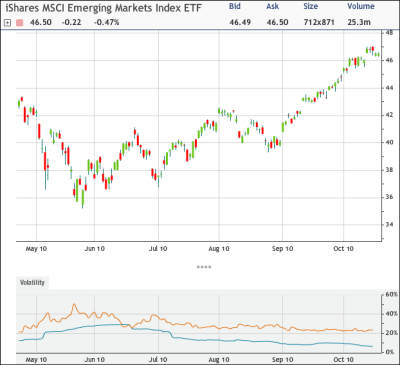 The iShares MSCI Emerging Markets Index (NYSEARCA:EEM) exchange-traded fund is down 0.47 percent today, trading at $46.50. Shares touched an intraday high of $47.03 on Friday, their highest price since June 2008, and are up 32 percent since their 52-week low in late May.
The big trade of the day is one block of 63,560 November 45 puts. This represented half of the total daily average options volume in the ETF and is twice the previous open interest at that strike. The puts were bought for $0.77.
This fund has become a favorite of hedge funds as well as school endowments, reportedly Harvard's largest US-based equity holding. So this put buying could be a straight bearish play or a protective hedge against existing long shares.
We also see the purchase of one block of more than 2 million EEM shares just three minutes after the options activity. These two transactions do seem likely to be related, as together they create a delta-neutral trade that would profit if the EEM moves well in either direction and/or if implied volatility picks up.
This latter strategy makes sense, given the current volatility situation. The 30-day historical volatility is at a 52-week loss of 15 percent, down from 48 percent in May. The average implied volatility is at 24 percent, also a 52-week low and down from 52 percent in May.

Disclosure: No position