Apple's 12-month Run
As seen below in Figure 1, Apple has had a tremendous past year. With their quarterly earnings being released soon, as well as the multiple product launches reported for this fall, it's time to reassess Apple (NASDAQ:AAPL) stock.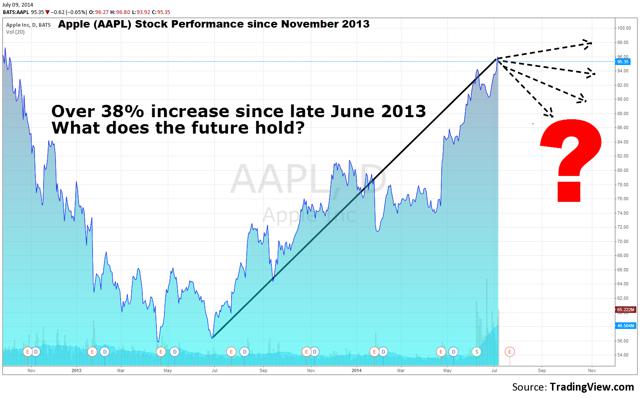 Click to enlarge
Figure 1: Apple stock performance since November 2013. Source: Tradingview.com
The Prediction
I Know First is a financial services firm focusing on algorithmic predictions. Our algorithm uses artificial intelligence and machine learning to analyze the past performance of a stock or any type of investment, and uses this to predict the stocks future performance. The algorithm is quite complex and requires time and effort to truly understand its behavior and capabilities. For a more in depth explanation of how the algorithm works, we have a page on our website. Our Algorithm is predicting that Apple will struggle in the one-month and three-month time horizons. Of course, our algorithm should always be paired with a more qualitative type of analysis rather than followed blindly. The algorithm does not take into account iWatch and iPhone rumors or any sort of buzz. However, we stand by our algorithm and it has proven to be quite effective. There are various strategies that can be used with the algorithm, and the most traditional method is to conduct a fundamental analysis and then use the algorithm as a complement to your analysis. On the other hand, sometimes it is also effective to do the opposite, using fundamental analysis as a compliment to the algorithm.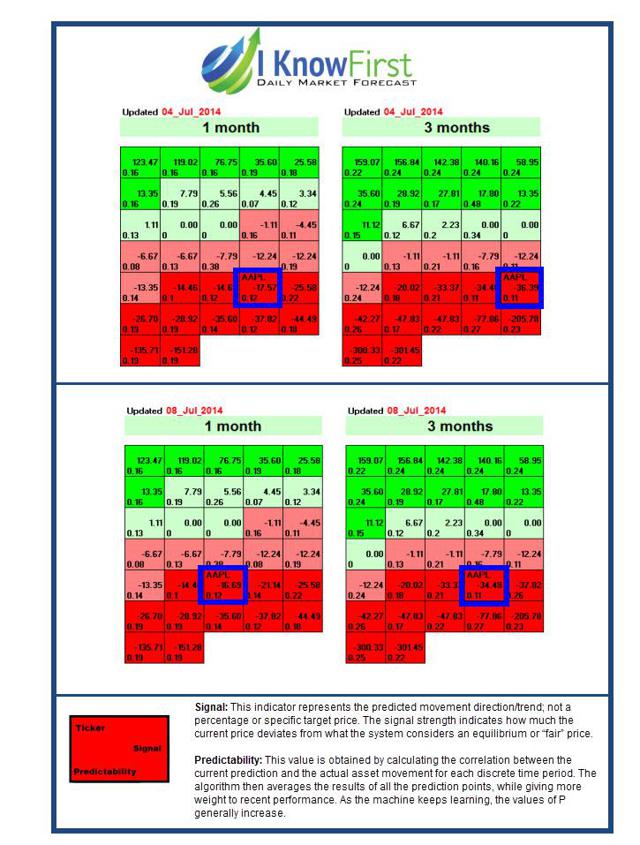 Click to enlarge
Figure 2: Apple Stock Prediction from IKnowFirst.com
As seen above, the algorithm indicates that Apple stock is currently overvalued and likely to fall in the short and medium term (1 and 3 months) time horizons. The dark red hues indicate "strongly bearish" sentiments. The negative number in the middle of the box labeled AAPL is the stock's signal that represents the direction and magnitude the algorithm believes the stock will move. The decimal number on the bottom of that box is the stock's predictability quotient, a relative indicator of how likely the stock will move in the predicted direction. When analyzing a stock's signal and predictability it is important to compare its present signal and predictability to its own historical signals and predictabilities and then track their daily changes.
Past Apple Prediction Performance
I Know First has had much success in predicting the movement of Apple stock, be it a positive or negative forecast. Below in figure 3 is a prediction from March 13th. On the left is the table that a subscriber would have received on the morning of March 13th, while the right shows the actual stock performance (see here for more of our prediction performances).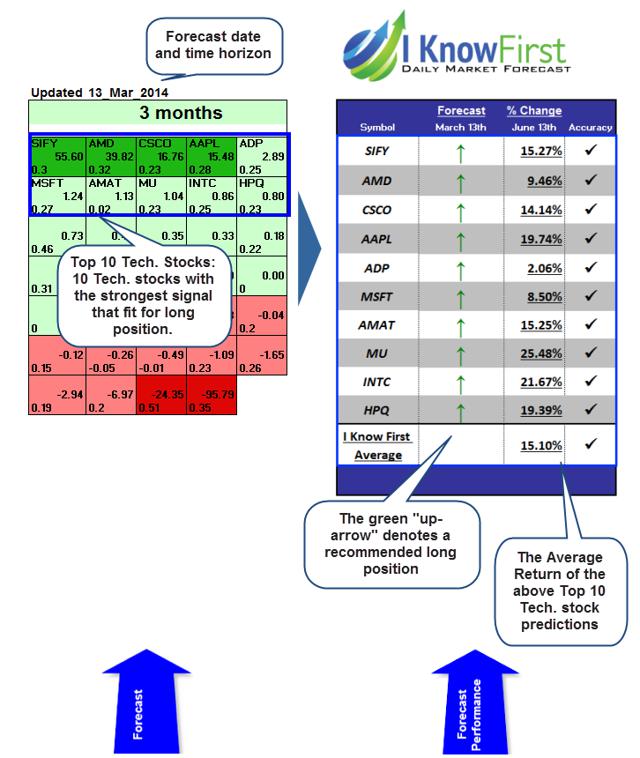 Click to enlarge
Figure 3: Top Tech Stock forecast performance from IKnowFirst.com
So, what could go wrong with Apple?
Apple stock has advanced over 38% since late June 2013. Let's look at why this won't continue.
Impossible Expectations
As Apple reportedly prepares to launch the iWatch this fall, the first Apple "wearable," and more importantly, the first new major product category since the death of Steve Jobs, the world has impossible expectations. Apple consumers are waiting for the next iPod or iPhone. They want to a reason to camp outside their local Apple store days before the product launch. Despite the many technological challenges, Apple could produce a useful and innovative product, but it will not earn the appreciation it deserves. Apple is still an innovator and a leader, but until the world readjusts its expectations, Apple will struggle.
Steve Jobs was only human, and Apple is a corporation like any other, but the press continues to glorify Jobs and make us nostalgic for the Apple of the past decade that captured our hearts. Since Jobs' death, Apple has largely behaved in a similar manner as it always has in terms of product releases. Even if Jobs had not passed away, he would likely have waited until now to release a major new product. Thus, the iWatch is Tim Cook and Apple's first real opportunity to prove that Cupertino is still a great innovator. But considering what is expected from Apple, and the inherent limitations and challenges of the wearable category, it will leave investors disappointed and convinced that Apple can no longer innovate.
Although Steve Jobs died in 2011, the legend of Steve Jobs was just getting started. Two feature films, a best-selling biography; hundreds of newspaper and internet articles, the world could not get enough of him. After his death, Jobs became known as a Silicon Valley prophet who rose from nothing; one of the first geeks to become a household name, a college drop-out who built the world's largest company and number one brand. As expected, upon his death the commentary started pouring in that Apple was doomed without its founder and leader. The analyses about Apple and Jobs' impact entered popular culture like never before, with his vision and contributions snowballing until they outgrew human limits. Some now called Jobs the greatest CEO to have lived, the daVinci, Franklin, or Edison of our time.
Without him, Apple has been criticized for staying in their existing markets and just releasing updates and refreshed hardware. Furthermore, these hardware refreshes were criticized as merely playing catch up to the likes of Samsung and HTC, rather than moving past them, even though Apple has always waited until the perfect time to enter a new market, even if the competition had years of experience. During the Jobs era Apple regularly went multiple years without a major product release-e.g. the 4 years between the first iPhone and iPad.
With the iWatch, Tim Cook could give the most charismatic presentation, but the world will likely say: cool, but it's just not the same. To satisfy Apple customers, Cook needs to do ten times better than Jobs. Jobs brought about a revolution with the iPod and the iPhone, and thus nothing less than a revolutionary product will impress. Cook is currently facing three years of hype that will be channeled into one keynote presentation. Cook bears the burden of satisfying every Jobs fanatic and Apple fan-boy who has let his imagination run wild.
Figure 4 below shows Apple stock movement after 6 different iPhone announcements. After each announcement, the stock experienced a dip, likely due to their expectations of the new iPhone not being met. Considering that there is far more pressure on Apple to innovate with the iWatch, this effect will likely be amplified.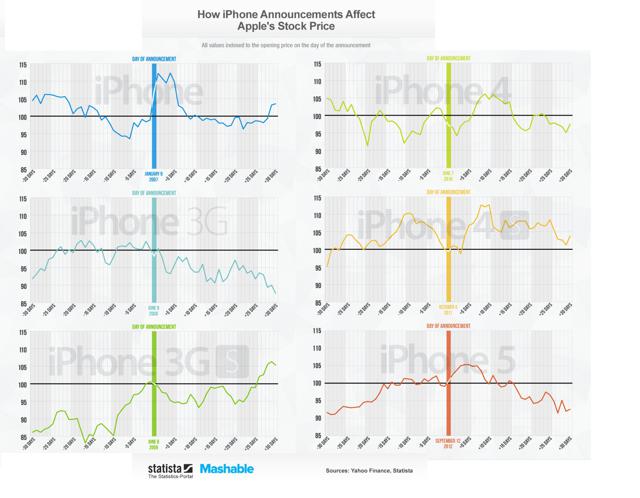 Click to enlarge
Figure 4: Apple stock performance following 6 iPhone announcements. Source: Statista
If the iWatch leaves investors thinking Apple can no longer innovate, the stock will suffer. It will take more than one new product launch to decide if Apple has lost its magic touch, but the first will leave a meaningful impression.
Smartwatches might not even be the future
Everyone these days is buzzing about smartwatches, wearables, and the internet of things. However, the tech giants have embraced the smartwatch in particular as the next big thing. No one can really agree, did people ask for smartwatches or did the tech giants use an inception-style advertising and publicity stunt to make us think we need a smartwatch? This is important, because there may not even be a market for smartwatches as people realize that, for various reasons, the watches could be unnecessary. For starters, the smartwatch, as pioneered by Samsung, LG, Pebble, and a few others, is a device that sits on the wrist like a watch, and acts primarily as a portal to your cell phone. The smartwatch might be useful, but there are a few major issues.
Battery life
Like any device, the battery life for a smartwatch will vary depending on usage. Even an iPhone can last a few days if it is hardly touched. Although battery life will vary from smartwatch to smartwatch, thus far, they generally last anywhere from half a day to a few days. LG reps claim that their LG G watch can last 36 hours in an always-on state, but when was the last time a device actually lasted as long as it was supposed to? If the watch is actually useful, people will use it and the battery life will drain. Even if the watch can last an entire day, that's still another device that needs to be charged every or every other night, another wire to carry, and overall another source of "battery anxiety." Swiss watches are known around the world because the good ones will keep perfect time for decades. A watch that only lasts one day could be a deal-breaker.
Style and Personality
When Apple introduced the iPhone, its consumer base did not already have a fancier phone. The thing about Apple fans is that they tend to have a fair amount of extra cash sitting around, and what do rich people like? They like Rolex watches, maybe even more than their iPhones. Unlike cellphones, watches have already existed for hundreds of years and are a uniquely personal part of a wardrobe. A watch is not an accessory that becomes more attractive as more people have it; seeing your neighbor wearing the same watch as you could turn people off to the idea of an iWatch. Unless tech companies succeed in changing the centuries of culture surrounding the watch, the smartwatch will struggle to catch on.
At a certain point, a smartwatch is just a smaller, less powerful phone.
Smartwatches need a phone to work. They are not connected to the internet and therefore cannot be considered as an alternative to the typical touchscreen phone. Thus, your smartwatch will notify you when you get an email or a text, but then to read it, you will most likely need to take out your phone. As smartphone screens grow increasingly large, we are realizing that more screen real estate typically translates into a more user-friendly and useful experience. Considering this, a smartwatch might be useful for some simple tasks, but you will still need to take out your phone for anything meaningful, therefore putting the smartwatch's raison d'etre into question.
There is no doubt that technology will soon be incorporated into all sorts of currently "static" objects, but it isn't clear yet if the smartwatch is really the form factor or place for what the technology currently has to offer. Apple may blow us away with their iWatch, but it could just end up as a half-baked industry that would have been better to stay out of.
The iPhone 6 might not address its largest flaws
While the iWatch might affect investor morale, the iPhone is what will really affect the numbers. The iPhone has generated more than half of Apple's revenue over the past few years and also drove a disproportionate amount of Apple's recent growth. In fact, over the past ten quarters, the iPhone has represented over fifty percent of Apples new revenue compared to the previous year in seven of the ten quarters. At this point, Apple is the iPhone.
Reports are claiming that the iPhone 6 will likely be announced this September followed by a launch sometime this fall. According to Quartz, if Apple could sell 25% more iPhones than it did over the past year, thus 200 million instead of 160 million then that would be $26 billion in new revenue. Or, if Apple's iPhone sales drop, Apple will take a disproportionate hit relative to its other products. Figure 5 below illustrates, through a few different views, just how important the iPhone is for Apple. As Apple prepares to launch the iPhone 6 this fall, a few things could go wrong.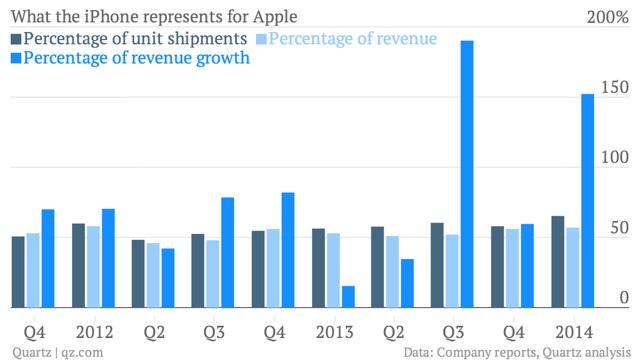 Click to enlarge
Figure 5: The iPhone is the backbone of Apple's business. Source: Quartz
Battery life
Samsung just released a clever video poking at the iPhone's notoriously short battery life. Titled "Don't be a wall-hugger," it shows people stuck hugging the wall as they are forced to be near an outlet to power their iPhone. One of the most common complaints about the iPhone is the battery. Unfortunately, the iPhone 6 does not seem like it will be any better. Rumors indicate that Apple has focused on a larger screen and thinner form factor rather than a larger battery. It's reported that the new iPhone, which could ship in two different sizes, will likely have larger batteries than the 5s, but also a larger screen that will undoubtedly need more juice. Perhaps iOS 8 will bring more efficiency, but in all likelihood, the iPhone 6 will not have dramatically different battery life and that is a problem. That fact could sway potential buyers into purchasing a Samsung Galaxy S5 or the rumored S6 as the Galaxy has a far longer battery life and also a removable battery.
Price and Global Market Share
Sources are also indicating that the iPhone 6, which could come in a 4.7 inch and 5.5 inch model, will likely have two different prices for the different sizes. The 4.7 inch model will most likely be the same price as the current iPhone 5s, but the 5.5 inch could be anywhere up to $100 more expensive. An expensive iPhone means little growth in sales. As Samsung and LG continue to offer competitive phones at increasingly competitive prices, Apple continues to fall behind. Figure 6 shows Apples global market share of smartphone shipments in the last year. Considering the US smartphone market is considered to be quite saturated, US iPhone purchases will likely come from people who already owned iPhones.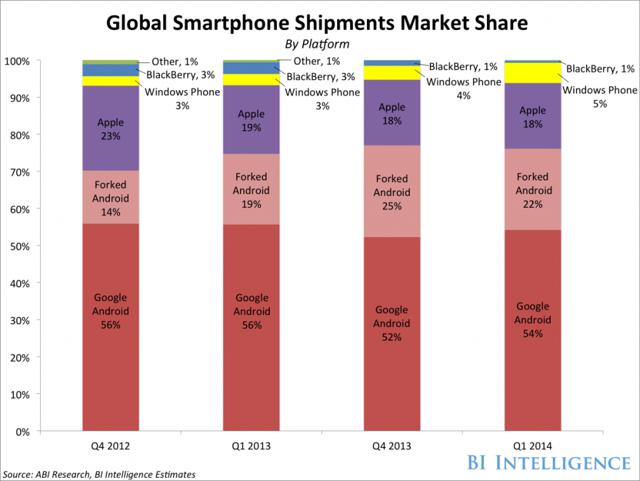 Click to enlarge
Figure 6: Apple's weak market share. Source: BusinessInsider
Globally, a more expensive iPhone will push the scale further from Apple when you consider global market share. The graph below shows that Apple's smartphone shipments have lost 5% since 2012 and are down to 18%. Android had a whopping 76% of global smartphone shipments. As Android continues to dominate the market, app developers and accessory manufacturers might start to focus more on android, thus further hurting Apple. Apple's decreasing market share is partially due to the fact that smartphone growth is not coming from the US, but rather from the BRIC countries. Figure 7, shown below, shows the projected smartphone sales globally for the next 2 years. However, BRIC citizens are generally not as willing to pay $700 or more for a smartphone which makes the android options far more appealing. Yes, Apple made the iPhone 5c, and perhaps there will be an iPhone 6c, but the problem is that the 5c was a compromise and frankly, not even that cheap. Samsung has offerings that are both cheaper and more powerful.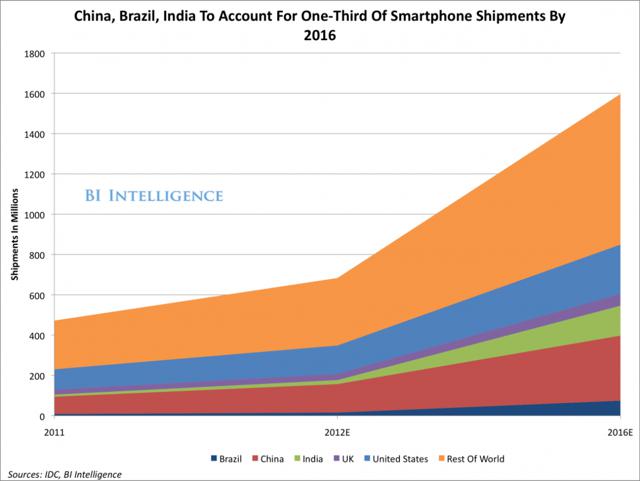 Click to enlarge
Figure 7: Projected global smartphone sales for the next 2 years. Source: BusinessInsider
Figure 8, shown below, offers a more in-depth view of the market share of specific regions. The most noteworthy is the meager 14.7% in China, arguably the largest smartphone market. Apple needs to cater its devices to growth in the Chinese market if they want to see growth in their own numbers.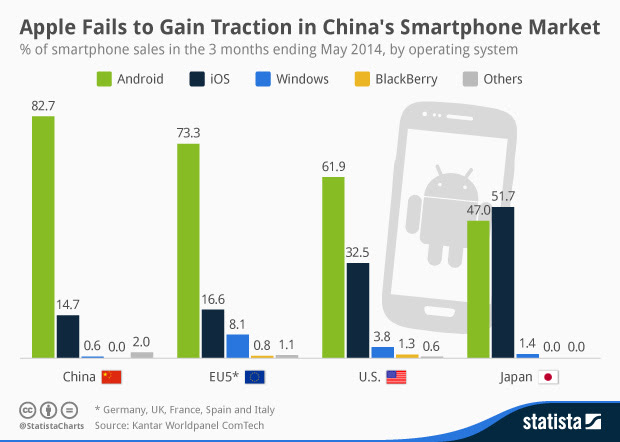 Figure 8: Apple smartphone market share in various regions. China is particularly weak. Source: Statista
Conclusion
Apple is clearly still an industry leader, but our algorithm says that you should not currently buy Apple stock. The algorithm has been right about Apple in the past and I stand by our algorithm in saying that it is better to watch Apple from the sidelines for the next few months. However, the algorithm is unaware of the iWatch, the iPhone 6, or any other events in the news that might affect Apple's stock price. Therefore, it is important to ask if any current events might point to the algorithm being wrong, and the answer is no. With all that could go wrong with the iWatch and the iPhone 6, it is plausible that Apple stock will suffer leading up to and following the announcements of these two products.
Business disclosure: I Know First Research is the analytic branch of I Know First, a financial services company that specializes in quantitatively predicting the stock market. Jeremy Quartner, an I Know First Research intern, wrote this article. We did not receive compensation for this article (other than from Seeking Alpha), and we have no business relationship with any company whose stock is mentioned in this article.
Disclosure: The author has no positions in any stocks mentioned, and no plans to initiate any positions within the next 72 hours. The author wrote this article themselves, and it expresses their own opinions. The author is not receiving compensation for it (other than from Seeking Alpha). The author has no business relationship with any company whose stock is mentioned in this article.