July 18 will conclude the SEC-enforced 25 day quiet period on underwriter research initiated with the June 23 IPO of Xunlei Ltd (NASDAQ:XNET).
The expiration of the quiet period will allow the IPO underwriters to begin publishing research reports on the Chinese provider of internet acceleration services on July 19th and will likely lead to at least a brief increase in the price of XNET shares.
XNET's Early Market Performance
XNET's IPO beat its expected $9-$11 range, with a pricing of $12 per share, and enjoyed a strong first day performance with a return of 24.2%. Since closing at $15.26 per share on June 25, the stock has trended consistently downwards, however; XNET closed at $14.55 per share on July 3.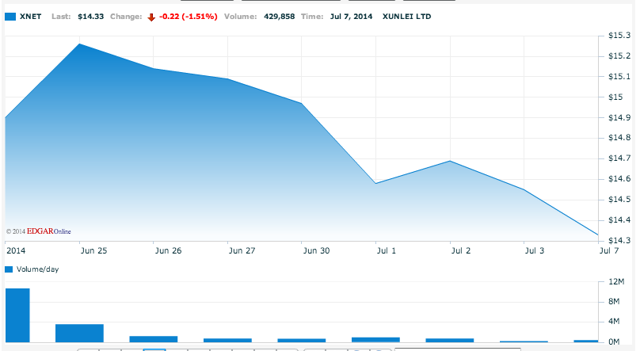 (Nasdaq.com)
Evidence That Quiet Period Expirations Can Open Buying Opportunities
XNET's IPO underwriters, including Citigroup Global Markets Inc, J.P. Morgan Securities LLC, and Oppenheimer and Co., Inc, will attempt to regain the stock's initial strong performance with the publishing of positive research reports beginning at the expiration of the quiet period.
The Journal of Finance (VOL. LVIII, NO. 1; 2003) describes how rising share prices generally appear several days in advance of the quiet period expiration as experienced investors purchase shares in the hopes of benefiting from forthcoming positive underwriter analyses.
Lead author Dan Bradley, PhD, CFA, affiliated with the University of South Florida, and his colleagues explain that analyst coverage is initiated immediately for 76% of firms at the conclusion of the quiet period, typically with 'Buy' or 'Strong Buy' ratings. Firms with coverage initiated experience abnormal positive returns of 4.1% for the two days before and the two days following the date of initiation.
Dr. Bradley's work is supported by the work of Carter, Piwowar, and Strader (2001) who note that the mean analyst rating at the conclusion of the quiet period is a "Buy," with a correlation between higher ratings and higher returns.
Early share buys create a perception of rising demand, leading to rising share prices before the quiet period has expired and potentially providing a short-term buying opportunity.
Bradley et al also report a significant correlation between the reputation and quantity of IPO underwriters and a rise in share prices near the end of the quiet period. XNET's influential supporters in this regard could be impactful come July 19th.
Data generated through our past three years of research align with these academic publications.
Overview of XNET's Business
XNET is the operator of a Chinese cloud computing platform, designed to increase the speed at which users access digital media content like video, games and music.
XNET ranks among the top ten Chinese internet firms in terms of users, with an average of approximately 300 million unique visitors per month over the first three months of 2014. XNET was also the top provider of acceleration products in China in terms of market share as of March 2014.
XNET hopes to capitalize on China's poor internet infrastructure and slow internet speeds through two core services and products. Xunlei Accelerator is the firm's most popular product with approximately 142 million monthly active users in March 2014. Xunlei Accelerator is available for free and is designed to accelerate users' online digital transmissions. XNET's cloud acceleration subscription services, available through various products such as Green Channel and Yunbo, provide users with what the firm describes as "premium services for speed and reliability." The firm's cloud acceleration services had some 5.2 million subscribers as of March 31, 2014. XNET also offers online video streaming services, online game services, and pay per view services.
For more details, see our previous article.
Future Competitors in China
XNET's acceleration services currently face little competition in China, though Chinese internet firms may enter the acceleration sector in the future; likely potential competitors include large firms like Tencent (OTCPK:TCEHY) and Baidu (NASDAQ:BIDU). XNET's video services compete with similar offerings from Youku.com, Tudou.com, and iQiyi.com.
Solid Management
XNET's management is headed by co-founders Sean Shenglong Zou and Hao Cheng.
Mr. Zou has served as the firm's Chairman and CEO since its inception in 2005, and is an expert in distributed computing. Mr. Zou received a bachelor's degree in computer science from University of Wisconsin-Madison and a master's degree in computer science from Duke University.
Mr. Cheng has served as a director of XNET since inception and currently serves as CEO of Xunlei Games Development (Shenzhen) Co. Ltd. He previously managed the products, services, marketing and sales of the corporate search team at Baidu, Inc. Mr. Cheng received a bachelor's degree in mathematics from Nankai University and a master's degree in computer science from Duke University.
Conclusion: Short-Term Buying Opportunity
We are neutral on XNET going forward long term; however, suggest the quiet period expiration as a potential short-term buying opportunity.
The firm's promising IPO and initial success reflect the overall enthusiasm that the market has shown for Chinese tech IPOs in 2014.
However, we are concerned that XNET may have difficulty in the long term based on its current limited product offering; as Chinese internet infrastructure improves, demand for XNET's products will likely decline.
For investors who do wish to dip their toes in XNET, the upcoming quiet period expiration could likely see a boost in the price of shares.
We invite readers wishing to join the discussion on IPO Quiet Period Expirations to click the +FOLLOW button above the title of this article-and those looking for the latest updates to click +Get real time alerts.
Disclosure: The author is long XNET. The author wrote this article themselves, and it expresses their own opinions. The author is not receiving compensation for it (other than from Seeking Alpha). The author has no business relationship with any company whose stock is mentioned in this article.