When making the initial decision to enter into a position in shares of a particular company, I form an investment thesis which entails my reasons and expectations for the shares. When a security falls for whatever reason, I like to review the original thesis to determine if there has been a fundamental change in the plan. Usually, the fall is due to market vagaries and should be ignored. In the case of Philip Morris International (NYSE:PM), a significant change in my original thesis has occurred which led me to exit the position. The article below will detail my decision to sell PM and why I decided to replace it with Allstate (NYSE:ALL).
PM is a manufacturer and distributor of tobacco products in all areas of the world except the United States. PM's main products are their ready to use cigarettes with brands that range from the iconic Marlboro to lower end fare such as Bond Street. The predictability of PM's business was one of the main attractions to me when I initiated the position in PM. So far, the attraction remains as revenue continues to hold up well even with the currency headwinds that continue to bedevil the company.
Currency headwinds are a problem, as the company recognizes revenue in foreign currency and converts them into US dollars once they report earnings. The arrangement works very well when you have a falling US dollar; however, the US dollar has been stronger than anticipated leading PM to reduce its expected earnings for the second time this year. Earnings are expected to come in at $4.87 to $4.97 from an earlier $5.09 to $5.19 a share. Using the $4.97 figure, earnings will fall over 5% year over year which is hardly appealing. To further compound matters, earnings growth has been virtually non-existent, as the last three years have witnessed earnings of $4.85, $5.17 and $5.26, respectively.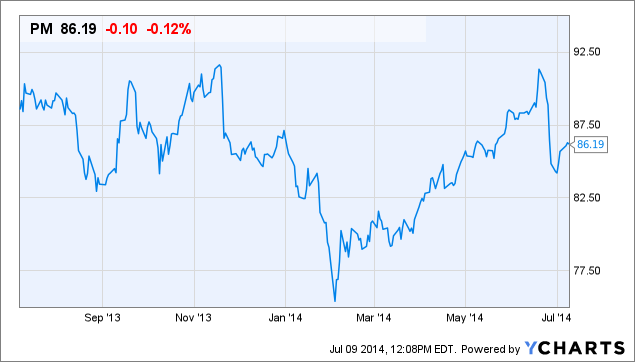 PM continues to be a very shareholder friendly company returning the lion share of its earnings to shareholders via share repurchases and dividend increases. The following excerpt taken from the recent investor day presentation neatly sums up PM's outstanding track record in returning cash to shareholders. The presenter is Jacek Olczak, Philip Morris International Inc. - Chief Financial Officer.
We are very focused on using all the available cash to enhance shareholder returns. This comprises business development initiatives, dividends and share repurchases. During the period from 2008 through 2013, we spent $4.6 billion on strategic and financially-attractive business development projects, including our acquisition of the majority of Rothmans in Canada, the purchase of the remaining 20% of our Mexican business, a 20% stake in our Russian distributor, Megapolis, and investments related to certain North African markets and the acquisition of fine cut and other tobacco products, businesses and trademarks in Europe and South Africa.

The remaining cash was returned to shareholders in the form of dividends totaling just under $30 billion, or 43% of the cash available. And via share repurchases for just under $34 billion, or half to cash available. In total, we have returned nearly $64 billion to our shareholders since 2008.

Our annual dividend target payout ratio of 65% is neither a floor nor a ceiling. In September last year, we increased our annual dividend rate by 10.6% bringing the cumulative increase since 2008 to 104.3%.
Quite a compelling testament; however, the issue I have is the sustainability of their ability to return capital to shareholders. I do not foresee a situation where PM will fail to meaningfully raise the dividend; my concern revolves around the funds earmarked for reducing the share count. PM is investing significant capital in developing reduced risk products to compete with the new e-cigarette products that are being brought about by numerous companies. I will refrain from opining about whose product is better since I have never smoked in my life and fail to see any possible scenario where I will begin the habit. The following quote from the investor day presentation sums up PM's current stance towards share repurchases. Time frame referenced for share repurchases began in 2008.
Since the spin through the end of the first quarter this year, we spent $35.1 billion to repurchase nearly 572 million shares, or 27.1% of the shares outstanding at the time of the spin. The average price was $61.41.

We are fully committed to our share repurchase program with a target this year of $4 billion in share repurchases. Given the current limitations imposed by our credit rating we foresee an annual target range of approximately $2 billion to $3 billion in share repurchases in 2015 and 2016 depending on exchange rates and business development opportunities.

Due to the reduction in funds available for share repurchases the multiplier in our mid- to long-term constant currency annual growth algorithm between adjusted OCI and adjusted diluted EPS has become stretched. In addition, we will need to allocate additional investments to support the commercialization of our portfolio of RRPs.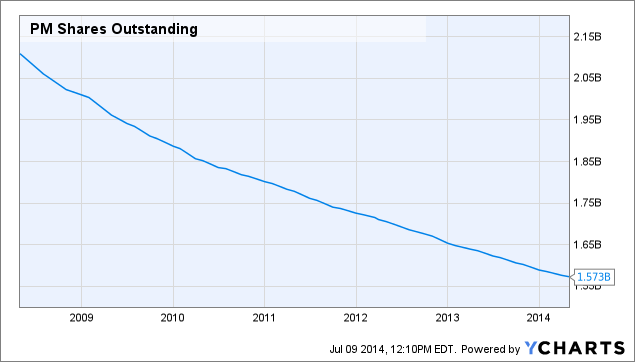 PM Shares Outstanding data by YCharts
My original investment thesis for PM revolved around a large and rising dividend along with meaningful share repurchases that actively shrinks the shares outstanding. With PM's recently released guidance, the share repurchase activity is off the table for the next two years, as the money used will reduce less than 3% of shares outstanding at a share price of $86. I do believe the dividend is safe and secure with dividend hikes expected to come in at well above the rate of inflation. In my view, PM's capital gain potential is rather limited at this point and I will be exiting the position. I will continue to monitor them and will look to reinvest in them at some point in the future when the capital gain potential is more pronounced.
I will replace PM in my portfolio with Allstate Corp., a well run property and casualty insurer. My thesis for ALL is similar to the one employed with PM, namely a healthy combination of share repurchases along with a rising dividend. With ALL being a financial company, a better metric to measure its value is book value instead of earnings, as they can fluctuate greatly due to a large storm. Warren Buffett is a fan of using book value to value financial firms, so in my view if it's good enough for him it's certainly good enough for me.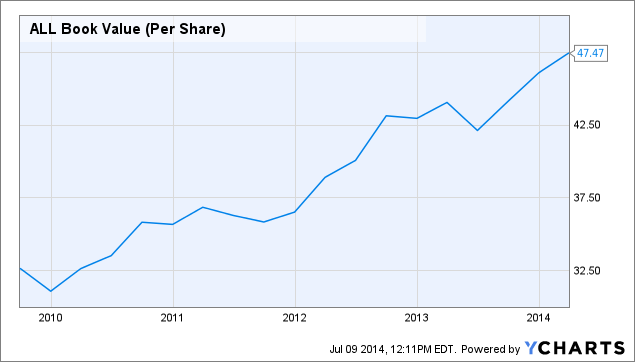 ALL Book Value (Per Share) data by YCharts
ALL's book value is currently 46.7 per share as of its recent earnings release in March of this year. ALL shares currently trade at 1.25 book value, a meaningful advance over the norm seen since the financial meltdown in 2008. What intrigues me is ALL routinely traded at 1.6 times book value from 1998 through the 2008 time frame. I am of the opinion that most financial companies will revert back to their norms seen before the crisis over the next couple of years. If ALL would simply trade at its average book value attained before the financial crisis, we would be looking at a roughly $75 stock.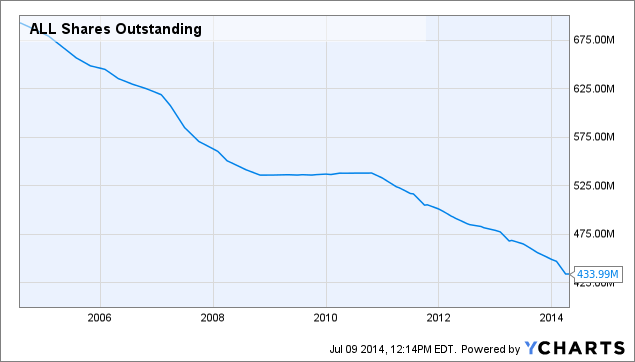 ALL Shares Outstanding data by YCharts
Management is looking to reward shareholders further by using the excess capital generated by ALL to reward shareholders via the reduction of shares outstanding. ALL's board recently authorized an additional $2.5 billion to be used to repurchase shares. At its current market cap, the repurchase authorization would reduce roughly 8% of all shares outstanding. ALL currently pays a dividend that is a shade under 2% which further adds to the appeal of the shares.
In summary, PM's inability to earmark additional funds to meaningfully repurchase shares has caused me to sour on the company. As detailed above, I have exited my position in PM and have moved the proceeds into ALL. Thank you for reading and I look forward to your comments.
Disclosure: The author is long ALL. The author wrote this article themselves, and it expresses their own opinions. The author is not receiving compensation for it (other than from Seeking Alpha). The author has no business relationship with any company whose stock is mentioned in this article.
Additional disclosure: Thank you for reading the article. Investors are always reminded that before making any investment, you should do your own proper due diligence on any name directly or indirectly mentioned in this article. Investors should also consider seeking advice from a broker or financial adviser before making any investment decisions. Any material in this article should be considered general information, and not relied on as a formal investment recommendation.