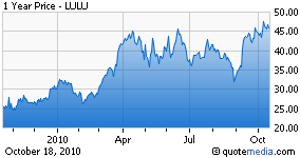 Barron's is out this weekend with a strongly worded Sell recommendation on Lululemon Athletica (NASDAQ:LULU) ($46.03). And I have to admit I normally don't tend to buy many 30X multiple stocks. But sometimes I want to own the company rather than the stock, and LULU is such a case. So I am prepared to get roughed up a little in the very short term. But any weakness should offer investors a chance to buy one of the most compelling opportunities in retail. My 12 month target is $57 based on 29X my Calendar 2012 estimate of $1.98 (That is Fiscal 2013 since they use a January fiscal year.) My 3-5 year target remains mid $70s based on estimated earnings power of $3.50-$3.75.
Based in Vancouver, LuluLemon designs, sources and sells premium priced sportswear for yoga, running and general fitness. They have 75 stores in the US, 45 in Canada and 10 in Australia. As the shorts acknowledge, recent performance has been spectacular. In the most recent quarter, same store sales were up 31%, and total sales increased 56%. Earnings per share more than doubled to $.30 versus $.13. And management is on track to open 20-25 stores this year, representing 16-20% square footage growth compared with last year.
My estimates and valuations are as follows:
| | | | |
| --- | --- | --- | --- |
| | Revenues (mil) | EPS | P/E |
| F2010A | $452.90 | $0.82 | 56.1X |
| F2011e | $655.00 | $1.25 | 36.8X |
| F2012e | $812.20 | $1.58 | 29.1X |
| F2013e | $1,007.10 | $1.98 | 23.3X |
Note: January Fiscal year…F2011 is THIS year, not next year!
These numbers are above consensus, but are below the most aggressive estimates on the street. And it should be noted that as recently as March of this year, consensus estimates were less than $1.00. In fact LULU has beaten estimates in each of the last four quarters. Guidance has been raised the last two quarters, even as other retailers were reining in expectations. I expect that guidance and consensus estimates are still conservative.
The bear case for LULU is (1) that their business is a fad and cannot be sustained and (2) the lofty valuation. Frankly, I have been hearing this since the stock was in the mid 20s. In fact last spring, the additional short case was that comps would collapse following the Winter Olympics in Vancouver … that didn't happen.
While LULU sells a variety of running and general fitness attire, the heart and soul of the company is yoga. So let's look at the core yoga market. Almost 16 million Americans practice yoga. About 72% of practitioners are female and 82% are between the ages of 18 and 54. Around 71% are college educated. A Yoga in America Study in 2008 found 44% of practitioners have incomes over $75,000 and 24% earn over $100,000. Americans spend an estimated $5.7 billion annually on yoga classes and products, up 87% from 2004. While Barron's notes that yoga participation growth may have slowed from 10% to 6% in the one year since the recession ended, I would note that 6% target market growth is not too shabby in the current retail environment. In brief, this is an awesome target market.
With appealing products, brilliant marketing, and grassroots community awareness initiatives, LULU has established itself as THE premium brand in this market. I have to chuckle when I hear guys in Hermes ties and Armani suits worry that a premium brand will be hurt by rising competition from Target (NYSE:TGT) ($54.33). Target is a great company, but they sell to a different market! So with a solid position in a growing market, LULU has 120 stores in the US and Canada. Management's goal is 300 stores. That suggests that square footage growth can be 15-20% for at least five years before they begin to approach their goal. I know of no publicly traded retailer with a square footage growth opportunity that comes close to LuluLemon's.
LuluLemon has among the highest sales per square foot in all of retail. US stores do have considerably lower sales per square foot than Canadian stores. But the improvement in the US over the past year has been dramatic. Much of the improvement can be credited to an excellent management team headed by Christine Day who joined LULU in January of 2008 and was appointed CEO in July of 2008. Under Ms. Day, LULU has refined the US model to drive higher sales per square foot through pre-marketing before entering new markets and through greater use of showrooms with limited inventory (and much lower cost) to raise brand awareness before entering new markets. LULU has also built one of the better online shopping capabilities in retail, which could ultimately contribute 10-15% of total sales.
So in my opinion, LuluLemon has earned a premium valuation. And yet the PE/Growth ratio is not out of line with comparable growth retailers. A comparable valuation matrix below uses consensus forecasts for several companies with a similar strategic profile. As shown, LULU's PE/G ratio at 1.165 is towards the low end. And I think the estimates are too low!

Comparative Valuation

Price

C09A

C 10e

C 11e

C10 P/E

C11 P/E

5YGrowth

C11PEG

Lululemon


(LULU)

46.03

0.82

1.22

1.47

37.7

31.3

26.9

1.165

Ulta Cosmetics

(NASDAQ:ULTA)

31.01

0.66

1.03

1.29

30.1

24.0

22.2

1.083

Tractor Supply Co.

(NASDAQ:TSCO)

39.64

3.15

1.57

2.08

25.2

19.1

15.5

1.230

Under Armour

(NYSE:UA)

45.62

0.92

1.16

1.41

39.3

32.4

19.6

1.651

Coach (NYSE:COH)

44.73

2.33

2.64

2.94

16.9

15.2

14.5

1.049
LULU has $173 million in cash and no debt. It has a self funded business model; they don't need to do an offering to grow. LTM Return on Equity is 36%. It has great management. And it has miles of runway to grow in the US, not to mention international opportunities or additional concepts. As an aside, they are exploring at least one new concept. And given Christine Day's previous history as Starbucks' (NASDAQ:SBUX) President of Asia Pacific Group, I would not rule out a more aggressive international expansion at some point.
So to conclude, LuluLemon is not a cheap stock. And it tends to be volatile, so it pays to wait for dips to buy it. Comp store sales will indeed slow from the blistering pace earlier this year. Earnings comparisons will flatten over next few quarters as they cycle the costs of resuming new store openings. That probably helps explain the swoon from mid $40s to $31 earlier this summer. But sales growth should remain robust, and earnings will reaccelerate next year. And then it's got one of the best growth rates in America. I am assuming comps grow in the 5-7% range, and square footage grows 15-20%. That should drive earnings growth in the 26%-30% range for at least the next 3-4 years.
Disclosure: Author long LULU