Medallion Financial (TAXI) has been sailing smoothly for as long as anyone can remember. The firm's primary business unit is the financing of yellow taxi medallions in New York City and other major metropolitan centers. Over the years, the company has done remarkably well; this is exemplified by its 93% net profit margin for the most recent quarter, along with its 7.96% dividend yield. As the technologically inclined reader may have heard, however, high-tech competitor Uber is disrupting the very space in which Medallion thrives. Let's take a look at how things stand.
Uber
Uber is a Silicon Valley-bred company that is attempting to change the way people pay for car service. The app allow a person to register and become a driver for hire, with consumers using location services to find the nearest one. Although Uber has faced strong legislative backlash for dodging various regulations pertaining to taxi licensing, its user base is rapidly growing. Uber recently received a valuation of $18.2 billion.
Medallion's Medallions
It shouldn't come as a surprise that NYC taxi medallions are one of the most expensive commodities on the planet. The medallions sell for over one million dollars; their appreciation has been steady, yet rapid, and has helped propel Medallion's profitability and stock price to where it stands now. BusinessWeek posted an excellent chart detailing exactly what's going on with the price of a medallion now; the data is Bloomberg's. As evidenced by the chart, the NYC taxi medallions have failed to appreciate for the first time in a 10 years. If anything is a red flag, this is it. Medallion Financial holds a sizable portion of its assets in these medallions at any given point; any decline in their market value is dangerous to their business.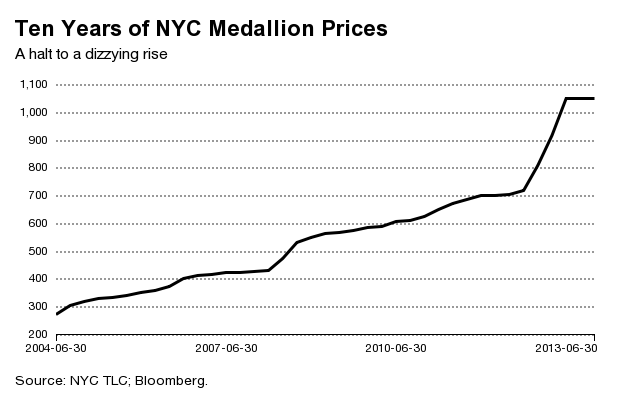 Source: BusinessWeek, Bloomberg, and NYC TLC.
Medallion's Standing
Medallion Financial, as I mentioned earlier, deals heavily in New York City taxi medallions. How much do they hold, exactly? Looking at "other assets" on their balance sheet, which the medallions would fall under, we can see that as recently as Q2 2013 they held a large amount of what could very well be taxi medallions. Notice the large drop between the second and third quarter of 2013; however, could this have been Medallion selling off their medallions in anticipation of a price drop? If anyone has a good reading on the medallion market, it's them. The large drop and the near-constant level since raised my eye -- but I'm no forensic accountant.
Medallion Financials "Other Assets"
| | |
| --- | --- |
| Quarter | $ (In thousands) |
| Q2 2013 | 63,329 |
| Q3 2013 | 15,674 |
| Q4 2013 | 12,899 |
| Q1 2014 | 17,412 |
Source: Google Finance.
How well can Medallion react to changing market conditions? Something worth noting here is their excellent current ratio:

Source: YCharts.
Clearly, Medallion has a lot of assets and barely any liabilities. What's less clear is how they define these assets: As mentioned previously, a large, undisclosed portion of them are held in taxi medallions, which are liable to the effects of supply and demand. If these medallions were to continue depreciating, the firm may find itself with a lot less collateral for financing. That being said, its astounding current ratio indicates that this won't be too much of an issue; clearly, management knows what they're doing.
Most Valuable Startup in the World
Medallion Financial has to defend its base of operations from the threat of these high tech newcomers. Often young technology outfits are little but hype; this is not the case here. Uber is currently the most valuable "startup" in the world. Although this is only by one definition of "startup," I think that it's safe to say that it's the only five-year-old firm running around with a market cap of almost $20 billion. Some big players are behind Uber: They are a disruptive threat to the taxi and limousine market as we know it now.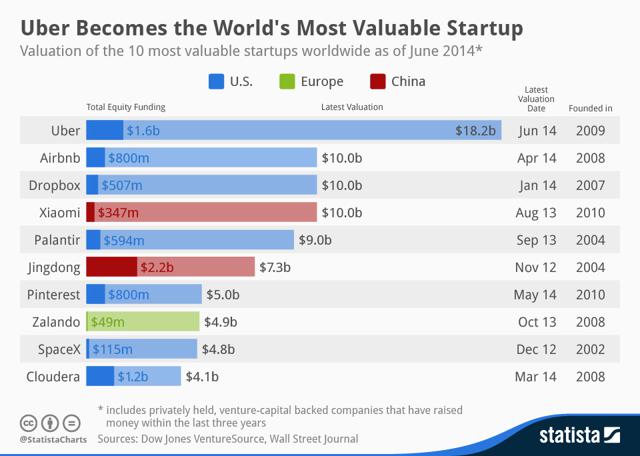 Source: Statista.
For perspective, the market capitalization of Sony is roughly $19 billion. Uber is only five years old.
Conclusion
While the situation is still skewed in favor of Medallion, what's going to matter in the future is how well it can lobby Congress and other judicial bodies in order to help it retain control. It's a safe assumption that there's going to be a lot of capital expended on both sides of the fight. Although the businesses mentioned vary in structure, they both compete for the same thing: The consumer that wants to be driven somewhere. The risk that Medallion faces makes it seem fair to say that the stock should not be purchased at this time. If you already hold it, it may be time to sell as investors may perceive the threat of high-tech competition to be disruptive.
Disclosure: The author has no positions in any stocks mentioned, and no plans to initiate any positions within the next 72 hours. The author wrote this article themselves, and it expresses their own opinions. The author is not receiving compensation for it (other than from Seeking Alpha). The author has no business relationship with any company whose stock is mentioned in this article.