I have written quite extensively on Annaly Capital (NYSE:NLY) over the last few years, and while I have been both positive and negative on the stock, it appears that the company is going through a unique metamorphosis as a mREIT.
While the bulk of NLY's business is still anchored in RMBS (residential mortgage-backed securities), the company has taken strong steps to redefine its business model. With the acquisition of CreXus almost 2 years ago, and a much deeper involvement in commercial loans, the company might be leveling the speed bumps that has seen the dividend jump up and down by virtue of solely the residential housing mortgage market.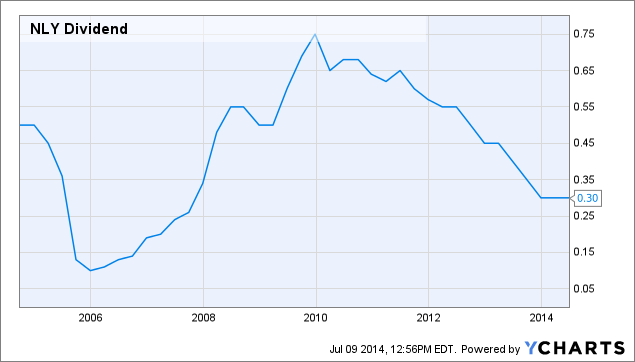 A glance at this simple chart can make any investor wonder what the heck has gone on in the past and where is the dividend headed in the future. Overall, since the company went public, the shareholder return just from dividends alone has been very impressive to say the least.
Despite What The Naysayers Have Been Warning Us, NLY IS A Dividend "Workhorse"
Look, even I have had my ups and downs with holding the stock, so I suppose I can be included as one of the "naysayers" at various times. That being said, if there is one thing that cannot be disputed, it is Annaly's dividend history since the company has gone public.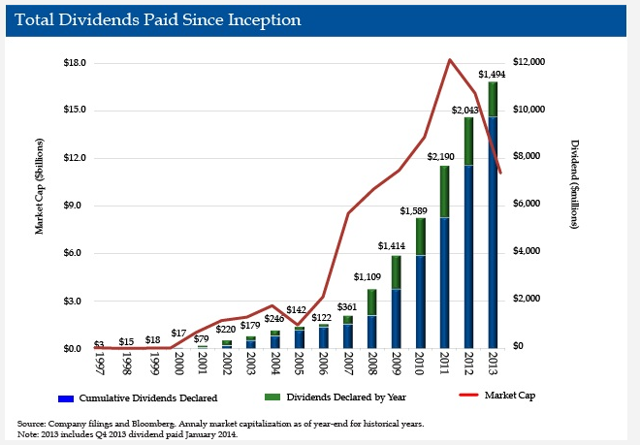 From the company website:
Annaly's prudent management of its strategy, including asset selection, liability management and business expansion, has generated compelling returns for investors. The majority of those returns come from dividend income. Since 1997, Annaly has paid over $11 billion in dividends to shareholders.
We can say what we want about every bit of minutiae that happens, but the facts do speak for themselves, and NLY has enriched shareholders, even with the ups and downs of its share price and dividend. Now it appears that the dividends paid have stabilized, probably because of the NLY management team being able to navigate through the maze of Federal Reserve moves and our government's attempts at manipulating the mortgage market itself.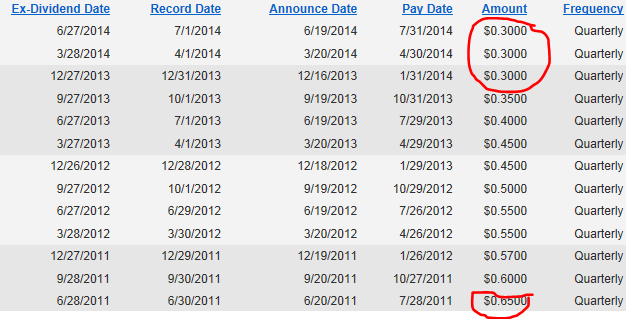 It has been a rough few years for shareholders who might have bought NLY stock at the higher range of pricing, as well as the continual drop in dividends since 6/20/2011 (and more downward pressure prior to that as well). That being duly noted, and the main reason I have been back and forth on owning shares, the bleeding seems to have stopped.
When I last suggested that the stock was a strong buy, the share price was about $9.80. I went into detail as to why I own a decent allocation of the stock in my own retirement portfolio in this article.
Why I Believe That The Future Is Much Brighter Now
Putting my cards on the table, I believe NLY is cheap, and a buy right now. I also believe that with the significant changes in the company's business model, that the dividends will be much more stable, and could even increase substantially over the course of this year and future years.
Obviously that would mean that the net income earned would become more reliable, and far more stable than it has been in the past, and it would happen for the reasons I noted above, as NLY morphs into an unique mREIT "hybrid". To add even more "bite" towards my thesis, it is prudent to remind potential investors that NLY has also entered into a triple net lease agreement with the "Inland Real Estate Group":
"We believe that the potential to utilize Inland's extensive experience acquiring, managing, leasing, financing and developing real estate nationwide will complement our ability to take advantage of a variety of opportunities as we expand our commercial platform into ownership of real property," said Wellington J. Denahan, Annaly's Chairman and Chief Executive Officer. This initiative further augments Annaly's continued expansion of its commercial real estate portfolio. As of March 31, 2014, Annaly owned approximately $1.7 billion in commercial real estate assets, an increase from $1.0 billion at June 30, 2013.

Dan Goodwin, Inland's Chairman and Chief Executive Officer said, "We are honored to have been chosen by Annaly to assist in creating an enviable net lease platform and excited about our strategic relationship." Joe Cosenza, a Vice Chairman of Inland and President of Inland Real Estate Acquisitions, Inc., who is leading the Inland team said, "Annaly's impressive expansion of its commercial real estate business highlights the strength of its balance sheet and flexibility, and we look forward to helping one of the largest mortgage REITs leverage upon those attributes."
To me, owning hard assets will generate greater and more stable revenues and earnings going forward, and over the next few quarters, I believe we will see the positive effects of this direction. If anything, I also believe that NLY will further move in this direction while continuing to engage in the RMBS business as well.
The road, however, might be smoother and the dividends more reliable (not that NLY has actually missed a single quarterly payment since 1997 anyway).
As my friend and colleague Brad Thomas pointed out in his recent article on NLY:
As I see it, the benefits of the new direction are as follows:

The inclusion of real property assets should serve to dampen book value swings based on market movements,
As the portfolio further diversifies, it will require less leverage, and therefore reliance on various borrowing sources,
The dividend yield required will be lower due to a lower risk profile (creating gains as the price increases), and
Annaly will be able to invest in nearly every aspect of real estate with the necessary scale in order to take advantage of opportunities in a methodical and focused approach.
Brad is one of the top REIT experts that Seeking Alpha has, but he also feels that NLY is not a SWAN (sleep well at night) stock. We have had several conversations about NLY and while the stock still requires to be monitored much more closely than the typical dividend champion stock, unlike Brad, I believe that shareholders who are patient will see a more stable dividend, perhaps a lower yield from the flattening out of the risk curve, and a return to the recent highs in the share price.
The Share Price Is Still At A Discount
Since moving up from $9.80 to its current price of $11.14/share, the discount to book value is still significant.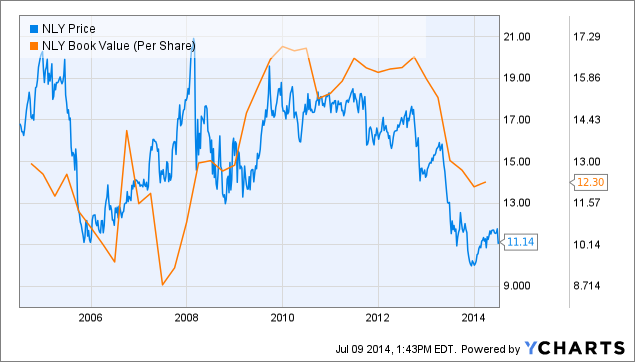 At roughly a 10% discount to book value, that metric alone offers a compelling price to buy shares of NLY today! Looking back to 2010-2012, the share price was approximately 30-50% higher than it is today as well.
While the usual headwinds remain virtually the same, and should be monitored, the impact of those headwinds should be much less when a more diversified company begins hitting on all cylinders.
It is always worth reiterating those headwinds however:
All stocks come with risks. The dividend investment strategy is not immune to the risks. A stock like NLY has a higher risk level as well. Here are some of the basic risks that any investor needs to be cognizant of:
The dividend stocks could cut dividends or stop them completely if we have a fiscal crisis that impacts the economy as a whole.

If interest rates rise, then equities have gone down historically.

Rapid interest rate rises will affect the mREIT sector, and NLY could see not only a loss in share price, but a cut in dividends.

If the housing industry goes through another round of high foreclosure rates, NLY will potentially have more issues turning over inventory which would impact earnings and dividends.

While dividend income can rise, the share price of the stocks held could drop. This will affect the total return of any portfolio.
By monitoring your positions and watching for fundamental changes either in the economic environment, interest rate direction, and individual company challenges going forward, a prudent investor will be able to make any adjustments they might want to, well ahead of the "herd".
The Bottom Line
Obviously, I am bullish on the future of NLY and its shareholders. I could also be very wrong and things do not turn out the way I believe they will. It is always your decision to make, and as Seeking Alpha always states: "Read, Decide, Invest" (or not).
Disclaimer: The opinions of the author are not recommendations to buy or sell any security. Please do your own research prior to making any investment decision.
Disclosure: The author is long NLY. The author wrote this article themselves, and it expresses their own opinions. The author is not receiving compensation for it (other than from Seeking Alpha). The author has no business relationship with any company whose stock is mentioned in this article.