By Tim Gaumer
Magna International (NYSE:MGA), like Valeo (OTCPK:VLEEY), sells components and assemblies mostly to original equipment manufacturers (car and light truck makers). It looks like increased car and truck sales in Canada may have improved the financial fundamentals along the auto supply chain. In the U.S., auto sales also beat expectations, with the best results in eight years. Honda (NYSE:HMC) reported year-over-year sales growth in China of 15.8% in June, a dramatic increase from the 10.5% year-over-year growth in May and 3.6% decline during April. What's with the sudden insatiable demand for new cars globally? While we can't yet answer that, we can examine another of the likely beneficiaries.
We will begin with an overview of the StarMine Alpha Model ranks for Magna. By these systematic measures, Magna has both market sentiment and analyst sentiment moving in its favor. The stock appears inexpensive; its earnings are of high quality (i.e. derived from sustainable sources) and it has solid financial characteristics that show very little risk of financial distress (low credit risk).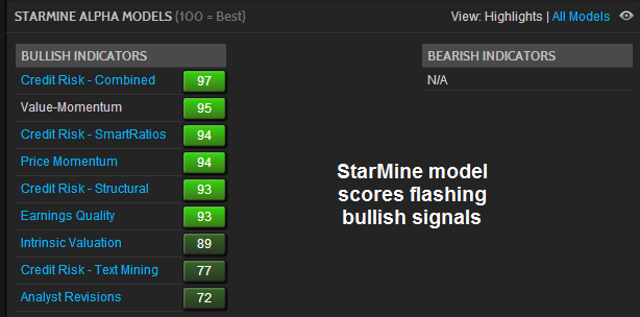 Source: Thomson Reuters Eikon/StarMine, Reuters Fundamentals
Steering a straight course
A high amount of cash flow generated from operating activities is a good measure of earnings quality. Earnings backed by underlying cash flow tend to be sustainable. Magna generated more cash from this source during 2013 than in any year in the past decade. The green portion of these bars indicated the amount by which operating cash flow exceeded net income - by nearly US$1 billion during 2013.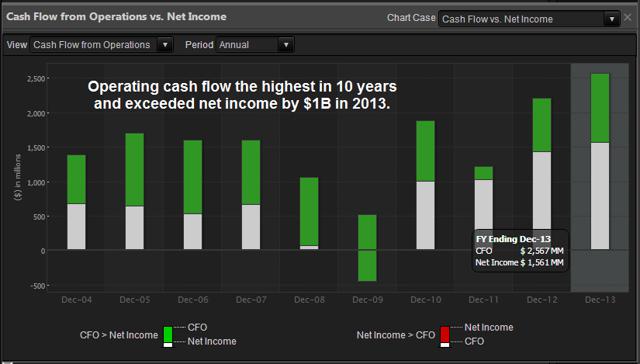 Source: Thomson Reuters Eikon/StarMine, Reuters Fundamentals
Systems in gear
Free cash flow is also growing nicely. Magna kicked off nearly $1.4 billion in free cash during 2013, up from just over $900 million the year before. This has resulted from a combination of rapid growth in cash flow from operations and a flattening of spending on capital expenditures.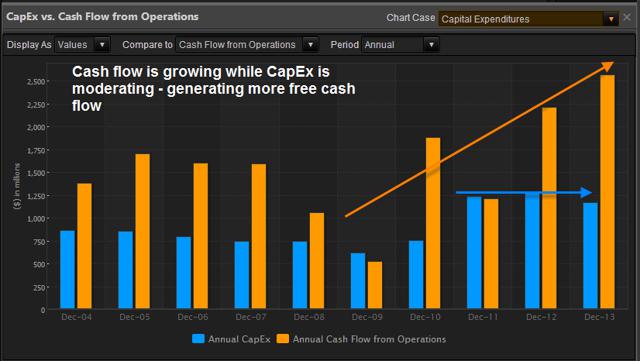 Source: Thomson Reuters Eikon/StarMine, Reuters Fundamentals
Stepping on the Accelerator
The StarMine Earnings Quality model includes a measure of operating efficiency as one of its inputs. Companies generating high returns on net operating assets rank higher than those with poor returns. Return on assets is a combination of profit margins and asset turnover. Magna receives a high Operating Efficiency score primarily because of its high, and improving, level of asset turnover. Its net operating asset turnover during the March 2014 quarter was 4.12 - significantly higher than the industry median of just 2.73 turns.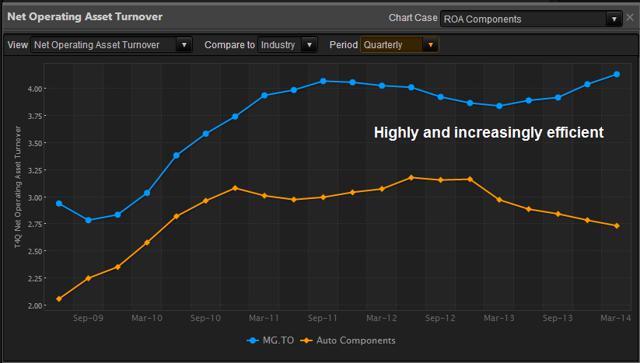 Source: Thomson Reuters Eikon/StarMine, Reuters Fundamentals
All that at a discount
By nearly every ratio commonly used to measure valuation, Magna appears less expensive than both its most direct peers and its industry. Its forward (next 12 months) enterprise value-to-sales ratio is 28% below the median value of its peers. It trades at a P/E of just 12.2, versus 13.6 for the peers and 14.3 for the industry median. And, while not shown here, Magna trades at a 9.1% discount to its peers on Price/Book and, with a 1.4% dividend yield, 60.1% higher than its peers.

Source: Thomson Reuters Eikon/StarMine, I/B/E/S Estimates
Car sales may power further results
The inputs to the StarMine Earnings Quality model come from financial statement data via Reuters Fundamentals. Being historical, actual results don't yet reflect the very strong new car sales reported in several major markets during May and June. This may be cause for even greater confidence that, while this level of new car sales may not be sustainable, Magna's earnings may exceed the speed limit.
Disclosure: The author has no positions in any stocks mentioned, and no plans to initiate any positions within the next 72 hours.
Business relationship disclosure: Alpha Now at Thomson Reuters is a team of expert analysts that are constantly looking at the financial landscape in order to keep you up to date on the latest movements. This article was written by Tim Gaumer, independent commentator and analyst. We did not receive compensation for this article, and we have no business relationship with any company whose stock is mentioned in this article.