Overview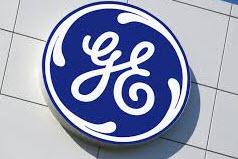 One of General Electric's (NYSE:GE) most intriguing and possibly most profitable endeavors for the company is about to come to fruition. Based on a plethora of other news regarding the company this project with vast potential to improve the bottom line has been overlooked in my opinion. In the following sections I will detail General Electric's plan to take by storm the burgeoning U.S. oil and gas industry.
The EIA's outlook for the U.S. oil and gas industry
The EIA recently published its 2014 Annual Energy Outlook report. The report details a vast increase in oil and gas production and consumption.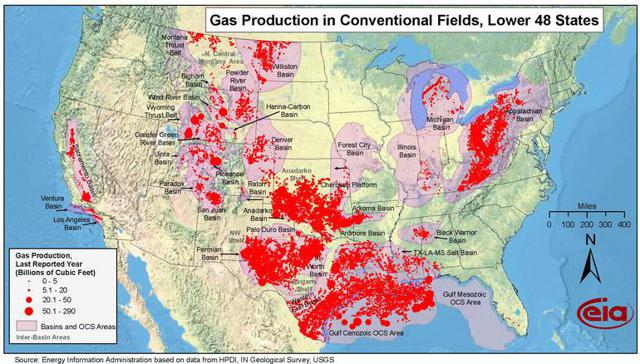 (Source: EIA.gov)
The EIA puts out a report each year regarding the organization's outlook for the energy industry. The three main takeaways are as follows:
Shale gas provides the largest source of growth in U.S. natural gas supply. A 56% increase is expected in total natural gas production from 2012 to 2040 resulting primarily from increased development of shale gas, tight gas and offshore natural gas resources.
Natural gas production is currently growing faster than use. The EIA predicts the U.S. will become a net exporter of natural gas before 2020. The EIA predicts natural gas production will grow by an average rate of 1.6% per year from 2012 to 2040. This is more than double the 0.8% annual growth rate of total U.S. consumption over the same period. The growth in production is met by increasing foreign demand. Pipelines will increase to facilitate certain exports. The United States becomes a net exporter of natural gas before 2020. Growing LNG exports also support higher natural gas prices.
The industrial and electric power sectors will be key drivers of growth in U.S. natural gas consumption. The EIA predicts U.S. total natural gas consumption will grow from 25.6 trillion cubic feet (Tcf) in 2012 to 31.6 Tcf in 2040. Natural gas use increases in all of the end-use sectors with the exception of residential. Natural gas use for residential space heating declines as a result of population shifts to warmer regions of the country and improvements in appliance efficiency.
The U.S. is already the world's largest producer of oil and gas
According to a recent Bloomberg report, Bank of America (NYSE:BAC) stated:
"The U.S. will remain the world's biggest oil producer this year after overtaking Saudi Arabia and Russia as extraction of energy from shale rock spurs the nation's economic recovery. U.S. production of crude oil, along with liquids separated from natural gas, surpassed all other countries this year with daily output exceeding 11 million barrels in the first quarter."
Bank of America's Francisco Blanch went on to say:
"The U.S. increase in supply is a very meaningful chunk of oil. The shale boom is playing a key role in the U.S. recovery. If the U.S. didn't have this energy supply, prices at the pump would be completely unaffordable."
There you have it folks. This is a long-term secular growth story just on the cusp of being realized and General Electric has big plans to capitalize on it. In the next section I will give a brief review of the recent developments.
General Electric's plan to solve the world's toughest energy challenges
Global oil and gas reserves are flourishing but the petrochemicals are stowed away in the most challenging environments on the planet. This is where General Electric comes in. The company is working with partners around the globe to solve the perplexing issue of how to retrieve the deposits cost effectively. In the third quarter of 2015 General Electric will open a Global Technology Center in Oklahoma. This global innovation hub's focus will be to hasten innovation in oil and gas technology with the ability to unlock and retrieve the resources more efficiently. General Electric Global Research scientists have spent the last year developing breakthrough technologies in four specific areas that may crack the profitability code for these expensive endeavors. There are four major areas of focus. The improvements come in the way of new technologies such as improved artificial lifts, subsea electric power, CO2 fracturing and a new 20KSI blowout preventer. See graphic below.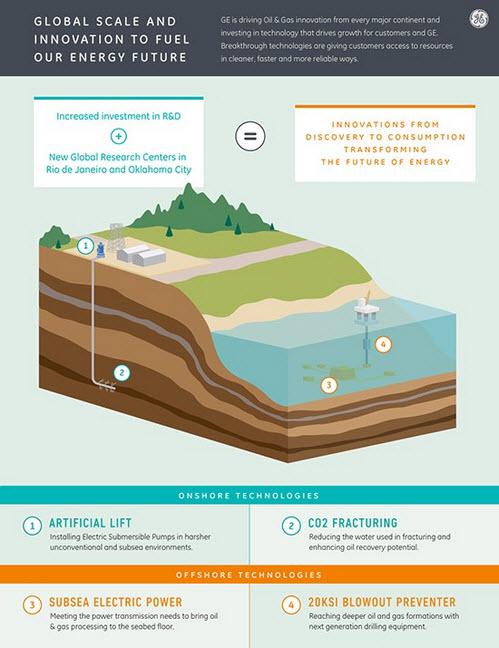 (Source: GE.com)
The new "waterless" fracturing method for unlocking oil and natural gas from shale with a mixture of liquid CO2 and sand is the most intriguing to me. General Electric Engineer Mike Bowman recently stated:
"The vast majority of existing fracturing operations now pump in millions of gallons of pressurized water to do the job. But the new process could one day eliminate the need for it and make fracturing cleaner and more effective."
Bowman currently works at General Electric's research headquarters in Niskayuna, NY. Nonetheless, he will soon join dozens of new colleagues at General Electric's new global oil and gas technology hub in Oklahoma City.
I see this as just one more example of how General Electric's management is doing a tremendous job of exploiting all the major growth opportunities in the energy sector today. This is what will be needed to keep the retirements of millions of baby boomers funded for years to come.
75 million boomers set to retire over the next decade
I feel General Electric has the type of forward thinking that will keep the company fresh and relevant for many years to come. This is exactly the type of dividend paying equity people entering retirement should consider. Dividend investing is popular among retirees and those who wish to live on their savings and are no longer able to work.
Potential for capital gains and income production
With this recent news, General Electric has the potential for both capital gains and income production. The stock is in a well defined uptrend and trading at the bottom of the uptrend channel.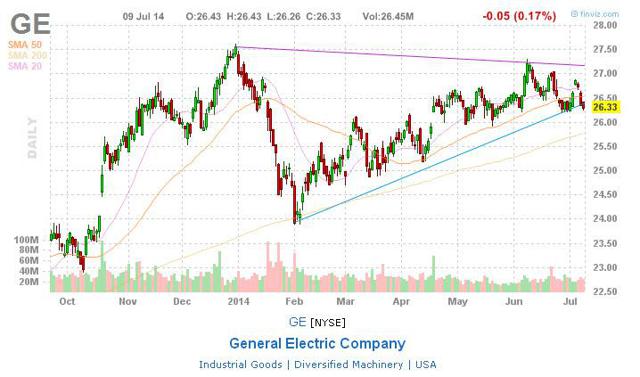 (Source: Finviz.com)
Boomers will be looking for stocks like General Electric that have a track record of increasing dividends, giving them yet another hedge against inflation. This combination will be necessary to fund the lengthening retirement that comes with the greater life expectancy for people today. Nonetheless, there are always downside risks.
Downside Risks
The Alstom acquisition
General Electric's winning bid for Alstom has many facets. This can cause the acquiring company to overpay based on perceived cost savings that do not materialize. Alstom has a ton of debt and is currently a tangled web of jumbled joint ventures and partnerships. The current state of affairs allows for substantial risk of massive unknown unknowns. Once General Electric starts digging into the company, General Electric may find the Alstom acquisition wasn't such a great deal after all.
Geopolitical Risks
Geopolitical uncertainty remains on the rise. The Russia/Ukraine conflict appears to be spiraling out of control along with a new flare up in Middle East tensions. In some ways this underpins General Electric's endeavor, yet if the global economy is sunk due to all-out war, no equity will be safe from a correction.
Europe is not out of the woods yet
The global recovery is in its infancy and will require constant nurturing from central bankers. Nevertheless, the ECB has been reluctant to embark on a similar plan as the Fed's QE program. Furthermore, the Fed can't keep rates at zero forever. The green shoots we see now may turn brown once the support of the Fed evaporates.
The market is at all-time highs
The market is currently sitting at all-time highs just as we enter the summer doldrums. This is an extremely precarious position to be in. You could even say the market is priced for perfection right now. Any hiccup in macroeconomic indicators could bring the markets tumbling down in an instant, not to mention the potential downside created by a negative geopolitical event. It may be time to tread lightly.
Conclusion
I think General Electric is making all the right moves to continue as a going concern in the future. Furthermore, you get paid a 3.34% dividend yield to boot. Many of the downside risks are not going to go away anytime soon. Moreover, the downside would most likely be transitory in nature and simply offer an excellent buying opportunity. Factor this in with the fact that historically, dividend-paying stocks have outperformed non-dividend-paying stocks, and you have a recipe for outstanding returns. I see general Electric as one of the best total return plays out there currently. Nevertheless, always layer in to positions over time to reduce risk.
Disclosure: The author has no positions in any stocks mentioned, and no plans to initiate any positions within the next 72 hours. The author wrote this article themselves, and it expresses their own opinions. The author is not receiving compensation for it (other than from Seeking Alpha). The author has no business relationship with any company whose stock is mentioned in this article.