Introduction
Wells Fargo (NYSE:WFC) has achieved strong gains in the last few years and has been a stalwart performer among banks.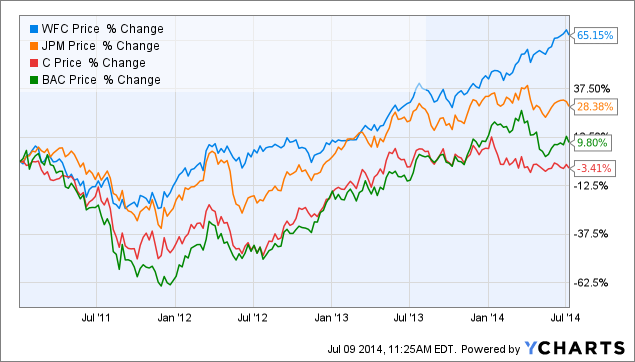 Can Wells Fargo keep it up? I will look at some important metrics for the company followed by my recommendation.
Getting Bang for the Buck
Two of the most important metrics to look at for a financial stock are the ROE (Return on Equity) and ROA (Return on Assets) ratios. Wells Fargo shows exceptional trends for these all-important figures.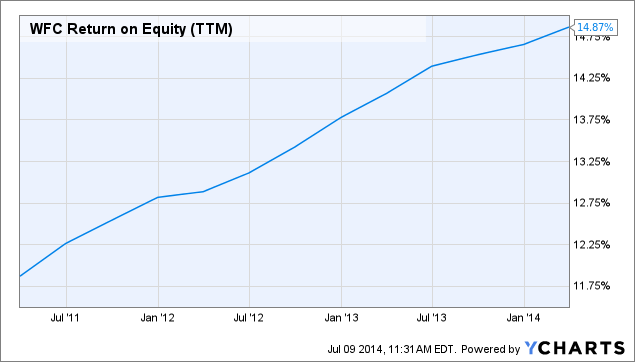 WFC Return on Equity (TTM) data by YCharts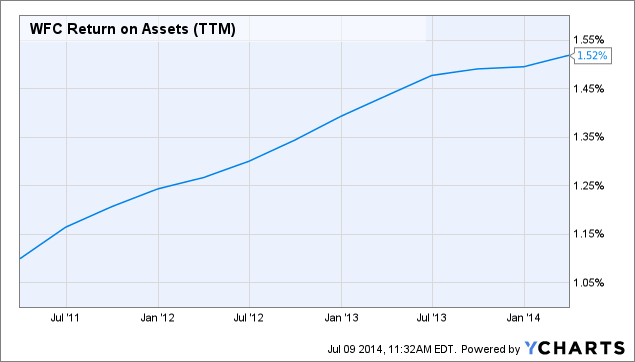 WFC Return on Assets (TTM) data by YCharts
Profitability like that makes Wells into the steady money-making machine that it is. The company has targets of 12% - 15% ROE and 1.3% - 1.6% ROA and it is doing an excellent job of hitting the high range of those targets.
Valuation of the Stock
Interestingly, from January 2011 to October 2012, all four banks stocks sported very similar P/E ratios. WFC was slightly above the others for most of that time.
WFC has seen significant P/E expansion over the last 18 months, as has JP Morgan (NYSE:JPM). Citibank (NYSE:C) and Bank of America (NYSE:BAC), on the other hand, have seen P/E contraction in that time frame.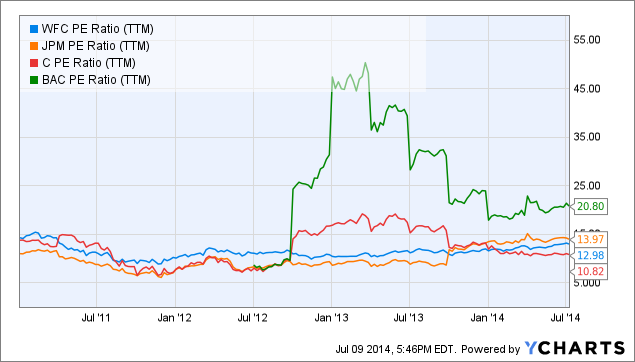 WFC PE Ratio (TTM) data by YCharts
Wells Fargo is arguably the "best of breed" among the basket of four stocks that I have compared. Despite this, it currently has the 2nd lowest P/E among those stocks. On a relative basis, therefore, it appears undervalued.
It is a bit difficult to see from the above graph, but WFC was at a P/E of about 9 in late 2011 and about 10.5 for much of early 2013. It is now priced at a P/E of about 13.
In my opinion the P/E expansion is justified. In addition to the ROE and ROA ratios trending upwards, analysts are expecting healthy 10.1% annual EPS growth in the next five years.
While the forward P/E may look slightly inflated if one simply looks at the last 3-4 years, a longer look back provides more perspective: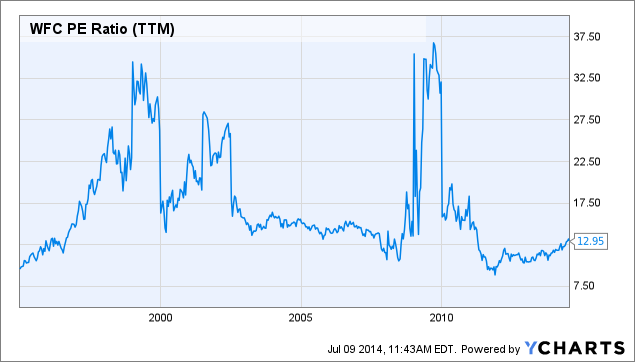 WFC PE Ratio (TTM) data by YCharts
One can see that a P/E ratio around 15 would not be unusual.
Another metric I like to look at is the net common payout yield. The net common payout yield is the dividend yield plus the net buyback yield. For example, if a company with a market cap of $100 million repurchases $10 million worth of stock in the last twelve months, issues no new stock, and has a dividend yield of 3%, then the net common payout yield would be 13%.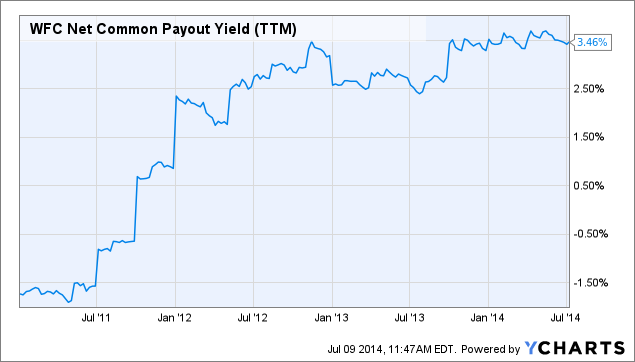 WFC Net Common Payout Yield (TTM) data by YCharts
Here WFC scores average marks. It is consistently returning about 3.5% to shareholders which I consider to be reasonable, but not great. A yield of 8% or more I consider to be excellent and a yield of 10% or more is exceptional (and rare to keep up for long).
Finally, I will look at the technical trend: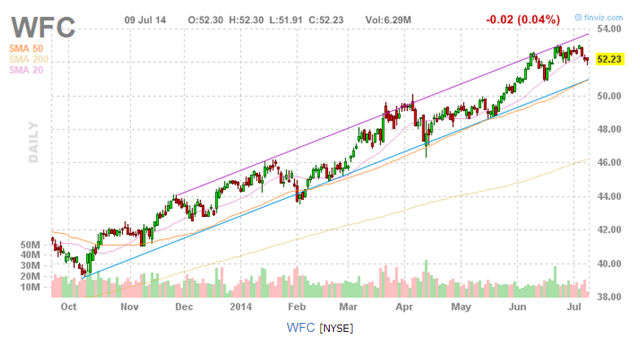 (Source: finviz.com)
WFC shows a very smooth chart that suggests the stock will continue to trend upward.
Conclusion
Wells Fargo is a nice, boring investment that has performed well recently. It is not going to double in the next 12 months, but I believe it will continue to reward shareholders into the foreseeable future. Boring is great!
The finviz chart above suggests a near term (1-2 months) move to about the $54-$55 level is likely. Assuming no major macro event, in the longer term (1-2 years) I expect to see WFC command a slightly higher P/E ratio than it currently does. When one considers the expected growth of 10% in the next five years coupled with the fact that a P/E ratio of 15 would be considered normal given past history, I think it is reasonable to expect an additional P/E expansion to about 14 by the end of next year.
Given the average estimate of $4.29 for fiscal 2015 and multiplying by 14, I have my price target of $60 per share by the end of 2015. I feel that is conservative given WFC's history of beating estimates and if the company continues its habit of surprising slightly to the upside, then a target of $65 is not out of the question.
One thing I would like to see more of, however, is a higher payout yield. Higher dividends and/or buybacks of the stock would be very welcome.
Recommendation: BUY
Disclosure: The author is long WFC. The author wrote this article themselves, and it expresses their own opinions. The author is not receiving compensation for it (other than from Seeking Alpha). The author has no business relationship with any company whose stock is mentioned in this article.