As I noted earlier this month, the global nuclear power industry is in the early stages of a multiyear growth spurt similar to what the industry experienced in the late 1970s and '80s. What many have referred to as a nuclear renaissance will generate tremendous wealth for investors over the next few years.
The oil price shocks of the 1970s prompted many countries to stop producing electricity from crude oil.
In the US, for example, the power industry's use of petroleum has declined by more than 90 percent since peaking in 1978. To put that into perspective, total US net electricity generation has also soared more than 73 percent since 1978.
The nuclear power industry was a major beneficiary of the rise in crude oil prices in the '70s, and the subsequent decline in the use of crude to produce electricity through the 1980s and 90s. After the oil price shocks, utilities the world over sought a power source that fit two key criteria: a lack of dependence on imports and costs that don't vary excessively with commodity prices.
Nuclear power fits the bill on both counts. The key nuclear fuel, uranium, is mined in a number of different countries, including the former Soviet Union, the US and Canada. Although many countries with a nuclear power industry import some uranium, the sheer quantity of material and total cost is minimal in comparison to oil. If you're worried about energy security and supply embargoes, uranium is a far better choice than oil.
Moreover, the cost of nuclear power has little relationship to the price of uranium fuel. According to data from the EIA, variable operating and maintenance costs (mainly refueling) for a nuclear power plant represent just under 8 percent of the total cost of electricity generated in a nuclear reactor. That compares to 24 percent for a conventional coal plant and 60 to 70 percent for most natural gas turbines. Even a doubling or tripling in natural uranium prices has only a modest impact on the cost of generating power.
These advantages catalyzed a nuclear power construction boom in the late 1970s and early 1980s.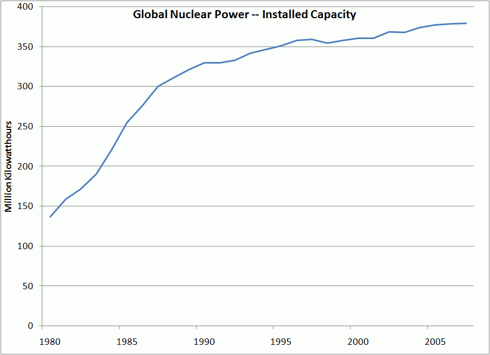 Source: Energy Information Administration
This graph tracks global nuclear power capacity from 1980 to 2007. Note that there's a big different between installed capacity and electricity generation. Installed capacity measures the total potential power output of all plants operating at full capacity. Generation is the amount of power actually produced; as you might expect, the total amount of power generated will always be less than global capacity.
Capacity is the purest measure of the number of new plants that are built and brought online. As you can see, global nuclear capacity grew quickly in the 1980s and slowed dramatically after 1990. Through the '80s global capacity increased by more than 140 percent, an annualized growth rate of more than 9 percent. In contrast, total nuclear capacity grew just 9 percent in the 1990s.
It's also instructive to look at total global consumption of nuclear power.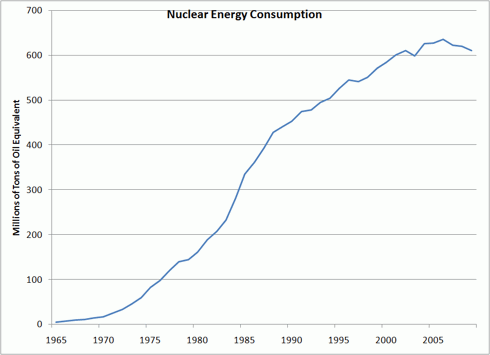 Source: BP Statistical Review of World Energy 2010
Nuclear power consumption grew at an impressive pace from 1965 to 1990. As nuclear power capacity growth hit a wall in 1990, the rate of growth in nuclear power consumption also slowed but didn't stop completely.
This incremental growth occurred as electric power companies became more adept at operating their existing nuclear facilities. On average, US nuclear power plants are operating at more than 90 percent of their peak capacity. In 1980 the average capacity factor for US nuclear plants in 1980 was just 56 percent.
There isn't much room for upside in capacity factors. Future growth in nuclear power consumption will require the construction of new nuclear power facilities.
The spot uranium market--the market for immediate delivery of material--is small and illiquid. Most uranium used in the world is contracted under long-term supply deals; the spot market typically accounts for roughly 10 to 20 percent of total volumes consumed each year.
Nonetheless, spot uranium prices are a good gauge of general sentiment surrounding the prospects for nuclear power and uranium supply and demand. Here's a graph of uranium prices since 1995.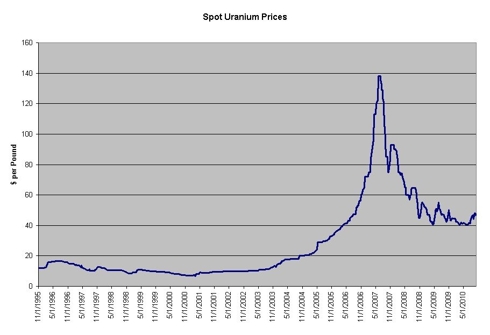 Source: Bloomberg
Uranium prices have been on a rollercoaster ride over the past decade. In the late 1990s up until late 2003, prices hovered around $10 per pound. But between 2003 and 2007 spot uranium prices went parabolic, climbing to just shy of $140 per pound in early June 2007.
Uranium prices have pulled back sharply since then, hitting a low of $40.50 per pound in April 2010. But prices didn't come close to their 2001-03 lows.
The uranium market is showing signs of life again. After flat-lining in the low $40s per pound over several months, prices climbed as high as $48 per pound in September, before falling back to $46.50. Producers, utilities and investors all increased the volume of their activity.
This is the opening act of what's likely to be the next leg higher for uranium. I expect uranium spot prices to climb above $60 per pound in 2011, though there will be plenty of volatility along the way. The three main catalysts for this move: the biggest global nuclear plant building boom since the 1980s, a slowdown in uranium supply growth and rising mining costs.
This time emerging markets, not the developed world, are at the vanguard of the nuclear renaissance. For this and other reasons, I regard nuclear power as a better investment theme than alternative energy.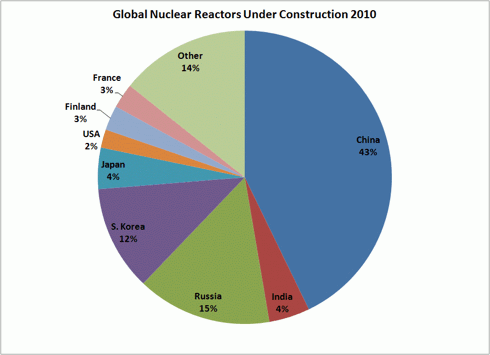 Source: World Nuclear Association
When I talk about nuclear energy at investment conferences, skeptics argue that it's difficult to site and construct new plants in the US without enduring major delays. That's true, but the US is largely irrelevant to the present-day growth in nuclear power.
As of Oct. 1, there were 441 nuclear reactors operating worldwide. Total capacity stood at 376,000 megawatts [MW] and generation accounted for 13 to 14 percent of the world's electricity. Meanwhile, 58 new reactors (total capacity of 60,484 MW) worldwide are at some stage of construction. Once completed, these new facilities would increase nuclear capacity by 16 percent.
As you can see, most of the plants under construction are in developing countries. China is in the process of constructing 23 reactors with a total capacity of nearly 26,000 MW. Only looking at plants where construction is underway, China is roughly tripling the size of its nuclear fleet. Russia and India are also building their nuclear power capabilities.
And plants under construction are only the beginning of the story. The World Nuclear Association [WNA] also maintains statistics on plants that are "on order or planned." Construction has not yet begun on planned reactors, though major regulatory approvals and financing are in place. The WNA estimates that these plants are likely to be operation within the decade. Here's a look at planned nuclear plant construction.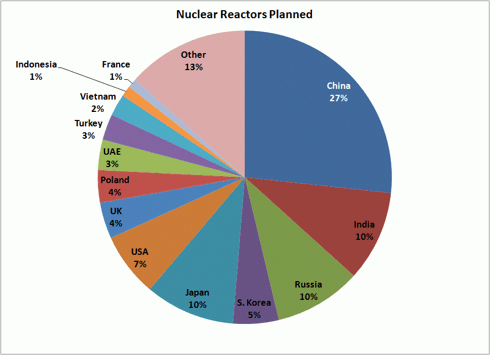 Source: World Nuclear Association
Globally, there are 152 planned reactors with total capacity of 167,401 MW--roughly equivalent to the capacity of existing reactors. Emerging economies also account for many of these planned reactors. In fact, China, India and Russia alone account for about half the world's planned nuclear facilities.
The WNA also tracks proposed reactors, plants that are in an earlier stage of planning and would likely take 15 years to be constructed. These plants are the least likely to be built. Nonetheless, the WNA estimates that there are 337 proposed plants with a total capacity of 382,825; most of these plants would be sited in developing countries, though some developed countries have aggressive longer-term plans for reactor construction.
A major building boom is underway for nuclear capacity. Over the next decade, I expect capacity growth rates to resemble those of the '70s and '80s.
And more nuclear power plants equals rising demand for the key nuclear fuel, uranium. To incentivize mined supply growth, uranium prices will need to rise significantly over the next 12 to 24 months.
According to Cameco Corp (TSX: CCO, NYSE: CCJ), the world consumed about 170 million pounds of uranium in 2009. With a construction boom underway, consumption will expand roughly 3 percent annually through 2019. That will push total global consumption to about 230 million pounds by the end of the decade.
In 2009 total global primary uranium production--output from mines--was just 132 million pounds. In other words, of the 170 million pounds of uranium consumed, only three-quarters came from mines, the remainder comes from secondary sources such as inventories, reprocessed nuclear warheads and recycled nuclear waste.
But secondary sources ultimately run out. A classic example is a program for reprocessing Russian nuclear warheads into fuel rods for power plants. The Russian warhead reprocessing deal has been produced roughly 24 million pounds of uranium each year, a sizeable portion of the secondary supply that's bridged the gap between uranium consumption and mine output.
The Russians have repeatedly reiterated that this reprocessing deal will sunset in 2013. Most analysts expect the Russians to continue supplying nuclear material from reprocessed warheads but that the amounts will decline. Cameco Corp conservatively estimates that Russian reprocessed supplies will halve from 24 million pounds to 12 million pounds annually. Some analysts project a much bigger decline.
Given all of these inputs, Cameco Corp estimates that the gap between total uranium supply (primary and secondary sources) and demand will amount to roughly 135 million pounds over the next decade. Much of this shortfall will have to be filled with new mined supply.
But there are a few major obstacles to mined supply growth. The rapid run-up in uranium prices from late 2003 to mid-2007 catalyzed a new round of mine development in countries such as Kazakhstan, which is now the world's largest producer. Production has increased about 30 percent since the 2007 and 12 percent in 2009.
This flurry of new mine developments is beginning to slow. In addition, most analysts estimate that new the cost of mining uranium is north of $31 per pound; spot prices in the mid-$40s offer little incentive to invest billions of dollars in new projects. And mining costs are likely to head higher as producers are forced to tap expensive-to-produce deposits in more remote parts of the world.
Although there's plenty of uranium supply in the near term, slowing production growth and accelerating demand over the next few years threaten to produce a supply squeeze in the long term.
And there are indications that some nuclear power producers have concerns about longer-term uranium supplies. In 2009 China was active in the spot uranium market, securing supplies to fuel its new reactors. But the country now buys some of its uranium under long-term contracts, locking in supplies. For example, China Nuclear Energy Industry Corp inked a 10-year supply deal with Cameco Corp for 23 million pounds of uranium.
And China National Nuclear Corp is also beginning to invest abroad to secure supplies, a strategy that Chinese companies have used to ensure access to other key commodities. In this case, China is exploring for uranium in Mongolia, Niger, Namibia, Zimbabwe and far-flung areas.

Needless to say, I will continue to track these trends at Investing Daily and in my paid advisory, Personal Finance.

Author's Disclosure: "No Positions"