Sometimes in the stock market, you find companies that are growing at a fast clip despite being in an overall industry where it seems there can't be much room for growth. Boston Beer Company (SAM) is definitely one of those companies.
The Boston Beer Company is America's leading brewer of handcrafted, full-flavored beers. With 18 distinctive, award-winning styles of beer, Samuel Adams offers a variety of brews. The brewery has won more awards in international beer-tasting competitions in the last five years than any other brewery in the world.

Samuel Adams is an independent brewery and has half of a percent of the domestic beer market. The Company's flagship brand, Samuel Adams Boston Lager, is brewed using the same recipe and processes that Jim Koch's great-great grandfather used in the mid 1800s.
The key line in that previous paragraph, to me, is that they only have .5% of the domestic beer market. That leaves a lot of room for future growth. Fortunately for Boston Beer Company investors this could leave you with a big payoff in the future.
When going long stocks I want to see a combination of strong fundamentals and strong technicals. This is what history has proven leads to big stock market gains. It is the growth that fuels the fire of stock price gains.
The earnings and sales growth have been steady, to say the least. For the past five quarters, EPS growth YOY, have come in at 5%, 999%, 58%, 340%, and 36%. During the past eight quarters, sales growth YOY, have come in at 20%, 13%, 7%, 1%, 8%, 3%, 16%, and 10%. For a beverage company, this is some strong growth. It is not Hansen (HANS) like but it is still steady and strong.
Adding to the ranks of strong fundamentals, Boston Beer Company has 0% debt, a Return-on-Equity of 20%, cash flow of $3.37, and an EPS growth rate of 18%. Boston Beer Company does not offer a dividend yet and if you think that is a bad thing remember companies offer dividends when they see limited room for growth. Boston Beer Company is not paying a dividend because they need the money to grow and that is exactly what they are doing.
These numbers above are why over the last four quarters you have seen mutual fund growth increase from 61 funds to 72 funds. This is also why management still owns 36% of the shares outstanding.
While fundamentals are important and the main driver of stock prices, you have to know when to properly purchase stocks and that is where technical analysis comes into play. There are times when it is safe to buy stocks—in a market uptrend—and there are times when it is not safe to buy stocks—when the market is breaking down and in a downtrend.
Right now the market is in an uptrend and that puts the odds in our favor of going long Boston Beer Company.
Boston Beer Company, after having a very nice uptrend from 2009 to June where the stock returned around 300%, is now almost done completing a breakout from a four month tight saucer base pattern.
During the past two months volume has dried up as the stock drifted sideways which is what you want to see during base building patterns after a strong previous run up on heavy volume. This shows that sellers are not dumping the stock as it does nothing, and with all the support at the 50 day moving average during that time, they are more-than-likely picking up shares off this line.
The move today off the 50 day moving average on volume indicates Boston Beer Company is ready to start another leg higher and it would not surprise me if it eventually crosses par ($100) in the near future.
My biggest complaint is that the RS line compared to the SP500 is not showing positive divergence hitting new highs before price. If that is a problem, I have a solution. Since losing money in the stock market, thus depleting your capital, is sin #1, you must have a cut loss in place if something goes wrong. If the stock does not move higher immediately, I will use the 50 day moving average as my final line in the sand. If the stock closes below that line, I will be out. If it continues to move higher off this bounce/breakout move, well I will have a drink to that.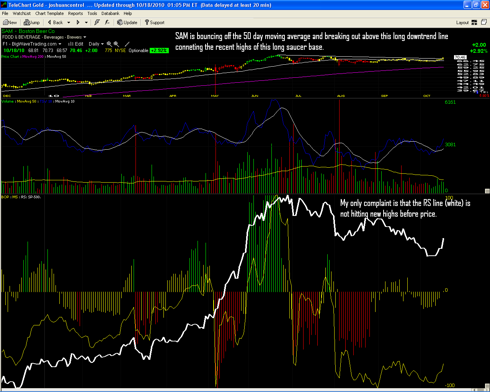 Author's Disclosure: No Position