*
General Electric (NYSE:GE) reported third quarter earnings to $2.06 billion, down from $2.49 billion, with Revenue slipping 5% from the year-ago period to $35.9 billion. Wall Street wasn't happy as GE moves in new directions, and its competition will be found asleep at the wheel as it expands into better markets while trimming away not only the fat, and while expanding new markets.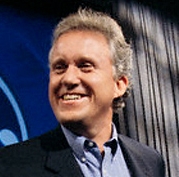 GE Jeffrey Immelt, CEO
At their news conference, CEO Jeffrey Immelt blamed the trend on lower equipment sales in the quarter, as well as on the impact of reduced assets at GE Capital, which it has been downsizing, noting a $1.1 billion boost to reserves stemming from the 2008 sale of its Japan consumer-finance business.
It is all part of their entering new markets as seen by recent acquisitions and expansions.
In its trimming mood for going on the second year, perhaps the third before the announcement of what its plans were, GE Capital has also been diversifying. Much of it has been by lack of demand, and perhaps that is recognized in its supplemental flying showing one of its major decreases in vehicle financing: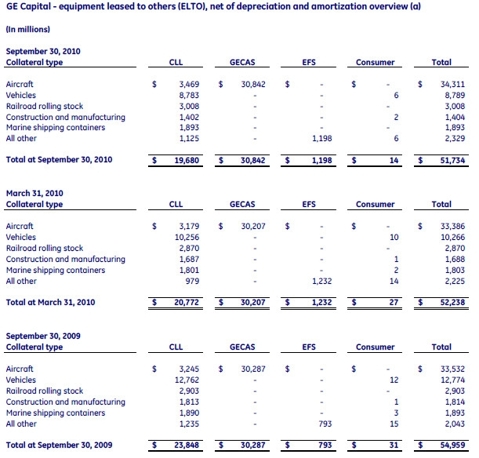 GE Capital, Conn (04/10) GE 1Q profit down 32%, revenue slips; Immelt upbeat www.usatoday.com/money/companies/earning... (01/09) makes more cuts in GE Capital (01/09) More cuts in several divisions. www.leasingnews.org/list_alpha_new.htm#ge (12/08) sends out new rules regarding termination, more layoff expected after first of the year. (11/08) GE becomes commercial bank to seek TARP funds (10/08) closes more leasing divisions (09/08) starts cutting leasing divisions. (04/08) Citibank sells units to GE Capital (12/07) purchases most of Merrill-Lynch Finance Division, officers given notice to look for other employment. (1/06) Wall Street Journal says exiting small ticket leasing marketplace http://www.leasingnews.org/archives/January%202006/01-25-06.htm#ge (10/2001) Records 19% Revenue Drop in QIII
http://www.leasingnews.org/List_Chron/2010.htm
*Rob Milhouse, winner GE Slogan Contest
http://www.leasingnews.org/archives/February%202009/02-04-09.htm#contest
GE Third Quarter Supplemental Financial"
http://leasingnews.org/PDF/GE_3rdqtr.pdf

Author's Disclosure: no position