By Todd Shriber & Tom Lydon
Among developed markets, Japan is not a dividend destination on par with the U.S., U.K. or Australia, but the that does not mean the world's third-largest economy is bereft of dividend growth potential.
Actually, Japan offers plenty of opportunities for dividend growth. While this theme can be played with broader Japan ETFs, such as the WisdomTree Japan Hedged Equity Fund (NYSEARCA:DXJ) and the db X-trackers MSCI Japan Hedged Equity Fund (NYSEARCA:DBJP), investors may want to consider more tactical sector offerings as well. Said WisdomTree Research Director Jeremy Schwartz in a recent note:
The Dividend Stream has reached a new high of ¥7.86 trillion, an increase of 14.6% from the 2008 high. In dollar terms, the Dividend Stream also reached a new high of $77.2 billion, an increase of 4.5% from the 2012 high. The most recent annual dividend growth was led by larger companies such as Toyota (NYSE:TM) that are typically more export focused and benefited from a weaker yen. Even though the total dollar value of dividend growth was up significantly more than the median or typical stock's dividend growth, growth was still broad based, with increases across eight out of 10 sectors.
Helped by the weaker yen, which has benefited exporters like Toyota, Japan's consumer discretionary sector saw dividend growth of nearly 52% within the WisdomTree dividend stream, according to issuer data. According to Schwartz:
The sector displayed the highest percentage increase and became the largest cash dividend-paying sector at more than ¥1.8 trillion, representing approximately 23% of the total Dividend Stream. The growth was led by large cash increases among exporters such as Toyota Motor Corp., Panasonic (OTCPK:PCRFY) and Bridgestone (OTCPK:BRDCY).
Investors can grab exposure to some Japanese discretionary names via the media industry with the WisdomTree Japan Hedged Tech, Media & Telecom Fund (NYSEARCA:DXJT).
DXJT, which is up 9% since its April debut, offers investors another kicker in addition to dividend growth potential. The ETF is also a credible backdoor to the widely anticipated Alibaba IPO. DXJT's leverage to Alibaba comes by way of an almost 10% weight to SoftBank (OTCPK:SFTBY). The Japanese Internet and telecom giant owns 37% of Alibaba, or 25% more than Yahoo's (NASDAQ:YHOO) stake. In fact, SoftBank operates Yahoo Japan. The company also has stakes in Sprint (NYSE:S) and China's RenRen (NYSE:RENN).
Japanese banks have also shown impressive dividend growth. The WisdomTree dividend stream shows payout growth of 22% from Japan's financial services sector. The WisdomTree Japan Hedged Financials Fund (NYSEARCA:DXJF) sports a 30-day SEC yield of 1.6%, which is 13 basis points higher than the comparable yield on the Financial Select Sector SPDR (NYSEARCA:XLF).
DXJF has surged 11% since its April debut. Added Schwartz:
Two key initiatives from Abenomics' third-arrow reforms revolve around corporate governance and investor stewardship. Both reform initiatives are designed to encourage companies to become better allocators of capital and encourage them to use their stockpiles of cash, leading to more distributions to shareholders. We see this trend of higher dividend payouts as sustainable for some time, especially as profits continue to increase.
WisdomTree Japan Hedged Financials Fund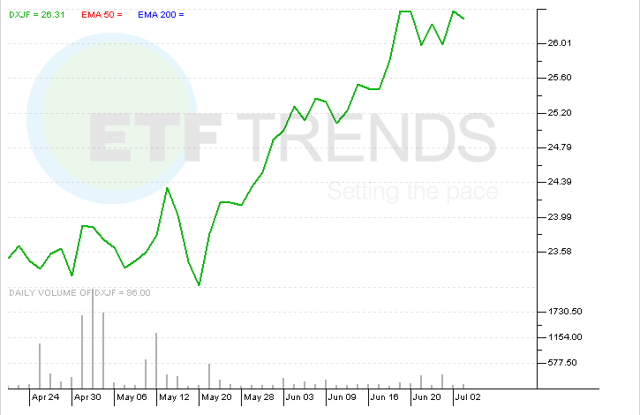 Disclosure: The author is long XLF. The author wrote this article themselves, and it expresses their own opinions. The author is not receiving compensation for it. The author has no business relationship with any company whose stock is mentioned in this article.