Lumber Liquidators (NYSE:LL) was liquidating more than lumber today as it wiped out a massive piece of shareholders' money, falling dramatically after hours. Higher SG&A and 7% lower same store sales are a toxic mix in retail, and Lumber Liquidators had no trouble playing bartender and mixing those ingredients into a deadly nightcap for its investors.
Last September, I issued an article suggesting investors liquidate this stock or risk losses. The stock was $108 then, and it is now $54. In my view, the descent is far from over and $27 is in plain sight.
SA author Whitney Tilson did a terrific job of painting the issues in his December 2013 article, which was followed by a spate of bullish pieces by other SA authors. Investors might have done well to read Whitney's piece before climbing aboard an impending train wreck. The regular hours trading chart sets the table with the stock falling over $6 to about $70.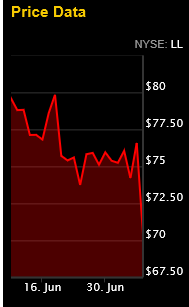 Source: Lumber Liquidators' investor relations page
The chart is ugly, but like so many of Lumber Liquidators' customers who have complained about product quality issues, the stock suffers from the absence of a solid floor under it, dropping another $16 points after hours.
Even with the waterfall decline in the stock today, it is not cheap.
Guidance, if you are a believer, will see the company earn between $2.65 and $3.00 this year. At the after-hours price in the $56 range, the stock still trades at an earnings multiple north of 18 times. High multiples demand commensurate growth and when same store sales start sinking in retail, you can almost smell the problems looming. This was a good short at $108 and while profitable for me, I exited too early to really capitalize on the decline. Given the illness has moved from symptoms to disease, it is not too late to put the short on again and I will do so on any bounce.
At a minimum, investors should treat the name with caution. As my late father used to say, there's never just one cockroach.
Good luck with your investments.
Disclosure: The author has no positions in any stocks mentioned, but may initiate a short position in LL over the next 72 hours. The author wrote this article themselves, and it expresses their own opinions. The author is not receiving compensation for it (other than from Seeking Alpha). The author has no business relationship with any company whose stock is mentioned in this article.