Alcoa (NYSE:AA) reported earnings after the close, on July 8th, and subsequently opened up 3% Wednesday and then rose another 2.6%; for a total of a 5.6% gain into the New York close. What has investors all abuzz?
In second quarter 2014, Alcoa reported net income of $138 million, or $0.12 per share, which includes $78 million in special items largely tied to a previously announced restructuring aimed at reducing the cost base of the commodity business.

Excluding the impact of special items, net income was $216 million, or $0.18 per share, more than double sequentially and nearly triple year-over-year. [Source: above link]
AA also trumpeted 7%, Q vs. Q, revenue growth. However, upon closer examination of the balance sheet there is a fly in the ointment of this earnings beat. What is that fly?
The growing inventory sitting upon AA's balance sheet. While sales grew 7% during the quarter, average inventory grew even more, by 9%. How did this building of inventory help Alcoa's earnings?
One has to go back to how cost of goods sold (COGS) is calculated. The formula is:
COGS = Beginning Inventory + Purchases - Ending Inventory
By definition, if inventory is not being sold and kept sitting on the balance sheet then COGS will be lower. Look at how Alcoa reports its income from its earnings release: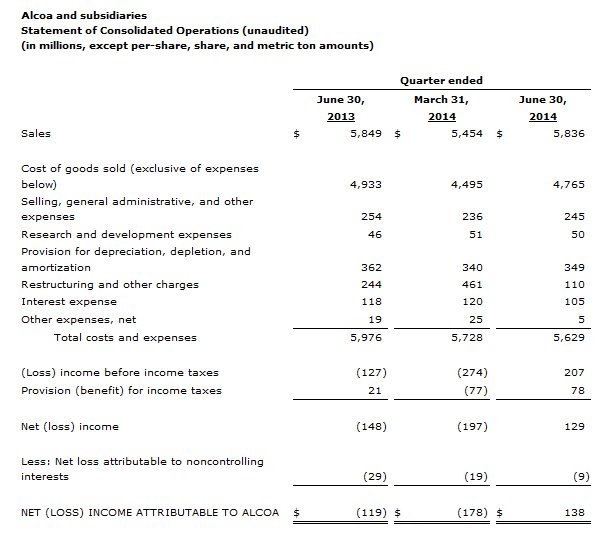 Source: Alcoa reported earnings link
COGS makes up the largest part of "Total costs and expenses" at 84.7% (4,765/5,629). How does one know that Alcoa has a large inventory sitting on its balance sheet? Trivially, by looking at the empirical data of its average inventory divided by its sales per quarter.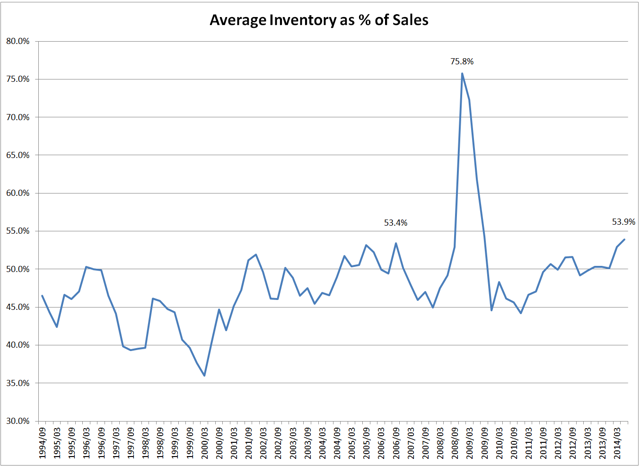 Source: ADVFN.COM, Alcoa's Earnings releases, own calculations
An investor can see that the only time average inventory has been higher as a percentage of sales was during the "great recession"; this happened because sales fell so fast that the ratio climbed.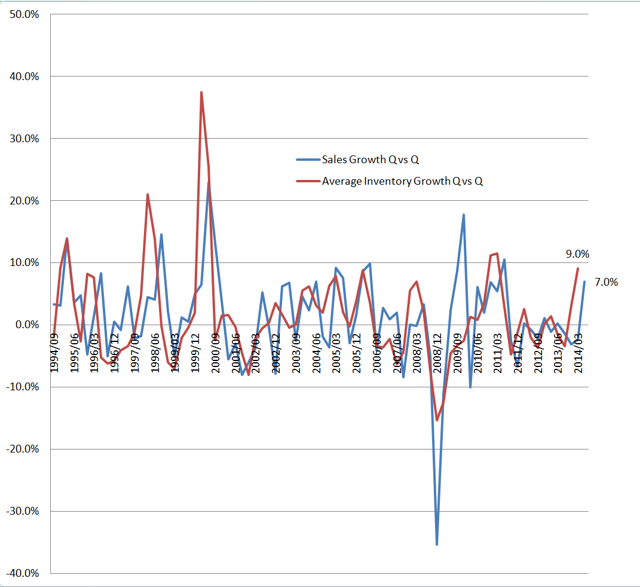 Now, except for the "great recession", Alcoa's average inventory as a percentage of sales has never been higher, at 53.9%, during the last 20 years. Data from Q2 2002, excluding the data from Q3 2008 to Q3 2009, shows the mean ratio of average inventory to sales has been 48.8% and the median 49.2%. Extensive statistics are shown in the table below: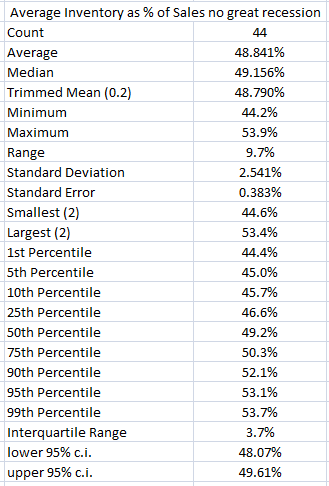 An investor can now perform, "pro forma" analysis to see the earnings of Alcoa if the company held normal levels of inventory. One can "back into" purchases using the above formula for COGS. It appears Alcoa is aware of how much inventory it is holding; as its ratio of purchases to average inventory dropped to near a 5 year low.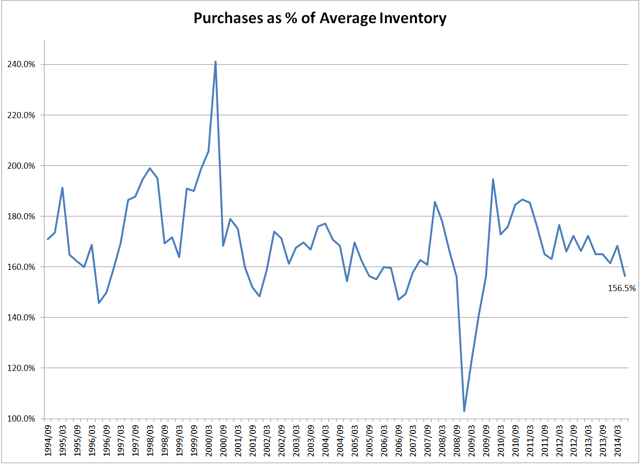 The 10 year average of the purchases to average inventory ratio is 1.638 (note this is skewed downward by the great recession).
From the above information we can now perform "pro forma" analysis of Alcoa's earnings if the company held inventory levels within its historical norms. This data was computed in a spreadsheet and the tables for different levels of purchases are shown below.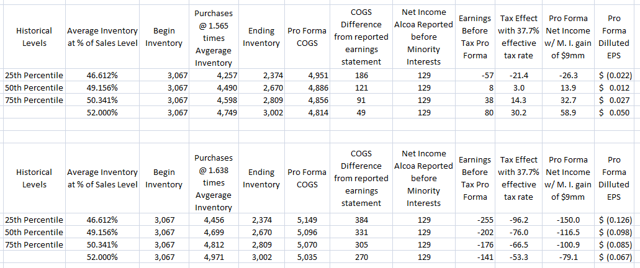 An investor sees that if Alcoa had an average inventory to sales ratio of only 52% the company would have reported EPS of $.05 a share (diluted) versus the $.12 reported. Alcoa was expected to earn $.12 a share.
The last 14 years of data, excluding the great recession, provided a 95% confidence interval from 48% to 49.6% for the average inventory to sales ratio. If one chose the median of 49.15% for the proper level of inventories then an EPS of only $.012 a share would have been earned, with purchases as the same percentage of average inventory.
However, if both the inventory ratio and purchases ratio were near historical levels then a loss of -$.098 a share would have been seen!
"Wait!", say the bulls, "you forgot about the $78 million in net income AA had, but was taken away as a 'special item'." Okay, I can play that game as well.
Here again is the data with an extra $78 million added back. (By the way, do Alcoa bulls ever look at how many "special items" the company has had in the last decade? ADVFN.com data and this $78 million shows -$6.4 Billion; yes Billion with a B.)

Again, all "pro forma" earnings reports are less than the $.12 a share estimate, with possibly one rounding up to $.12 a share. If the 10 year historical norm of purchases to average inventory ratio is used, then the best the company could do is break even.
Alcoa has positioned its inventory levels in hopes of great growth while sales for the first half of 2014 and 2nd quarter were down compared to last year. One can see a large jump in Q1 2014 finished goods inventory level versus both sales and total inventory, but we will have to wait a few more weeks until Alcoa files its full earnings statement with the SEC to check what happened in the 2nd quarter of 2014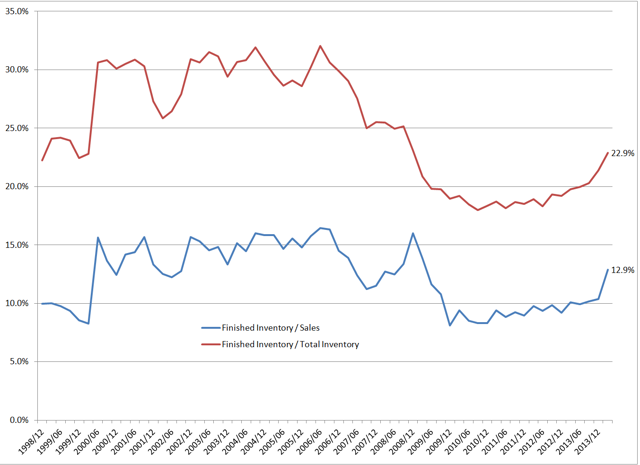 Alcoa bulls have an edge for the time being; that is, most investors only look at headline "news" and don't dig into how the company used its levers to achieve "earnings". Take advantage of the emotional euphoria which comes from myopic traders. Astute investors will be on guard for possible disappointment and earnings warnings during the 2nd half of 2014. Alcoa has bet its balance sheet that if you smelt it they will come.
P.S. Here are two more quick items that I uncovered Alcoa has done. First it has lowered its health care cost assumptions by decreasing the cost increase trend rate from 6% to 5.5%. This is found in a footnote in the 2013 annual report, and is a direct to equity adjustment onto the balance sheet; i.e. it helps the balance sheet look better but bypasses the income statement.
Also, in the 2013 annual report it is revealed that Alcoa's pension plan has $3.4 + Billion of assets that are valued using "Level 3" methods, "which typically represents significant unobservable data."
This is probably way too far ahead of the curve, but don't be surprised if Alcoa has to make a large contribution to its pension plan in the future.
Disclosure: The author has no positions in any stocks mentioned, and no plans to initiate any positions within the next 72 hours. The author wrote this article themselves, and it expresses their own opinions. The author is not receiving compensation for it (other than from Seeking Alpha). The author has no business relationship with any company whose stock is mentioned in this article.