When it comes to chip giant Intel (NASDAQ:INTC), the next few weeks should tell us a lot about the company's near term future. The upcoming earnings report will obviously be important, although the company's pre-announcement doesn't leave too much room for any major surprises. Investors want to see how both the PC business and tablet campaign are doing. Additionally, more detail on the company's capital return plan should be revealed in the next couple of weeks. Today, I'll preview this key time for Intel, and figure out where shares could end up if all goes right.
Where things stand now:
It was about a month ago when Intel came out and increased both its quarterly and yearly revenue forecast. This is the news that the bull camp had been waiting a few years for, as Intel had been known for cutting its revenue forecast in recent years. Thanks to strong business spending, most likely from the end of Windows XP support, Intel raised its Q2 revenue forecast by $700 million. In the table below, I've detailed the changes in analyst estimates since then for a variety of periods. I have also included prior year period numbers, where applicable.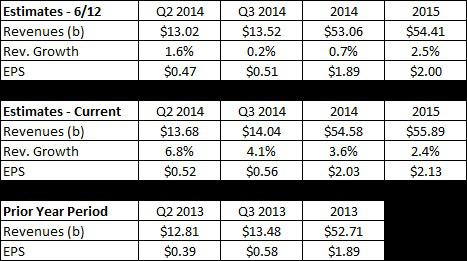 The current Q2 average is still slightly below the company's $13.70 billion revenue guidance midpoint. That's probably due to some old estimates, because the lowest estimate on the street is $13.00 billion. Take that estimate out, and you're right at the average. A quick run of the guidance midpoints and the Q1 diluted share count gives me an EPS number of about $0.53, which would come in a penny ahead of estimates. That would be two beats so far in 2014, after Intel missed EPS estimates in 3 out of 4 periods for 2013.
It will be interesting to see what Intel says about the full year at the July 15th report. The company usually doesn't provide numerical revenue guidance, and only said at the revision that "some" revenue growth would come in 2014. If Intel does not provide a number or percentage for the year, investors will probably key in on the Q3 revenue guidance number. That estimate has come up quite a bit lately as well.
PCs and tablets:
Intel detailed stronger than expected business PC spending for the guidance raise. Some initially thought Intel's forecast for a 5% revenue drop in the PC group was a bit much, and they were right. With Microsoft (NASDAQ:MSFT) ending XP support, it seems that a larger than expected refresh has occurred. I'm just as curious to hear Intel's comments on what's happening with the consumer. Recent reports on PC shipments have been very positive as compared to past expectations.
Everyone also wants an update on Intel's tablet plan. The company has a goal of 40 million tablet CPU shipments this year, up from 10 million a year ago. The majority of these shipments were expected to occur in the last 3 quarters of the year. Look for an update in the opening statements of the conference call. If not there, I'm sure at least one analyst will ask about it.
Capital return plans:
Perhaps even more interesting will be the next dividend declaration. Looking at the company's dividend calendar, this should occur a week or two after earnings. It has now been two years since Intel last raised its dividend to a $0.90 annual payout. The company has been ahead of its 40% free cash flow target in recent years. Initially, free cash flow was expected to decline this year as compared to last, although the improved results may change that. Even if the company only raises the dividend a penny, I think it would be a nice reward for shareholders. It also would help Intel to battle the new dividend leader, Cisco Systems (NASDAQ:CSCO).
I also want to see what happens with Intel's buyback, which has been running at a $500-$550 million per quarter pace recently. Intel shares have certainly raced higher recently, following the good news. Shareholders are hoping that Intel bought back shares earlier in the quarter when they were a bit cheaper.
If Intel does decide to raise the dividend, the company could also potentially announce a new or raised buyback. The current buyback would end in about a year if the company remains at the quarterly rate I mentioned above, and most companies usually announce something before the current plan ends. In the last year, Microsoft, Cisco, and Apple (NASDAQ:AAPL) have all announced buyback increases or new programs. Intel should have the next announcement, so it is just a matter of when.
More upside ahead?
Even though Intel is at multi-year highs and the stock has rallied an additional dollar on top of the post-guidance raise rally, the technicals still look decent. In the chart below, you can see Intel against its bollinger bands.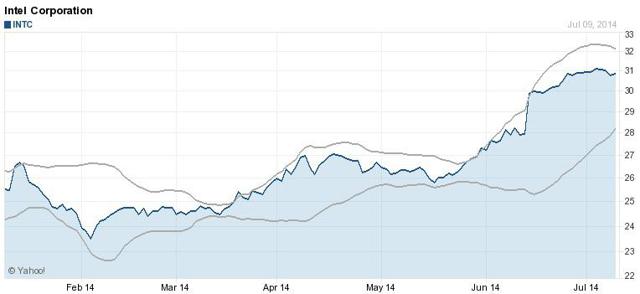 (Source: Yahoo! Finance)
The upper bollinger band is above $32 at this point, and should probably be around that dollar point if Intel stays around this area entering earnings. As you saw with the guidance raise rally, the upper bollinger rose about $3, in-line with the stock's rise. If Intel shares rally after earnings, say towards $32, the upper bollinger band should head higher again. If we see a dividend raise and or a buyback announcement, it is possible that shares would not see resistance until the $33 to $35 level. To get that high though, I think Intel needs to hit on probably all of the marks I've covered today. There is a large chunk of good news already priced into the stock, so we would need to see additional pieces to get shares to continue this rally.
Final thoughts:
Intel is certainly a name to watch over the next couple of weeks. The Q2 period won't be as exciting thanks to the pre-announcement, so it really will all be about guidance going forward. How are PCs and tablets really doing? Additionally, Intel's dividend declaration is coming up, and many are hoping that a raise finally comes. We might also get a huge update on the buyback, if good news is paired together. Intel shares have rallied strongly already, but if we get a couple more pieces of good news, a few more points of upside are possible.
Disclosure: The author has no positions in any stocks mentioned, and no plans to initiate any positions within the next 72 hours. The author wrote this article themselves, and it expresses their own opinions. The author is not receiving compensation for it (other than from Seeking Alpha). The author has no business relationship with any company whose stock is mentioned in this article.
Additional disclosure: Investors are always reminded that before making any investment, you should do your own proper due diligence on any name directly or indirectly mentioned in this article. Investors should also consider seeking advice from a broker or financial adviser before making any investment decisions. Any material in this article should be considered general information, and not relied on as a formal investment recommendation.