UBS reiterated its Buy rating and $90 price target for Facebook (NASDAQ:FB). UBS also raised its estimate of Facebook's 2015 to 2018 revenue growth rate from 17% to 23%. The UBS analysts justified their increased expectations by pointing out that Facebook has strong long-term growth catalysts in Instagram, WhatsApp, and Premium Video Ads.
UBS analysts Vishal J. Patel and Eric J. Sheridan are forecasting a 24% increase in Facebook's EBITDA from 2015 to 2018. They estimate that Instagram and Premium Video Advertising will each generate $1 billion in sales by 2017 or 2018.
The UBS analysts also believe that WhatsApp's massive number of users and cross-platform pervasiveness will further improve Facebook's long-term growth.
China And Asia Are Rich Markets for Instagram Ads
I agree with the logic behind UBS' bullish long-term outlook for Facebook. A $1 billion sales estimate by 2017 for Instagram is highly possible. Facebook is already planning to expand Instagram ads to other countries this year.
Facebook and its core apps are banned in China. However, Instagram is allowed in China and the photo-sharing app is a big hit with mainland Chinese mobile users.
The new office of Facebook in China will likely leverage Instagram's popularity to attract local Chinese advertisers. China has 700 million smartphone users. Instagram advertising in China is a potential gold mine because Google (GOOG, GOOGL) has no competing app available to offer to local Chinese advertisers.
App Links Strengthens Instagram and Other Mobile Apps
Facebook's App Links initiative fortifies the company's lead in mobile advertising. The open-source App Links was only unveiled last April 30 but it can help realize the $90 price target of UBS. Developers can quickly enable deep linking between mobile and web-based apps through Facebook's App Links.
App Links also allows mobile apps to deep link between each other like websites do on the internet. It is a cross-platform tool that allows deep linking between apps among iOS, Android, BlackBerry (NASDAQ:BBRY), or Windows Phone devices.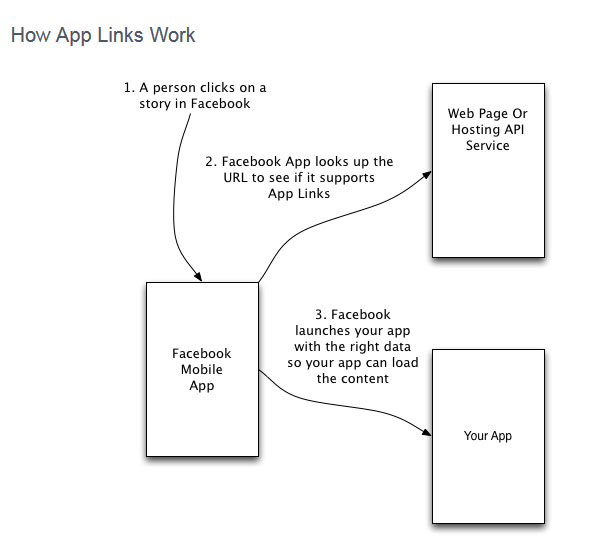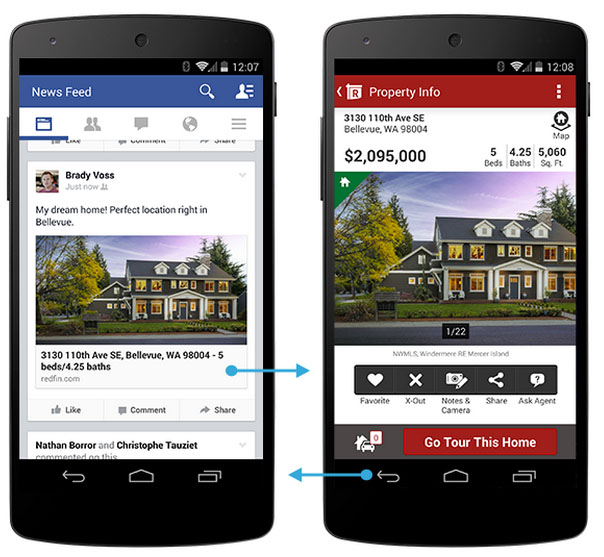 Source: Facebook
Facebook has no search engine to match what Google has right now. However, the big shift towards mobile computing is to the advantage of Facebook. Native advertising is the focus of Facebook's new Audience Network platform for third-party advertisers and app developers.
Deep linking between mobile/web apps is a big advantage for developers and advertisers to share data. In-app purchase-dependent games and advertising-supported apps might benefit from deep linking with each other and share promotional offers.
Likewise, targeted advertising also benefits advertisers who have the same target audience but have different products to sell.
Facebook announced recently that more than 1 billion app links were enabled since App Links' launch. Hundreds of companies like Hulu, Vimeo, Spotify, and Pinterest use App Links.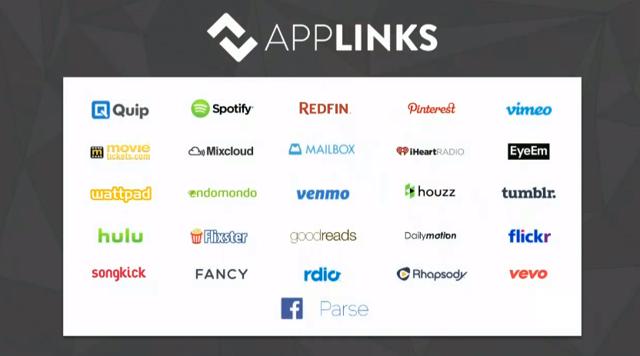 Source: Facebook
App Links allows mobile users to no longer access the mobile internet browser when clicking on a picture or link inside an app. Google's mobile search advertising will likely suffer from Facebook's App Links.
FB investors should appreciate that App links are in line with Flurry's findings - Android and iOS devices users spend most of their time on Facebook and games, rather than surfing the net with browsers. Android's native browser only received 4% share while Facebook's mobile app received 18% of mobile users' time.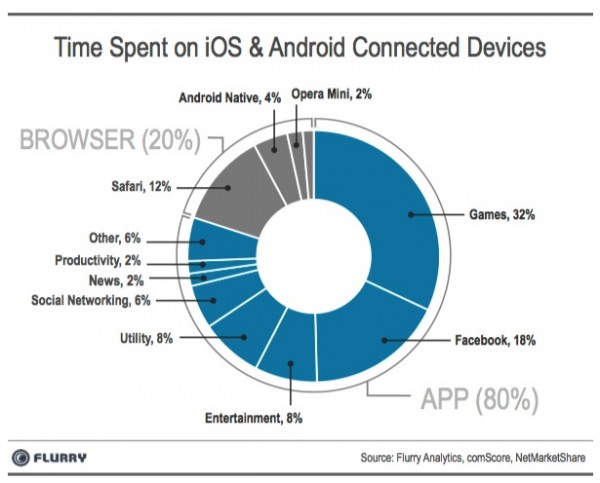 LiveRail Can Help Towards Hitting $1 Billion Sales
Facebook's recent acquisition of LiveRail is also one more reason why I believe in the $90 price target of UBS analysts. LiveRail can help deliver $1 billion in sales for Facebook's video advertising unit by 2017 or 2018.
According to comScore, LiveRail is the third-largest video ad seller to U.S. customers. LiveRail's video ads reached 37% of the U.S. audience, while Google Sites only reached 34.1%. Facebook's global audience of 1.5 advertising eyeballs may help LiveRail attract more clients than BrightRoll and Specific Media.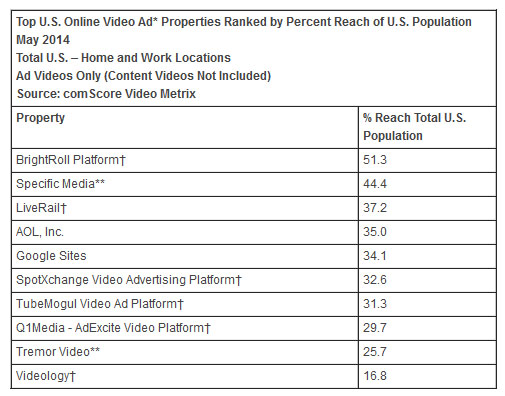 Facebook may have paid around $500 million to acquire LiveRail. Techcrunch said LiveRail earned $60 million in gross revenue last year. However, the Techcrunch article did say that LiveRail is already on track to hit $200 million in gross revenue by the end of 2014.
Based on this year's revenue, Facebook bought LiveRail on the cheap - just 2.5x Price/Sales (way below than the 40x+++ P/S that Facebook paid for WhatsApp).
LiveRail's client list already includes more than 200 companies. Facebook investors should appreciate that LiveRail also delivers 5 billion video ads every month. Facebook gets access to LiveRail's programmatic ad-serving technology and real-time bidding platform (RTB).
LiveRail's success is largely due to its industry-leading real-time bidding infrastructure. Facebook now owns an RTB system that can process billions of daily transaction decisions for video advertisers. LiveRail's technology can analyze audience data and complex campaign/yield objectives to help advertisers come up with optimal decisions.
Facebook's original video ads initiative is notorious for being expensive. LiveRail's RTB lets prospective clients get optimal pricing for their video ads placement.
Furthermore, LiveRail gives Facebook a massive custom-built data center that can serve video ads to billions of multi-devices in real time with minimum latency.
Conclusion
The long-term price target of $90 for Facebook by UBS is believable. App Links and LiveRail can help realize the $1 billion revenue 2017/2018 targets (made by the UBS Analysts) for Instagram and Premium Video Ads. Thirty-one other analysts also rates Facebook as a Buy.
My favorite market peers-comparative valuation tool, Alpha Omega Mathematica gives Facebook a Buy recommendation. The high-math valuation engine of Alpha Omega Mathematica agrees with the bullish Facebook sentiments of highly paid UBS analysts.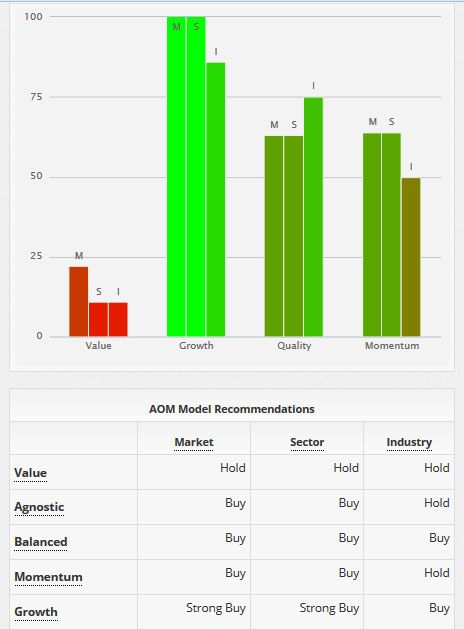 Source: getaom.com
Disclosure: The author is long FB. The author wrote this article themselves, and it expresses their own opinions. The author is not receiving compensation for it (other than from Seeking Alpha). The author has no business relationship with any company whose stock is mentioned in this article.