I am initiating coverage on Apple (NASDAQ:AAPL) with a bearish view and a DCF-backed target price of $102, implying 7% upside from Tuesday's close, indicating that the price is fully valued based on the decelerating growth profile.
In this report, I am placing a particular focus on the iPhone given its importance to AAPL's fundamental (55% of its revenue and 40% of its gross margin). I conclude that the iPhone's innovation trajectory is flattening and being challenged by foreign rivals that are introducing lower-priced handset that have comparable (if not better) specifications and value propositions.
Furthermore, AAPL's iOS ecosystem has been diminishing, especially in China and India where smartphone growth is expected to be fastest, as competition from the local Android-based smartphone makers expand their market share via aggressive pricing and mainstream focus and put pressure on AAPL's content sales, a critical growth driver in my view. While North America continues to be AAPL's home-court, I expect such advantage to fade as carriers gradually introduce lower-priced high-end Android devices to offer consumers more handset choices and protect their margins amid a declining postpaid and prepaid ARPU environment. I note that the Chinese Big 4 (i.e. Lenovo, Huawei, Coolpad and ZTE) have a combined market share of 8% in North America at the end of 2013, a 3% expansion from two years ago.
Finally, I am skeptical of AAPL's next product cycle (i.e. iPhone 6 and wearable) as the new iPhone will likely be margin dilutive despite the expected larger screen size given the rising component cost and the limitation on the amount that the consumers are willing to pay for the new iPhone. I see the new iPhone product cycle will likely be driven by replacement demand rather than new demand, and that growth will be limited as carriers decrease their purchase obligation. Wearable will be the key to rejuvenate AAPL's innovative growth profile but the market is saturated by existing hardware and software players that have the financial resources and the R&D team to compete directly against AAPL.
My DCF model derives a target price of $102, implying 7% upside from Tuesday's close, assuming a 2% revenue CAGR for the next five years on rising smartphone maturity, decelerating replacement cycle and ecosystem contraction. A key thesis behind my revenue assumption is the inability for AAPL to capitalize on the demand from China and India. Just recently, the Chinese regulators have ordered the Chinese telcos to lower subsidies and marketing expense. I view this as a negative to AAPL in that AAPL depends on the telcos for distribution. As for India, lower (and equally equipped) alternatives such as Micromax and Karbonn will continue to erode AAPL's market share, effectively shutting AAPL out of the second fastest growing smartphone market in the world.
Under a bullish scenario, I derive a target price of $135, or 42% upside. This is under the assumption that AAPL will achieve a 5% revenue CAGR on strong iPhone 6 reception and better than expected iPad replacement demand. In addition, I assume an operating margin rebound to the 30% level, again a bullish outlook given the declining ASP environment.
The most probable scenario is that shares will be stagnant in the next twelve months as the market waits to see the iPhone 6 impact. However, a more bearish scenario of 22% downside is highly probable if the iPhone 6 fails to excite the market, carriers cut iPhone commitment, and further deterioration of ecosystem in China and India. I see the risk is to the downside rather than the upside.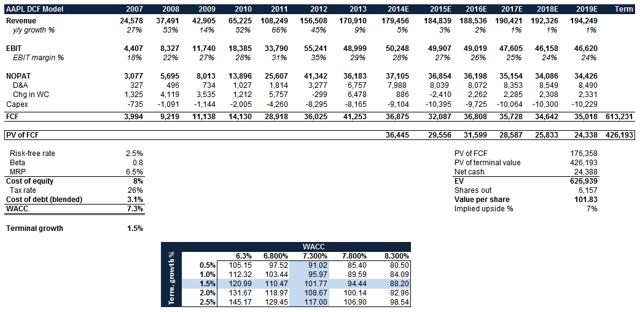 Click to enlarge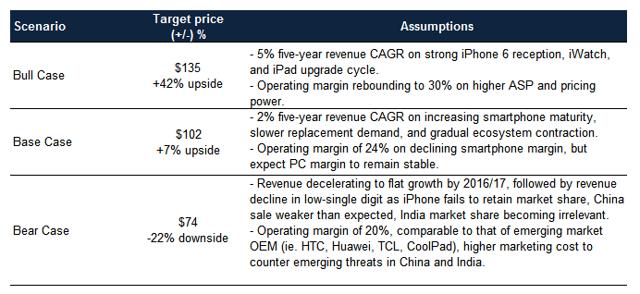 Click to enlarge

Click to enlarge
Innovation curve flattening
AAPL's introduction of the iPhone back in 2007 was truly innovative in that it featured capacitive touch display that responded well to the user's fingers, compared with the mainstream touch devices that had resistive touch display, which had slower response speed. Most notably, it was a breakthrough mobile computing device, delivering superior user experience in mobile internet, multimedia and app processing. On the other hand, competing devices on the market were not able to compete directly with the first generation iPhone.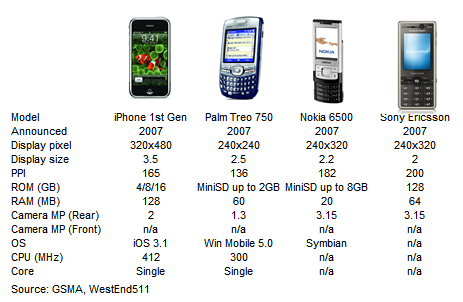 Over the past seven years, the iPhone has evolved through six different models to the current iPhone 5S. However, when analyzing the iPhone's progression, we can conclude that the advancement is evolutionary rather than revolutionary. Most notably, display pixels, memory and camera upgrade have been increased every three years, a rather slow progression given the company's reputation as an innovator in the smartphone space.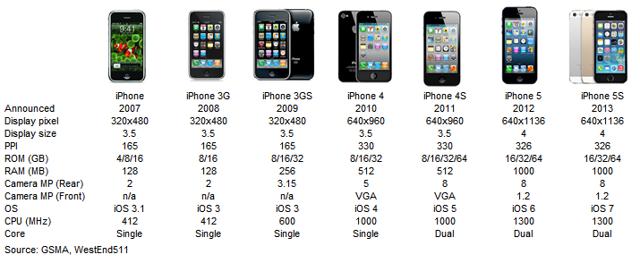 Click to enlarge
Despite being a late-comer into the high-end smartphone race, Samsung has exhibited a steeper innovation curve than AAPL in terms of hardware and software upgrade (thanks to its partnership with GOOG). I note that the Galaxy S series has pursued a steady course of display and camera pixel migration towards bigger screens and higher camera pixels to cater to the growing demand from the consumers. Furthermore, the CPU and memory upgrade also indicates that Samsung understands the consumer demand for faster mobile computing.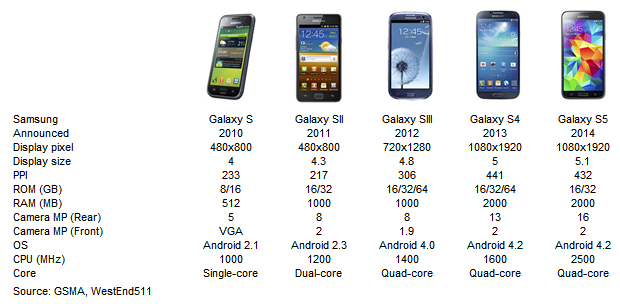 Not only are the larger and the more established players showing steeper innovation curve than Apple, emerging local players, such as Xiaomi in China, is showing aggressive hardware and software advancement on an annual basis with increase in resolution, display size, PPI, memory, storage camera quality and CPU. This strategy has helped Xiaomi to become one of the most promising Chinese branded smartphone makers. As matter of fact, Xiaomi saw its shipment more than quadrupled to 26 million units in the first half of the year, outselling Apple in the country.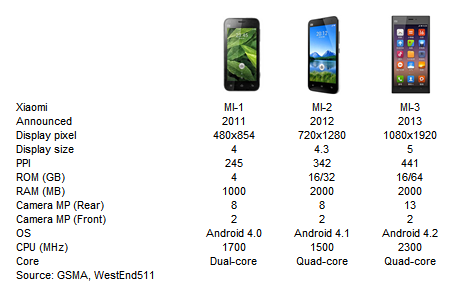 Conclusion: AAPL's innovation curve is flattening since the introduction of the iPhone in 2007 and the iPhone does not offer superior hardware advantage over its high-end and low-end rivals. While many can argue AAPL has a software advantage with iOS and iTunes, I note that Android is not far behind in surpassing AAPL in terms of app downloads, indicating that the ecosystem battle is shifting in Android's favor.
Ecosystem diminishing
In my view, any ecosystem, be it iOS, Android, or Tizen, depends on two key factors to ensure its future existence: 1) a consistent and superior user experience and 2) the number of end-user terminals (i.e. smartphones, tablets, electronic appliances). A solid user experience but a lack of hardware adoption does not ensure longevity as we have witnessed in the case of webOS. Vice versa, a good software but diminishing hardware installment base also does not ensure longevity, as we have seen in the case with BlackBerry (NASDAQ:BBRY). That said, I see AAPL facing the latter scenario under which the iOS installment base is contracting as competing mobile OS catch up to the iOS standard in terms of user experience, and AAPL's iOS ecosystem may likely to diminish going forward.
The diminishing ecosystem will not materialize across all geographic regions simultaneously given the varying competitive dynamics. North America continues to be AAPL's dominant market with 42% of the smartphone market share, followed by Samsung with 27%. I believe this is primarily due to favorable carrier relationship and the consumers' continued perception of iPhone as an innovative smartphone.

Click to enlarge
It is worth noting that besides AAPL and Samsung, other Asian smartphone OEMs such as LG and the Chinese Big 4 are making in-roads to the North American market. While LG has established solid carrier relationship with AT&T (NYSE:T) and Verizon (NYSE:VZ), Huawei and TCL Communications, which sells the Alcatel brand globally, have formed solid relationship with the Canadian new entrants (i.e. Wind Mobile) hoping to make the gradual penetration into the US after building a solid brand foundation in Canada. Furthermore, Lenovo's acquisition of Motorola indicates that the Chinese OEMs are very much interested in the US market and Motorola could give Lenovo the carrier relationship that it seeks to expand its distribution in North America.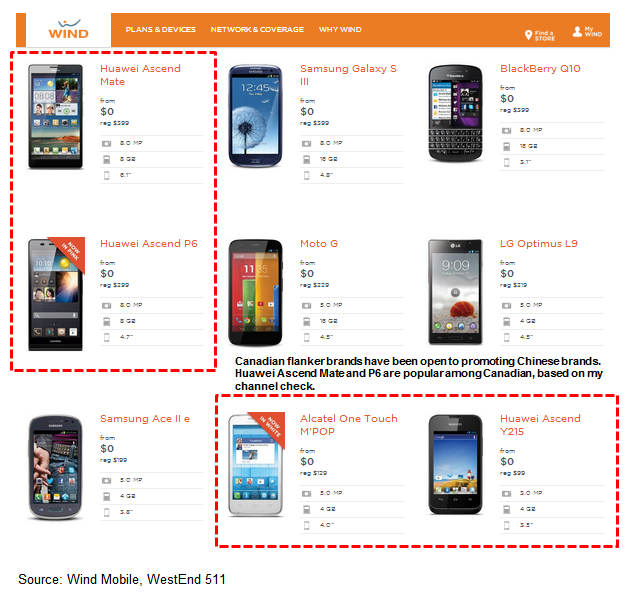 The scenario of the Chinese smartphone OEM invading the US market is not impossible, in my view. However, such scenario depends on two key drivers: 1) the willingness of US carriers to promote the Chinese handsets that are lower cost but comparable in quality to that of high-end phones, and 2) the US consumers' willingness to accept the Chinese-made handset. This brings us a chicken-and-egg dilemma in which the carriers are unwilling to promote unless the consumers accept the Chinese brand, and the consumers are unwilling to try/accept unless the carriers promote the handsets. Nonetheless, I expect low-cost Chinese smartphone makers to expand their market into the US, which could place downward pressure to AAPL's ASP as the carriers look to minimize the amount of handset subsidies amid a declining postpaid and prepaid ARPU environment.
AAPL's presence in emerging market is less optimistic despite the company's acknowledgement that markets such as China and India, two key smartphone markets, will be important to the company's growth. However, China and India are dominated by incumbents that have both cost and content advantage over AAPL. In addition, the local OEMs also have strong carrier relationships and nation-wide distribution that AAPL lacks.
At the end of 2013, AAPL had just 8% of China's smartphone market share, compared with 2011 and early 2012 when the company had low double digit (~11%) market share.

Click to enlarge
A major reason behind AAPL's market share contraction in China is due to its high ASP (equivalent to the two-month salary of a university graduate) and increased competition from the local Big 4 that introduce comparable if not better high-end device but at a lower price point. I note that the high-end devices from Huawei, Lenovo and ZTE all spot 1920p display compared with iPhone's 1136p, 2GB RAM, quad-core processor, 13MP rear-facing camera and at least 5MP front-facing camera, and priced at least 40% cheaper than the iPhone 5S. (See figure below, note the RMB price)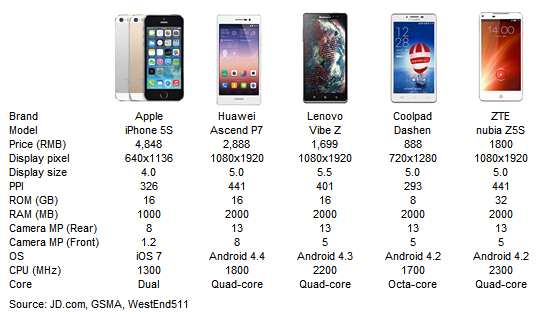 India is another market where the incumbents are gradually taking market share away from Samsung and AAPL which has dominated the market in terms of smartphone shipment from 2010 to 2012. Since the beginning of last year when we started to see local brands such as Micromax, Lava and Karbonn begin to compete against AAPL and Samsung using similar strategy deployed by the Chinese OEMs (i.e. Affordable price, high-end specs, relevant local software). AAPL had 2% market share at the end of 2013, a decline from 24% in 2009. While Samsung held on to its market share thanks to its affordable low-end devices, the company is also seeing its market share contracting to 36% at the end of 2013, from 51% in 2012.

Click to enlarge
EMEA is one region where AAPL is making progress, doubling its market share to 11% at the expense of the legacy Nokia brands. However, the Chinese OEMs (i.e. Huawei and ZTE) have established solid relationship with the local carriers by providing them with affordable telecommunication equipment and saw their smartphone market share tripling to 12% over the same period. I expect AAPL's market share expansion to be slower than the Chinese as the local carriers will likely have a preference towards the Chinese brands over AAPL.

Click to enlarge
Continental Europe (west and east) have been another bright spot for AAPL with market share at 17% at the end of 2013. Nokia's presence continues to decline which is accretive to AAPL. Moreover, the European market is significantly less fragmented than China and India, making it the more attractive market for AAPL to expand its ecosystem. However, Samsung continues to be the dominant player with 42% market share, while the Chinese OEMs are seeing market share approaching double digit. Sony and LG are also making good progress.

Click to enlarge
Conclusion: The declining adoption of AAPL products will eventually lead to a diminishing iOS ecosystem, with China and India being AAPL's biggest challenge. EMEA offers growth but carrier relationship with Chinese equipment vendors places AAPL at a disadvantage. While North America continues to be AAPL's dominant market, gradual introduction of new handsets as carriers look for ways to protect margin could hurt the iOS ecosystem. Europe remains AAPL's best hope to replicate its success in the US due to concentrated market, but Korean, Japanese and Chinese brands are also slowly catching up.
Analysing the upcoming product cycle
Margin dilution and replacement demand are two key headwinds that AAPL will face in the upcoming product cycle.
The bigger 4.7" and 5.5" models will likely carry higher component cost from the new app processor, baseband, fingerprint reader, battery and RF transceivers. I expect the 4.7" model to have a higher margin dilution effect than the 5.5" as the current iPhone model is already the most expensive device on the market with a $650 price tag. I believe there is a ceiling on how much the consumers are willing to pay and increasing the price of the 4.7" model to $700 is testing the consumer price sensitivity, in my view. That said, 4.7" model may likely be priced similarly to the current 4" model, which will be margin dilutive given the rising cost of the components.
The high-end market that AAPL compete in is stagnating and volumes are driven mostly by replacement demand rather than new demand. While AAPL will likely benefit from the replacement demand (in particular in North America where consumers continue to associate AAPL with innovation), AAPL's innovation curve is flattening as I have pointed out earlier. As a result, carriers are gradually decreasing their iPhone volume commitment as they begin to look for other high-end alternatives such as Samsung, HTC, LG and Huawei to place a cap on handset subsidy and protect their margins amid a declining postpaid ARPU environment.
The bulls may argue that the new carrier installment plan allows consumers to upgrade device faster and offset subsidy by paying off the phone in installments, but I would like to point out that these new plans signal carriers' effort to avoid subsidy by giving consumer more handset choices. So far, the equipment installment plan is only happening in the US but I expect the trend to spillover to Canada as new entrants compete against the incumbents and eventually in emerging markets such as China. Bottom line is that the carriers will do whatever they can to protect their margins, and subsidizing the iPhone when there are other attractive alternatives available makes little sense from an economic perspective.
Finally, I believe the iWatch to be a key indicator of AAPL's innovative growth profile as the market is dominated by the established players that have both the financial and the R&D resources. I note that GOOG has already introduced its Android Wear and Samsung is pushing ahead with its self-developed Tizen OS that it hopes to be incorporated across Samsung's product lineups (i.e. mobile devices, home appliances, TV and automotive). AAPL is a latecomer to the market and I expect the next product cycle to offer little surprises given its recent track record of product innovation.
I reiterate my bearish view on AAPL with a target price of $102, implying 7% upside. My DCF assumes 2% five-year revenue CAGR driven by stagnant replacement demand, ecosystem contraction and competition from the Asian smartphone OEMs. I also discount the impact of wearable and home automation as GOOG and Samsung both have established market share.
Disclosure: The author has no positions in any stocks mentioned, and no plans to initiate any positions within the next 72 hours. The author wrote this article themselves, and it expresses their own opinions. The author is not receiving compensation for it (other than from Seeking Alpha). The author has no business relationship with any company whose stock is mentioned in this article.