Macy's, Inc. (NYSE:M) is an omnichannel retail organization operating stores and websites under two brands (Macy's and Bloomingdale's) that sell a wide range of merchandise, including apparel and accessories, cosmetics, home furnishings and other consumer goods. The company's operations include approximately 840 stores, including thirteen Bloomingdale's Outlets in 45 states.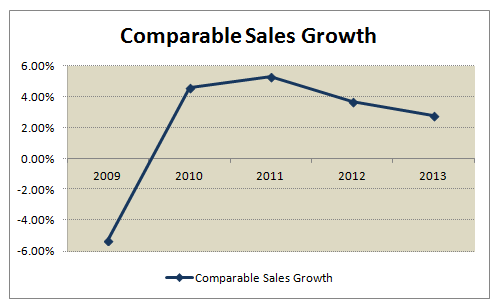 Source: Macy's Fact Book 2014
Over the last five years, the company has improved its performance significantly by shifting from the negative sales growth phase to positive sales growth arena. Although the growth rate continued to vary year over year, it continues to remain positive despite the slow economic activity in the US economy and worldwide. Together with sales of departments licensed to third parties, sales on a comparable basis were up by 2.8% in FY13. Macy's continues to benefit from the successful execution of the My Macy's localization, Omnichannel and Magic Selling strategies. Also, sales of the company's private label brands continued to be strong and represented approximately 20% of net sales in the Macy's-branded stores during the year. Furthermore, the company intends to open up three new Macy's stores and one Bloomingdale's replacement store in the remainder of fiscal year 2014.
The procedure of direct-to-customer orders that are generated online and from other stores is planned to be completed in 2014, where approximately 650 full-line Macy's stores will hold shipping ability. With the completion of this step, the company will be able to seek advantage of the inventory and customer relationships inbuilt in its bricks-and-mortar stores in support of an omnichannel strategy that is being determined by emerging customer shopping patterns. This is expected to increase the growth in comparable sales as shopping becomes an easy and seamless experience for the customers. Thus, adding decent numbers to Macy's top and bottom line in the upcoming years.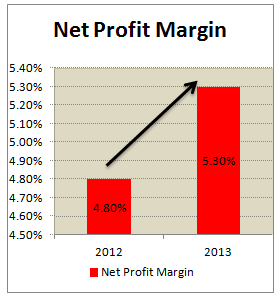 Source: Macy's Fact Book 2014
Adjusted operating margin had clocked in at 9.9% for the fiscal year 2013, an improvement of 30 basis points from the previous year. The bottom line witnessed an improvement of 50 basis points on the back of lower finance cost as the company retired almost $706 million debt earlier than its maturity in 2015 and 2016.
Debt Refinancing
The company has issued $500 million senior unsecured notes in the second quarter of fiscal year 2014 at the rate of 3.625% with the repayment date falling in 2024. The proceeds of this debt are expected to be utilized to retire principal loan of $453 million which had a fixed rate of 5.75% maturing July 15, 2014 and for other purposes like working capital, capital expenditures and the repurchase of common stock.
This is expected to slash Macy's finance cost expense and elevate the company's bottom line by $7.92 million on an annual basis.
Negative Covenant
The company is a party to a credit agreement with certain financial institutions that obligate Macy's to sustain an interest coverage ratio for the previous one year to be greater than 3.25 and leverage ratio for the same period to be no more than 3.75.
Macy's had reported an interest coverage ratio at 9.37 for the first quarter of 2014 while its leverage ratio stood at 1.85 at the beginning of May, as per the calculations specified in the credit agreement. The company currently has a lot of margin of safety i.e. a cushion of 6.12 for interest coverage ratio and 1.9 for leverage ratio.
Share Repurchase Program
The company bought back nearly 7.4 million common shares in the first quarter of 2014 in relation to its existing stock purchase authorizations for a total of approximately $432 million while $1,000 million of authorization is yet to be utilized under the share repurchase program. Additionally, the board of directors has given consent for repurchasing additional $1,500 million worth of common stock. This decision steps up Macy's remaining authorization under its share repurchase program to $2,500 million.
Future Outlook
The effects of economic conditions have caused problems in various geographic regions in which the company operates, in relation to the different types of merchandise that the company offers for sale or the branded items, ultimately adversely affecting the overall operations.
Based on its evaluation of current and projected market conditions, the company is expected to report comparable sales growth will be in the range of 2.5% to 3.0% in 2014 compared to last year. Diluted earnings per share are projected to clock in between $4.40 to $4.50 for the fiscal year 2014.
Moreover, the company has plans to consider additional acquisitions of, and investments in, retail businesses and other complementary assets and companies.
Conclusion
Based on the characteristics of the company and its dividend history, the stock has more value characteristics. In my opinion, it is recommended for regular income seeking investors with an element of capital appreciation.
Disclosure: The author has no positions in any stocks mentioned, and no plans to initiate any positions within the next 72 hours. The author wrote this article themselves, and it expresses their own opinions. The author is not receiving compensation for it (other than from Seeking Alpha). The author has no business relationship with any company whose stock is mentioned in this article.